Here's a waffle recipe you don't see every day: Green Smoothie Waffles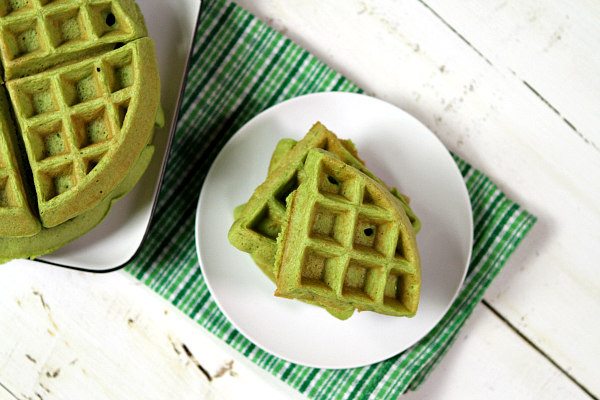 It happened by accident, really. I set out for the market early in the morning and gathered all of the ingredients to make green smoothies. When I got home, I happened to glance at my KitchenAid Waffle Baker and thought… Hmmmm… could I? So I decided to give it a shot.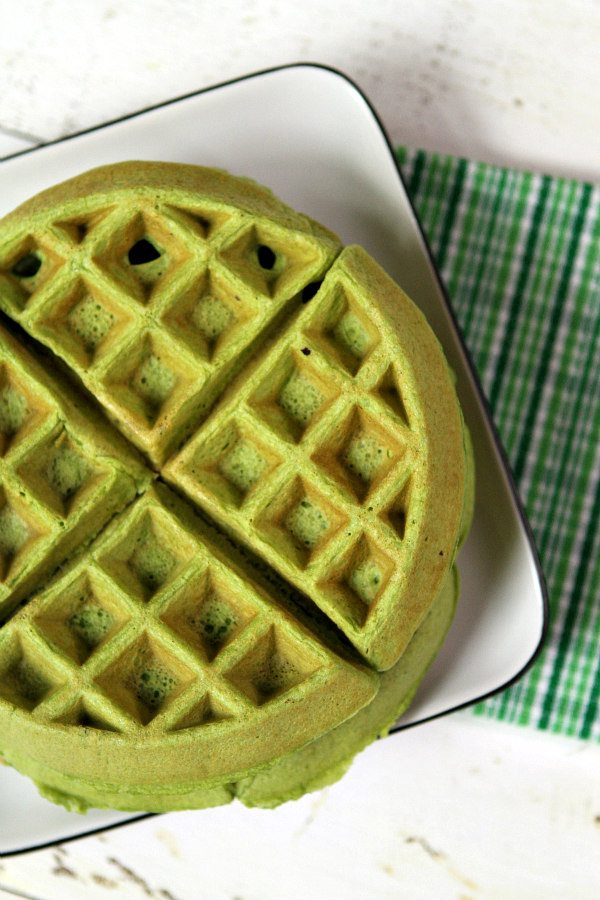 I made green smoothie WAFFLES! I had to make some adjustments of course. I used what I always use for smoothies- almond milk, spinach and Greek yogurt… but then I had to add in all of the things that make up a waffle too (flour, sugar, eggs, baking powder and salt). I was very pleasantly surprised to find that this recipe really works.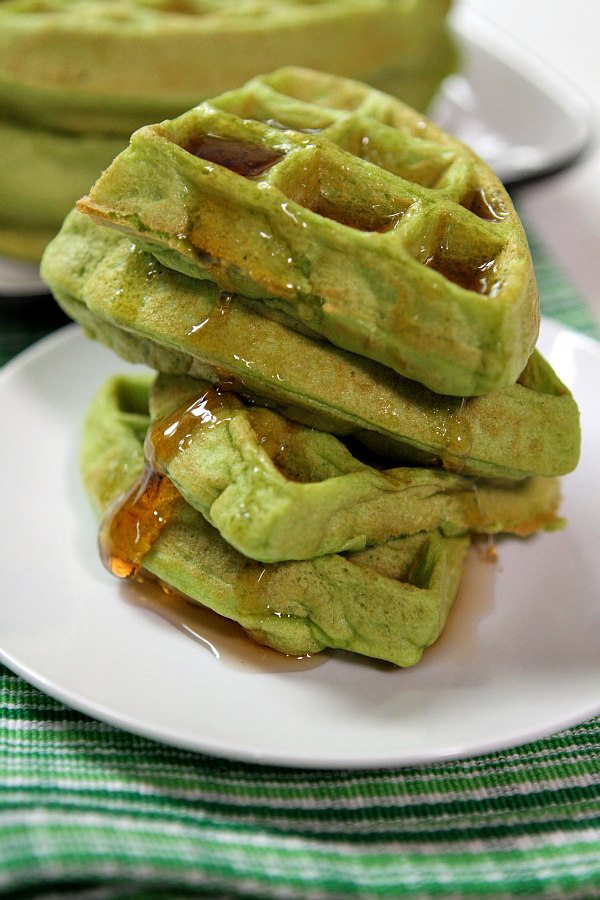 I taste tested myself, and then I had to deliver the real test: to see if my teenage son would eat green waffles that he would most definitely know were made with SPINACH. Guess what? The kid totally loved them. Said they just tasted like good waffles. And I loved knowing that he was eating spinach and Greek yogurt for breakfast (two things he'd shy away from eating in any normal meal time). These waffles do not taste like you're eating spinach for breakfast, I promise. They simply get blended into the batter to add a nice, green hue and all of the nutrients that spinach provides (Fiber, Protein, Vitamin A…) Let us know if you try them, and share what you think about these crazy waffles in the comments below!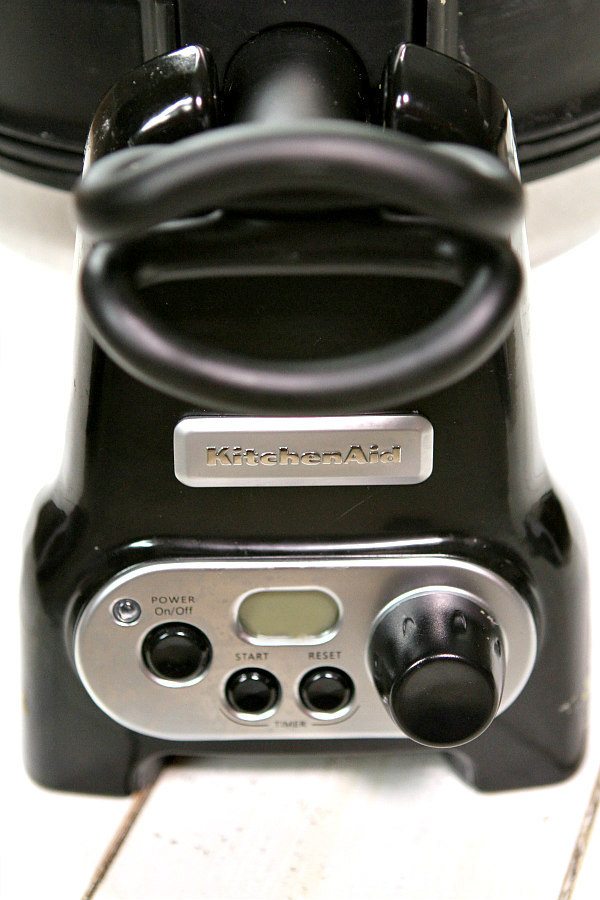 I am so in love with my waffle iron… technically called a Waffle Baker (made by KitchenAid). I pull it out frequently on weekends for our special Sunday breakfasts. It has a digital display to help you time the baking of your waffles…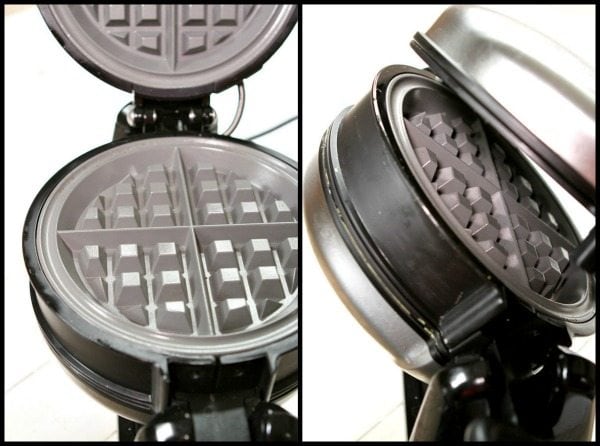 … and it has a nonstick coating- so your waffles never, ever stick to the iron. The very best part about this waffle iron is that it's double-sided. So you scoop the batter into your waffle iron, close the lid, press start on the timer, and then flip it around to open the lid on the other side and add batter for a 2nd waffle. It eliminates the frustration of your eaters having to wait forever for you to make another waffle. The machine is constantly generating new waffles. I love it!
You can read more about the KitchenAid's Waffle Baker HERE.
Green Smoothie Waffles
A surprisingly GREEN waffle that's perfect served with maple syrup!
Recipe Details
Ingredients
1¾

cups

almond milk

(or regular milk)

1½

cups (packed)

fresh spinach leaves

¾

cup

Greek nonfat plain yogurt

2

large

eggs

2½

cups

all purpose flour

2

tablespoons

packed brown sugar

2

teaspoons

baking powder

¼

teaspoon

salt

warm syrup,

for serving
Instructions
Use a powerful blender for this recipe, one that makes great smoothies and won't leave any spinach leaves unblended!

Blend milk, spinach, yogurt and eggs until smooth. Add the remaining ingredients and blend until fully incorporated (scrape sides if you need to).

Preheat your waffle iron. Spray the waffle iron with nonstick spray.

Pour the waffle batter into your hot waffle iron, being careful not to add too much. Close the lid and cook for 3 to 4 minutes, or until the waffle is cooked through and slightly crispy on the edges. Serve with warm maple syrup.
Nutrition
Serving:
1
serving
,
Calories:
326
kcal
,
Carbohydrates:
58
g
,
Protein:
15
g
,
Fat:
4
g
,
Saturated Fat:
1
g
,
Polyunsaturated Fat:
1
g
,
Monounsaturated Fat:
1
g
,
Trans Fat:
0.01
g
,
Cholesterol:
76
mg
,
Sodium:
498
mg
,
Potassium:
541
mg
,
Fiber:
4
g
,
Sugar:
7
g
,
Vitamin A:
6765
IU
,
Vitamin C:
20
mg
,
Calcium:
328
mg
,
Iron:
5
mg
Disclosure: KitchenAid graciously donated a couple of their products for one of my local high school's fundraising events. I agreed to share my love for the KitchenAid Waffle Baker to thank them! Thank you, KitchenAid!