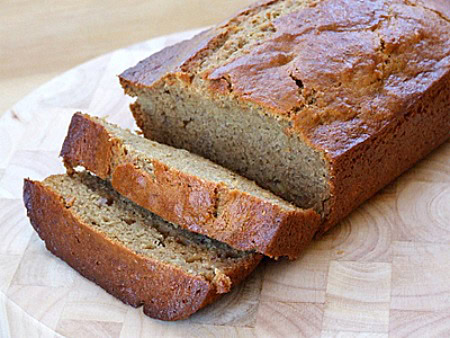 Heavenly Healthy Banana Bread
Yield:
1 loaf
Prep Time: 15 min
Cook Time: 1 hr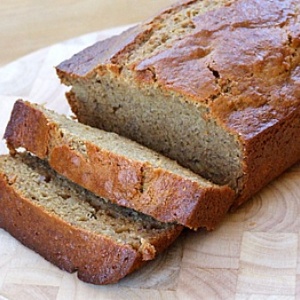 Ingredients:

1/2 cup salted butter, softened
1/2 cup light brown sugar, packed (light or dark)
1 teaspoon vanilla extract
3/4 teaspoon baking soda
1/2 teaspoon salt
1 1/2 cups mashed ripe bananas (about 3 medium to large bananas)
1/4 cup honey
2 large eggs
2 cups whole wheat flour
1/2 cup chopped walnuts (optional)

Instructions:

1. Preheat oven to 350°F. Lightly grease a 9x5-inch loaf pan.

2. In large bowl, use an electric mixer to beat together the butter, sugar, vanilla, baking soda and salt. Add the bananas, honey and eggs, beating until smooth. Add the flour, then the walnuts (if using), stirring until smooth. Spoon the batter into prepared pan, smoothing the top. Let it rest at room temperature for 10 minutes.

3. Bake the bread for 50 minutes, then gently lay a piece of aluminum foil over the top, to prevent over-browning. Bake for an additional 10 minutes, then remove bread from oven. A long toothpick or cake tester inserted into the center should come out clean. Allow the loaf to cool for 10 minutes before removing it from the pan. Cool completely on a rack.