This Reuben Dip is hot and creamy and melty with Swiss cheese + chopped corn beef + mayo + Dijon + sauerkraut.  Served with cocktail bread, This Rueben Dip is a fun little happy hour treat for St. Patrick's Day or any happy day.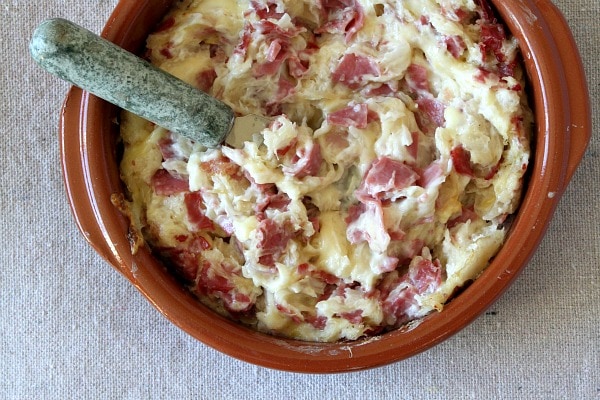 Reuben Dip
Have you ever had a Reuben Sandwich  … warm, cheesy corned beef and sauerkraut stuffed between two slices of rye bread and slathered with Thousand Island dressing?  My husband orders a Reuben every time he spots one on the menu.  I happen to love them too, but they're definitely a decadent, once-in-a-while splurge.  Well, this is my dippy version of the sandwich (without the dressing):  Hot Reuben Dip.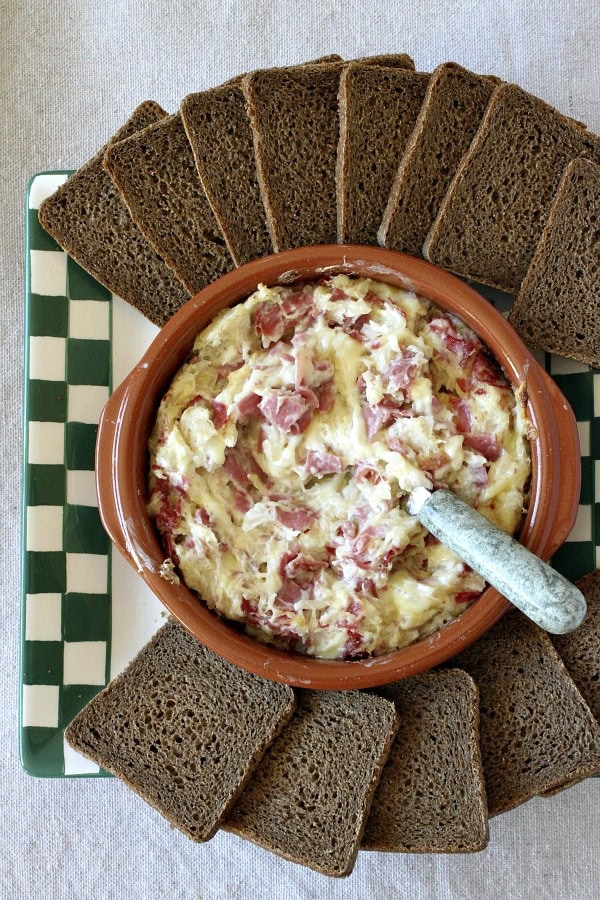 I serve this Rueben Dip with pumpernickel cocktail bread to my family, but they actually prefer to eat it with Ritz crackers 🙂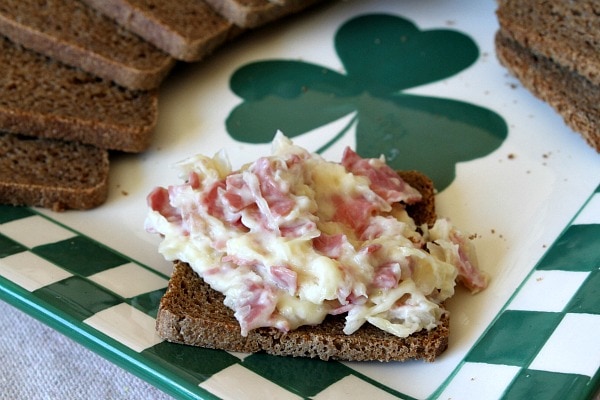 Looks pretty yummy doesn't it?  Like you'd like to take a bite or six?  I agree. I've been known to call this "dinner" once in a while!
P.S.  You can plan to use some of your leftover corned beef for this recipe (like that ever happens!?!)… or you can also use sliced corned beef from the deli.  And if you still think you'd really like to add some Thousand Island dressing, it's perfectly okay to drizzle some on top of the dip (or on individual bites).
Here are a few more Reuben themed recipes on the food blogs:
Hot Reuben Dip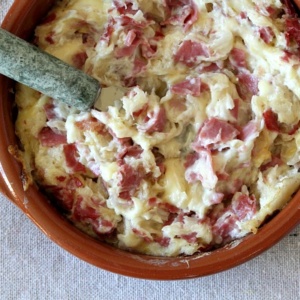 The perfect way to use up leftover corned beef... in this hot and cheesy Reuben Dip.
Yield:
8 servings
Prep Time:15 minutes
Cook Time:30 minutes
Ingredients:
One (14.5 ounce) can sauerkraut, rinsed, drained and patted dry
1 cup (4 ounces) shredded Swiss cheese
1 generous cup chopped corned beef
3/4 cup mayonnaise (low fat is fine)
1 tablespoon Dijon mustard
rye cocktail bread or crackers for dunking
Directions:
Preheat the oven to 350°F.
Combine all ingredients in a medium bowl, stirring well. Spread into a medium, oven-safe dish (or an 8x5-inch loaf pan will work in a pinch).
Bake for 30 minutes, or until hot and bubbly. Serve immediately.
Tips:
For a true Reuben vibe, drizzle Thousand Island dressing on top of the dip (or on individual bites).
SOURCE: RecipeGirl.com