Today, I'm guest posting on a website devoted to raising money for cancers that affect women: Frosting for a Cause. Beginning January 1, 2011 a total of 365 sugar cookie & cupcake bakers/decorators and bloggers from across Canada and the United States began taking turns writing a guest post on Frosting for the Cause. Once a day, every day for a year you're treated to a new and talented blogger who will showcase their home-made, hand-decorated cookies or cupcakes together with their recipes. Today, I've written about a woman in my family who has had to face several bouts with cancer, and I'm sharing these lovely Lemon- Raspberry Cupcakes in honor of her.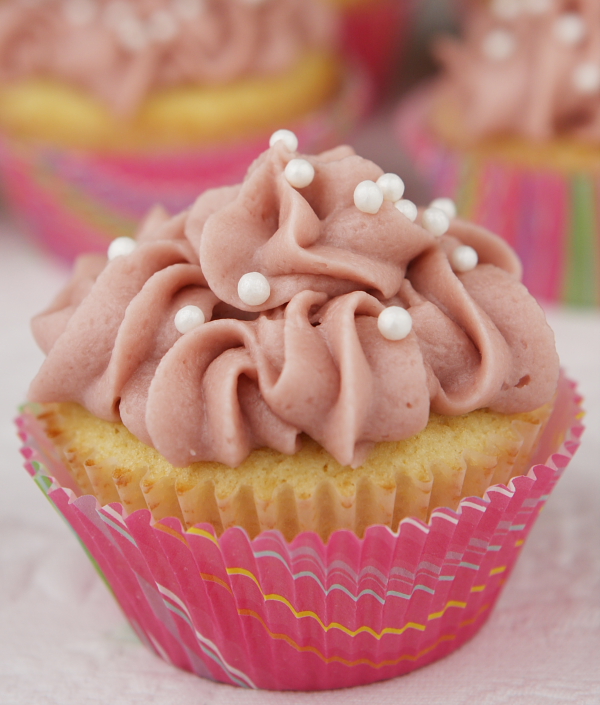 Bloggers who are volunteering to post on the Frosting for the Cause website have committed to donating to the American Cancer Society. At the end of the year, we will have raised over $9,125 for research that goes into fighting those cancers that affect women.
If you're a blogger, it's not too late to participate!  There are dates open for guest-posting from July through the end of the year, so get on over there and find out the details.  Send an email to Paula at Decorating@frostingforthecause.com if you're interesting in contributing a post.
Lemon- Raspberry Cupcakes
These light a lemony cupcakes are filled with a raspberry surprise...
Yield:
12 cupcakes
Prep Time: 20 min
Cook Time: 20 min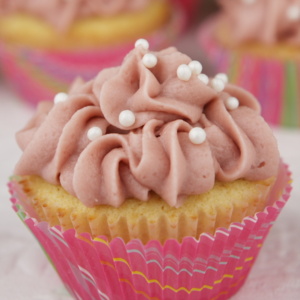 Ingredients:

CUPCAKES:
3/4 cup unsalted butter, at room temperature
1 1/2 cups powdered sugar
3 teaspoons grated lemon zest
2 large eggs
1 1/4 cups self rising flour
1/4 cup buttermilk
2 Tablespoons freshly squeezed lemon juice
12 teaspoons seedless raspberry jam

FROSTING:
1 cup unsalted butter
1/2 cup seedless raspberry jam
3 to 4 cups powdered sugar

Instructions:

1. Preheat oven to 350 degrees F. Line a 12 cup muffin tin with paper liners.

2. Using an electric mixer, beat butter, powdered sugar and lemon zest in a large bowl until fluffy and well blended. Add eggs; beating to blend. Beat in half the flour, then buttermilk and lemon juice, then the remaining flour.

3. Drop a spoonful of the cupcake batter into the bottom of each muffin cup. Spoon 1 teaspoon of raspberry jam on top of the batter of each muffin cup. Divide remaining batter among muffin cups to top the jam.

4. Bake 18 to 22 minutes, until toothpick inserted into the center of a cupcake comes out clean. Cool cupcakes completely before frosting.

5. Prepare the frosting: In a large mixing bowl, beat butter and raspberry jam together until well mixed and smooth. Add powdered sugar, a cup at a time, until you reach a consistency that you desire. I used 3 cups for this recipe, which I found perfect for piping. Frost cupcakes- either by spreading frosting onto the cupcakes with a knife or by scooping the frosting into a piping bag for a more decorative look.

Source: RecipeGirl.com (loosely adapted from a recipe in Bon Appetit)