You get a double dose of maple in these Maple Cupcakes:  Maple cake and maple frosting!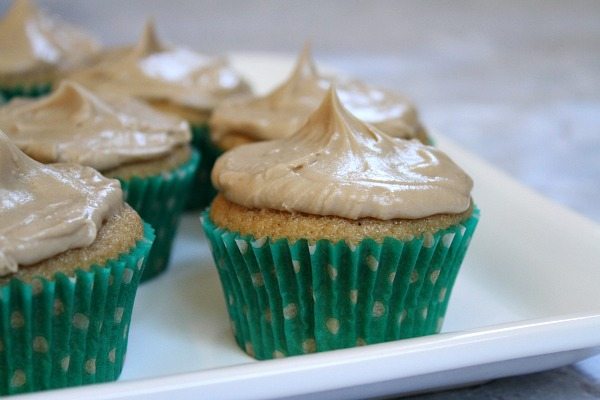 I am one of those people who loves their maple syrup.  I used to only buy the light stuff because of my weird, deathly fear of consuming too many calories.  But I've learned that using a smaller amount of the good stuff- PURE maple syrup- makes recipes taste all that much better.  That true maple flavor really comes through.  Because you do realize, of course, that those store brand kinds of maple syrup don't really have much maple in them at all, don't you?  That's kind of icky when you consider what they probably have to add to the "syrup" to make it taste like maple syrup.  Yuck.
These cupcakes are beautifully maple through and through.  They start with a tender maple cake and are topped with a maple frosting.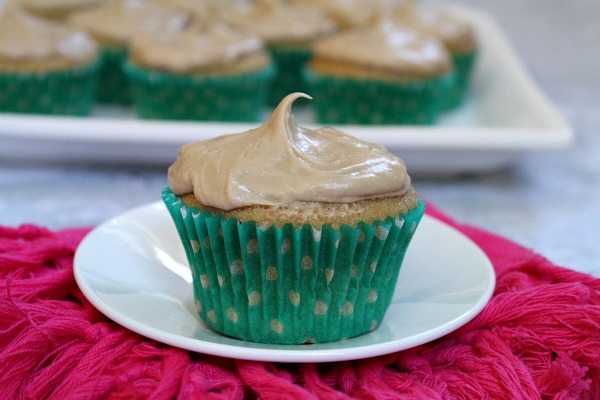 I visited Vermont once in the fall.  The change of seasons colors were absolutely amazing.  The weather was crisp and cool.  I sampled maple candy and maple ice cream and a million other maple things.  I'm pretty sure that's where I fell in love with 100% maple syrup, and I will forever associate maple with fall because of it.  So I'm going to have to say that these are the perfect fall cupcakes!  
I served these at a little end-of-summer bbq I hosted at my house, and the kids at the bbq gobbled the majority of these up before I could even serve dinner.  They were that good!
Maple Cupcakes
Yield:
12 cupcakes
Prep Time: 25 min
Cook Time: 20 min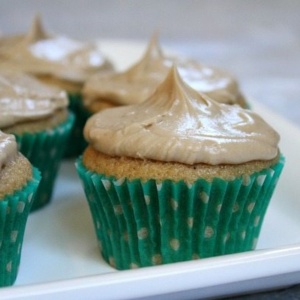 Ingredients:

CUPCAKES:
1/2 cup granulated white sugar
5 tablespoons unsalted butter, softened
1 teaspoon vanilla extract
1/2 teaspoon maple extract
2 large eggs
1 1/4 cups all-purpose flour
1 1/4 teaspoons baking powder
1/4 teaspoon salt
1/4 cup whole milk
1/4 cup maple syrup

FROSTING:
3 tablespoons maple syrup
2 tablespoons unsalted butter, softened
1/2 teaspoon vanilla extract
1/2 teaspoon maple extract
1/8 teaspoon salt
1 3/4 cups powdered sugar

Instructions:

1. Preheat oven to 350°F. Line a 12-cup muffin pan with paper liners

2. Prepare the cupcakes: Beat the first 4 ingredients at medium speed with an electric mixer until well-blended (about 5 minutes). Add the eggs, 1 at a time, beating well after each addition. Whisk together the flour, baking powder, and salt in a medium bowl. In a small bowl stir together the milk and maple syrup. Add the flour mixture to the sugar mixture alternately with the milk mixture, beginning and ending with the flour mixture; mix after each addition.

3. Spoon the batter into the prepared muffin cups. Bake 20 minutes or until a wooden pick inserted in center comes out clean. Cool in the pan 10 minutes on a wire rack; remove from pan. Cool completely on wire rack.

4. Prepare the frosting: Use an electric mixer to beat the maple syrup and next 4 ingredients (syrup through salt) in a large bowl. Gradually add the powdered sugar, beating just until blended (do not overbeat). Spread the frosting over the cupcakes.

Tips:

*Double the frosting recipe if you want a generous smudge of frosting on each cupcake!
More fall cupcake recipes you might enjoy:
Caramel Apple Cupcakes by Taste and Tell
Pumpkin Spice Latte Cupcakes by Handle the Heat
Candy Corn Cupcakes by The Curvy Carrot
Sweet Potato Cupcakes by Lauren's Latest