Here's an easy recipe that is impressive too:  Old Bay Potato Latkes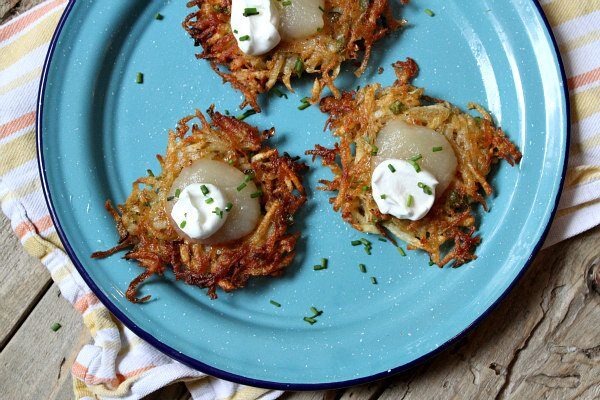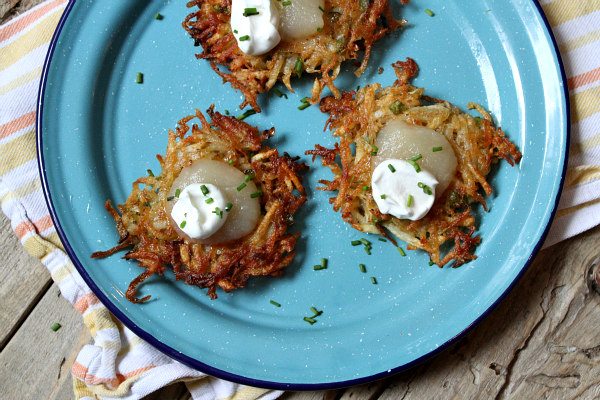 When I was in college, I worked at a Jewish elementary school as both a teacher's aide and after-school daycare director.  It was there that I became rather familiar with all kinds of Jewish food, traditions and holidays.  They took me in and embraced me, and I was happy to learn all about it.
I ate more challah and bagels in those three years than I can remember.  I tried matzoh ball soup, kugel, sufganiyot, rugelach, brisket, borscht, and hamantaschen.  And every year at Hanukkah, there were endless amounts of latkes served up too.  I've only made them at home a couple of times, and I was happy to try a new recipe this week.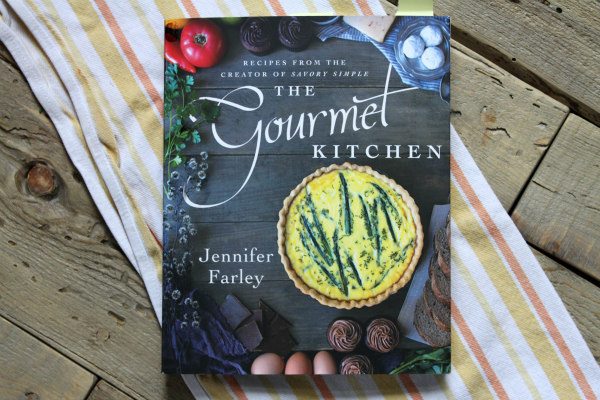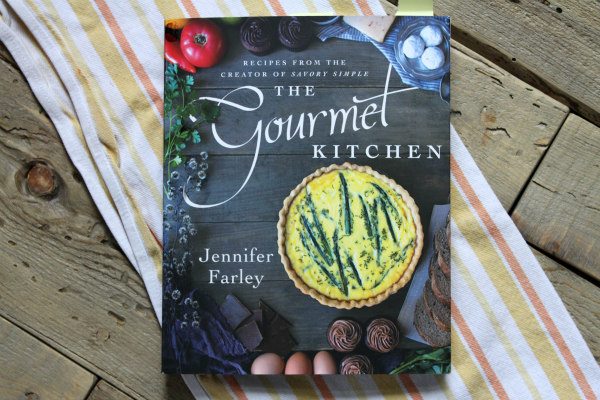 The recipe comes from a new book by Jennifer Farley (SavorySimple.net): The Gourmet Kitchen.  Inspired by a variety of cultures and cooking styles from around the world, this book has more than 100 recipes for all meals of the day with beautiful photographs to accompany them.
Here are a few recipes that I've bookmarked to make:  Cardamom Vanilla Cream Scones, Southwestern Avocado Toast, Butternut Lobster Bisque, Cantaloupe Gazpacho, Arugula and Nectarine Salad, Mushroom Dumplings, Broccoli Cheddar Baked Potatoes, Oatmeal Stout Beer Bread, Maple Soy Glazed Salmon, Black Bean Tortilla Casserole, Concord Grape Curd, Caramel Apple Pound Cake, Peanut Butter and Jelly Shortbread Bars, and Chocolate Malt Truffles.  Good stuff all throughout the book!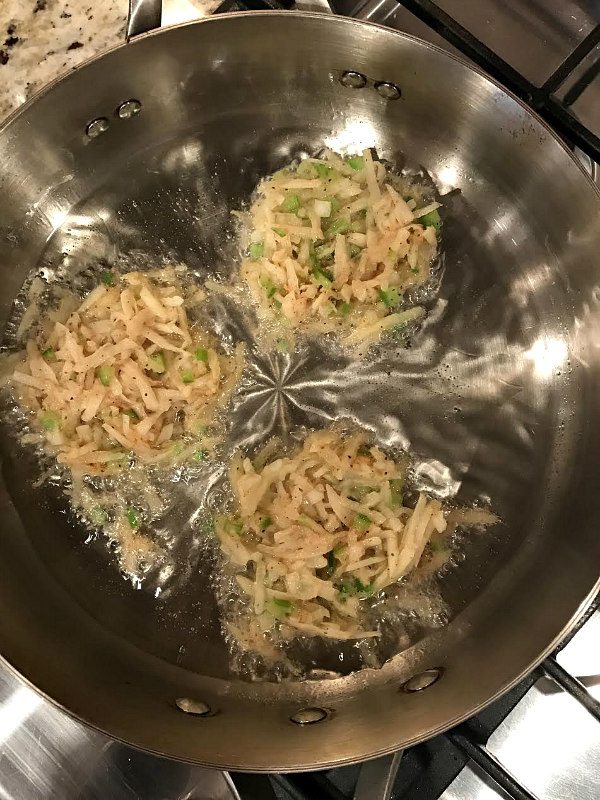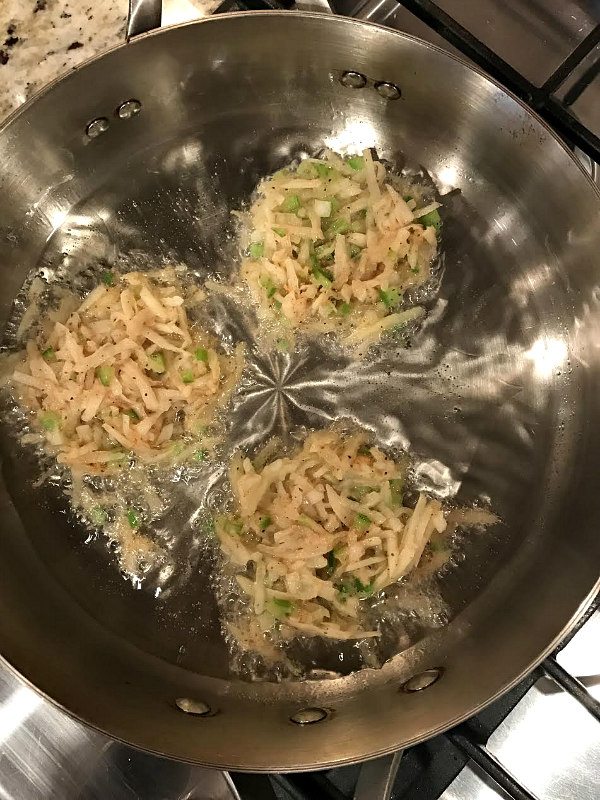 Author Jennifer Farley hails from Maryland- where Old Bay spice is commonly used in a wide range of recipes.  Old Bay is a nice mixture of spices that lend themselves well as an addition to a latkes recipe.  Great idea!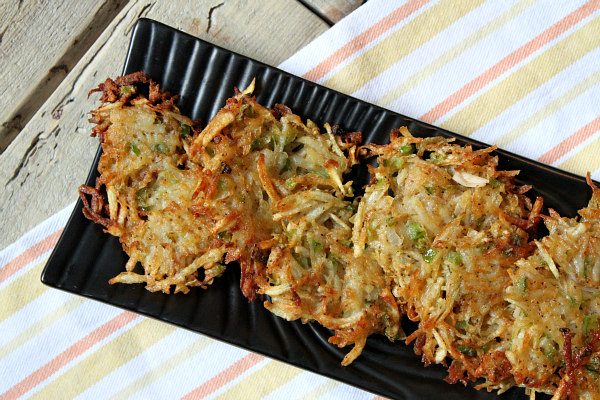 I shredded my potatoes (alternately, you can choose to do them in a food processor… if you prefer a "cake" like latke instead of hash brown consistency).
When I worked at my Jewish school way back when, the latkes were always made from shredded potatoes.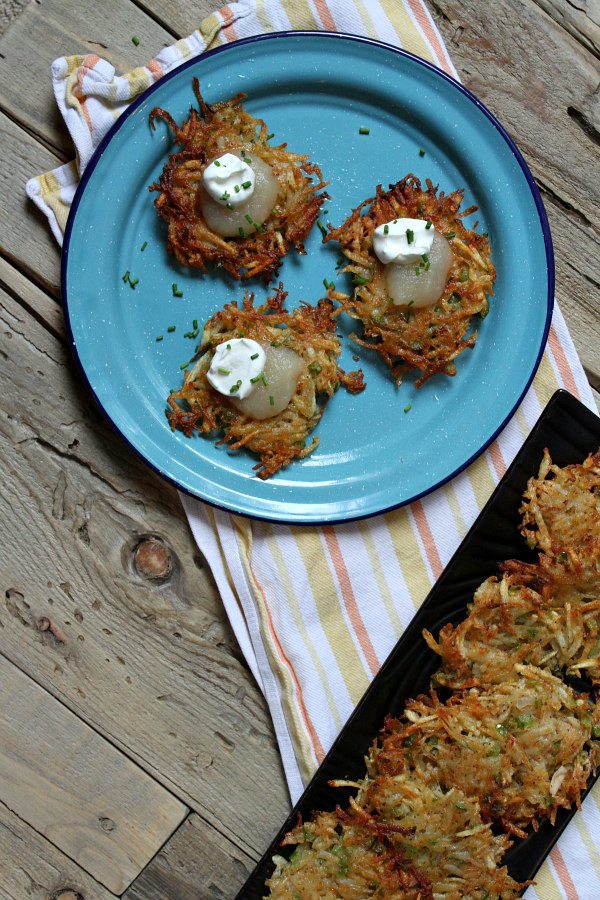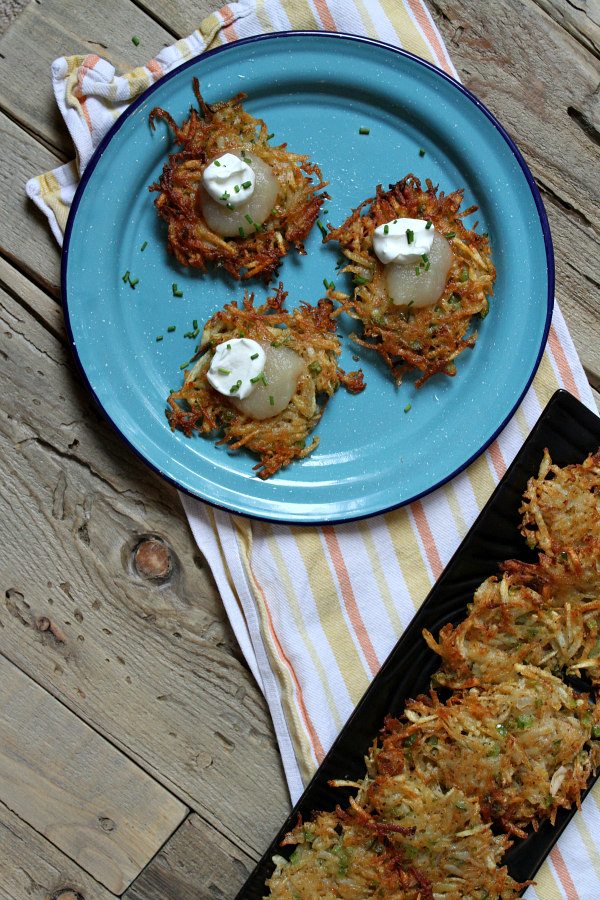 After a quick fry in hot oil, the latkes are topped with sour cream and applesauce- my favorite way to eat them.  If you prefer them plain… or with one or the other… then do that!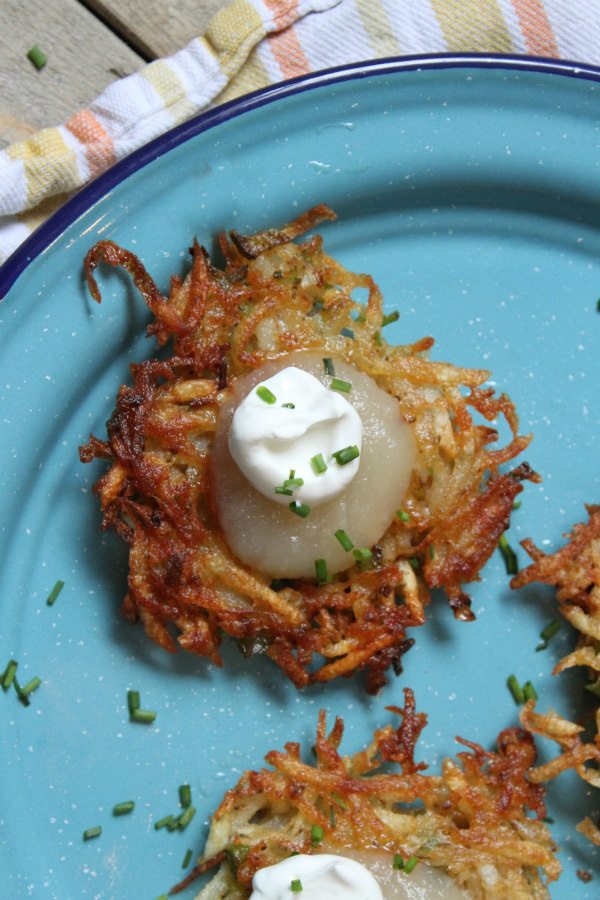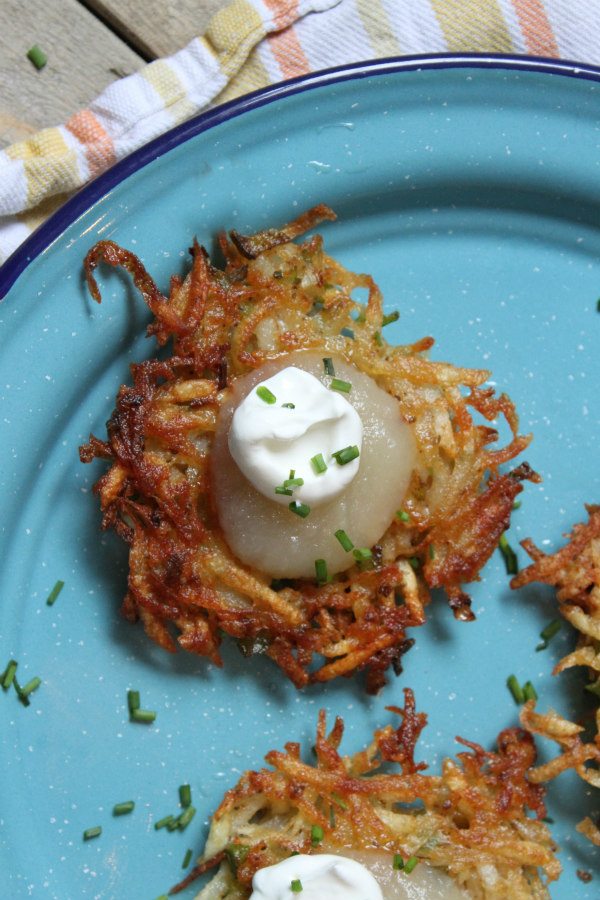 I loved this easy and delicious latke recipe from The Gourmet Kitchen cookbook!
Happy Hanukkah to those who celebrate 🙂
Old Bay Potato Latkes
Note: the author gives instructions in her book to use a food processor to process the potato mixture.  I used a shredder instead, and I give instructions for using a shredder in the recipe.  If you'd like to use the food processor method, I've included the author's original instructions with that method in the notes below the recipe.
Yield:
12 latkes
Prep Time: 20 minutes
Cook Time: 15 minutes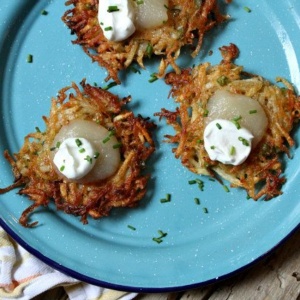 Ingredients:

2 large russet potatoes, peeled and shredded
1/2 cup finely chopped yellow onion (about 1/2 medium)
1/2 cup finely chopped green bell pepper
1 large Eggland's Best egg
1 small clove garlic, minced
1 1/2 tablespoons all-purpose flour
2 teaspoons Old Bay seasoning
1/2 teaspoon celery seed
1/4 teaspoon sweet paprika
1/8 teaspoon ground mustard
1/8 teaspoon ground black pepper
vegetable or canola oil, for frying
sour cream and/or applesauce, for serving
chopped chives, as garnish (optional)

Instructions:

In a medium bowl, combine the shredded potatoes with the onion, bell pepper, egg and garlic.  In a small bowl, combine the flour, Old Bay, celery seed, paprika, mustard and pepper.  Sprinkle the seasoning into the potato mixture and stir to combine.  Transfer the mixture to a fine mesh strainer and set over a bowl to drain out some of the moisture.
Generously coat the bottom of a 12-inch skillet with oil (3 tablespoons or more).  Set over medium-high heat.  When the oil is shimmering, use a 1/4-cup measure to portion out the mixture into the pan, making sure the latkes don't touch each other.  You should be able to cook three at a time.  Flatten slightly with the back of the measuring cup or a spatula.
Fry the latkes until golden brown, 2 to 3 minutes per side, adding fresh oil to the pan between batches as needed
Transfer the latkes to a paper-towel-lined plate to drain.  Serve immediately with sour cream and/or applesauce.  Sprinkle chives on top, if desired.

Nutrition:

Food processor method:  Cube the potatoes instead of shredding them.  In a food processor fitted with a metal blade, pulse the potatoes 3 to 4 times.  Add the onion, garlic, egg, and bell pepper, and pulse several more times to incorporate the ingredients.  Add the seasonings.  Puree until just smooth and fluffy (the mixture should still retain some texture).  Do not overmix.  Transfer the mixture to a fine mesh strainer and allow to drain.  Proceed as directed above.  Note that this version turns out a latke that is more of a cake than a hash brown- consistency.
SOURCE:  RecipeGirl.com (adapted from The Gourmet Kitchen by Jennifer Farley)
Here are a few more recipes for latkes that you might enjoy:
Disclosure:  There are Amazon affiliate links for purchase of the cookbook mentioned within this post.