When Sunday mornings roll around, my family is always asking me to make something special for breakfast.  This recipe for Orange Sticky Buns is a beautiful way to showcase fresh citrus flavor.  And they're a nice departure from the typical cinnamon roll.  They are a soft and tender pastry with a sweet orange glaze.  Delicious!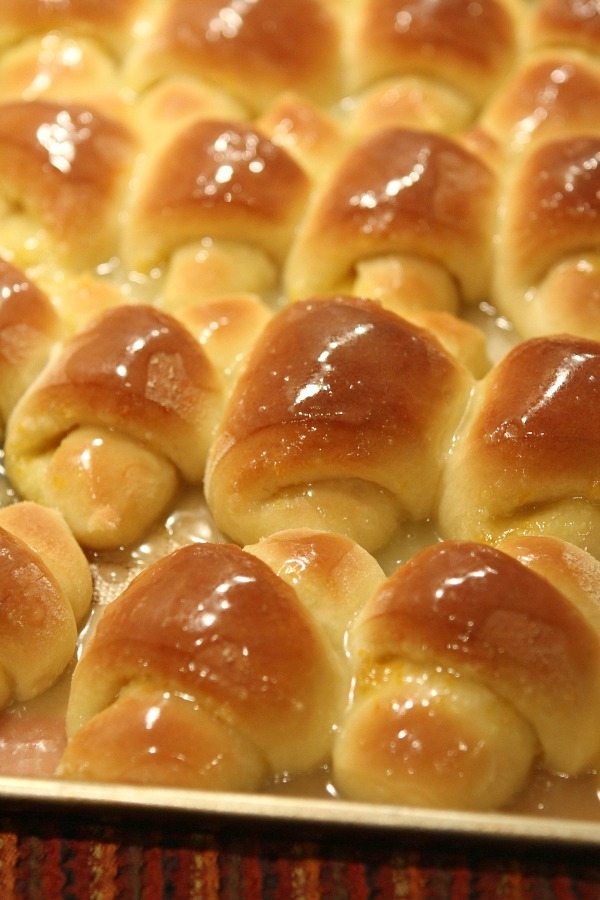 Orange Sticky Buns
Yield:
2 dozen sticky buns
Prep Time: 40 min + rising time
Cook Time: 20 min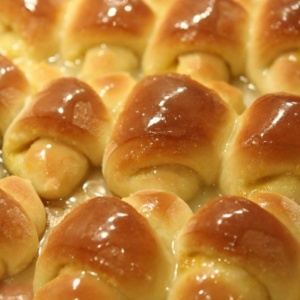 Ingredients:

BUNS:

1 cup granulated white sugar, divided
2 tablespoons grated orange zest
One .25-ounce envelope active dry yeast
1/4 cup warm water (110 to 115 degrees)
1 teaspoon salt
2 large eggs
1/2 cup sour cream
6 tablespoons salted butter, melted
3 1/2 cups all-purpose flour, divided
2 tablespoons salted butter, melted

GLAZE:

3/4 cup granulated white sugar
1/2 cup sour cream
2 tablespoons freshly squeezed orange juice
6 tablespoons salted butter

Instructions:

To prepare buns: In a small bowl, mix 3/4 cup of sugar with orange zest; set aside.
In a large bowl, dissolve yeast in warm water. Beat in 1/4 cup sugar, salt, eggs, sour cream and 6 tablespoons melted butter. Gradually add 2 cups flour; beating until dough forms.
Transfer to a floured surface. Into dough, knead enough remaining flour in small amounts to make it smooth and elastic with small blisters on the surface. Place dough in a large greased bowl. Cover loosely with a clean dishtowel and let rise in warm place (80 to 85°) until double in size, about 2 hours.
Preheat oven to 350° F. Punch dough down and turn out onto floured surface. Knead about 15 times. Divide into 2 equal parts. Roll each part into a 12-inch circle. Brush circles with remaining butter. Sprinkle with orange-sugar mixture.
Cut each circle into 12 pie-shape wedges. Starting at wide end, roll up the wedges (croissant-like). Place point side down in two greased 9x13-inch pans (or use a large, rimmed baking sheet for all 24 rolls). Cover and let rise in warm place until almost double in size, about 1 hour.
Bake, uncovered, 15 to 20 minutes- or until golden brown.
While buns are in the oven, prepare glaze: In a medium saucepan, mix all glaze ingredients. Boil 3 minutes, stirring constantly. Spoon over buns while they are still warm.

Tips:
*Don't have a warm place for rising? Turn the light on in your oven and use your (closed) oven for rising. You can turn it on briefly (30 seconds) to provide a blast of warm air and then be sure to turn it off!
SOURCE: RecipeGirl.com