Make these Roasted Garlic and Rosemary Cloverleaf Rolls early in the day, and then heat them up a little bit when it's time for serving. They're worth the effort!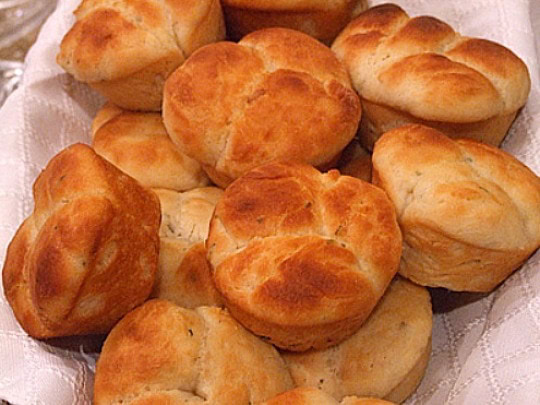 Roasted Garlic and Rosemary Cloverleaf Rolls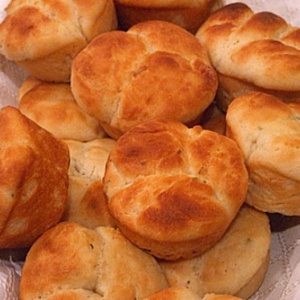 This recipe doubles and triples easily.
Yield:
12 rolls
Prep Time: 45 minutes + rising time
Cook Time: 12 minutes
Ingredients:
1 whole garlic head
1 package active dry yeast (about 2 1/4 teaspoons)
1 cup warm 2% reduced-fat milk (100° to 110°F)
3 1/3 cups all-purpose flour, divided
2 tablespoons butter, softened
2 tablespoons granulated white sugar
1 teaspoon salt
1 large egg
1 tablespoon finely chopped fresh rosemary
1 tablespoon butter, melted
Directions:
Preheat oven to 350°F.
Remove white papery skin from garlic head (do not peel or separate the cloves). Wrap head in foil. Bake for 1 hour; cool slightly. Separate cloves; squeeze to extract garlic pulp. Discard skins.
Dissolve yeast in milk in a large bowl; let stand 5 minutes. Add garlic pulp. Lightly spoon flour into dry measuring cups; level with a knife. Add 1 cup of flour, 2 Tablespoons butter, sugar, salt, egg and rosemary; beat with a mixer at medium speed until combined. Add 2 cups flour, and beat until smooth. Turn dough out onto a floured surface. Knead until smooth and elastic (about 8 minutes); add enough of remaining flour, 1 Tablespoon at a time, to prevent dough from sticking to hands (dough will feel tacky). If you have a large mixer with a dough hook, you may use that to do your kneading for you.
Place the dough in a large bowl coated with cooking spray, turning to coat top. Cover and let rise in a warm place (85°F.), free from drafts, 1 hour or so until doubled in size. (Gently press two fingers into dough. If indentation remains, the dough has risen enough.)
Punch dough down. Divide dough into 12 equal portions. Divide each portion into 3 pieces, and shape each piece into a ball. Coat 12 muffin cups with cooking spray; place 3 dough balls in each muffin cup. Cover and let rise in a warm place (85°F), free from drafts, 30 minutes or until doubled in size.
Preheat oven to 400°F.
7. Uncover dough, and brush tops with 1 Tablespoon melted butter. Bake for 12 minutes or until browned. Remove from pans; serve warm.
Tips:
These rolls freeze well. Bake, cool completely, wrap in heavy-duty foil, and freeze for up to a month. Thaw completely, and reheat in foil at 375 degrees F. for 15 minutes or until warm.
If you're in need of a warm place for rising, turn your oven on to 400 degrees F. for 1 minute. Turn the oven light on too. Then turn off the oven (leave the light on) and place your rolls inside the warmed oven for rising. The light keeps it just warm enough for a good rise.
Nutrition:
Nutritional Information per serving (Serving size:

1 roll) 

Calories:

186, 

Fat:

4.16g, 

Saturated Fat:

2.28g, 

Sugar:

3.27g, 

Fiber:

1.47g, 

Protein:

5.81g, 

Cholesterol:

26.88mg, 

Carbohydrates:

31.13g

Weight Watchers POINTS per roll:  Freestyle SmartPoints: 6, Points Plus Program: 5, Old Points Program: 4
SOURCE: RecipeGirl.com (Adapted from Cooking Light )