Puffy, pillowy soft and buttery, homemade Parker House Rolls are easy to make and even easier to eat!
What are Parker House Rolls?
This simple, rich roll is lightly sweet and buttery, and folded in half in the famous Parker House style. The Parker House Hotel in Boston is known for both Parker House Rolls and the Boston Cream Pie creations still popular today. The original Parker House Rolls were created back in the 1870's and then made even more famous in the 1890's when published in Fannie Farmer's cookbook, which is still popular today. While this may not be their original famous recipe, it's an absolutely wonderful yeast roll that will surely please family and friends.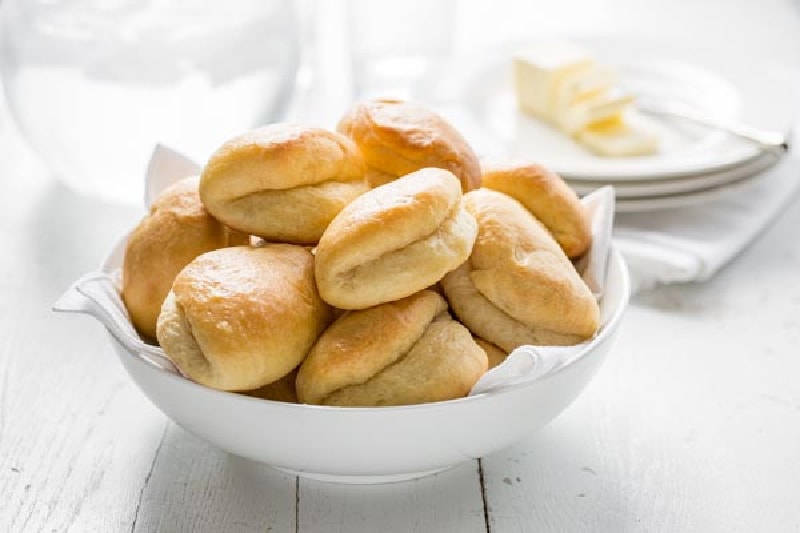 I don't know about you, but I cannot resist yeasty, buttery rolls warm from the oven. If you've never made your own yeast rolls, perhaps this simple recipe can be your first. With make-ahead and freezable instructions included, there's no reason you can't be the hero of the holiday get togethers! This recipe is actually very forgiving and hard to mess up. Don't worry if your rolls are not all perfectly shaped, that gives them character!
Homemade rolls are one of our families favorite treats. This recipe can be made easily with a stand mixer fitted with a dough hook, but also kneaded by hand if desired. They have a terrific flavor, not at all bland like some simple yeast roll recipes can be. Maybe it's the butter that gives Parker House Rolls that incredible, rich flavor. But that doesn't mean you can't add more butter when they get to the table!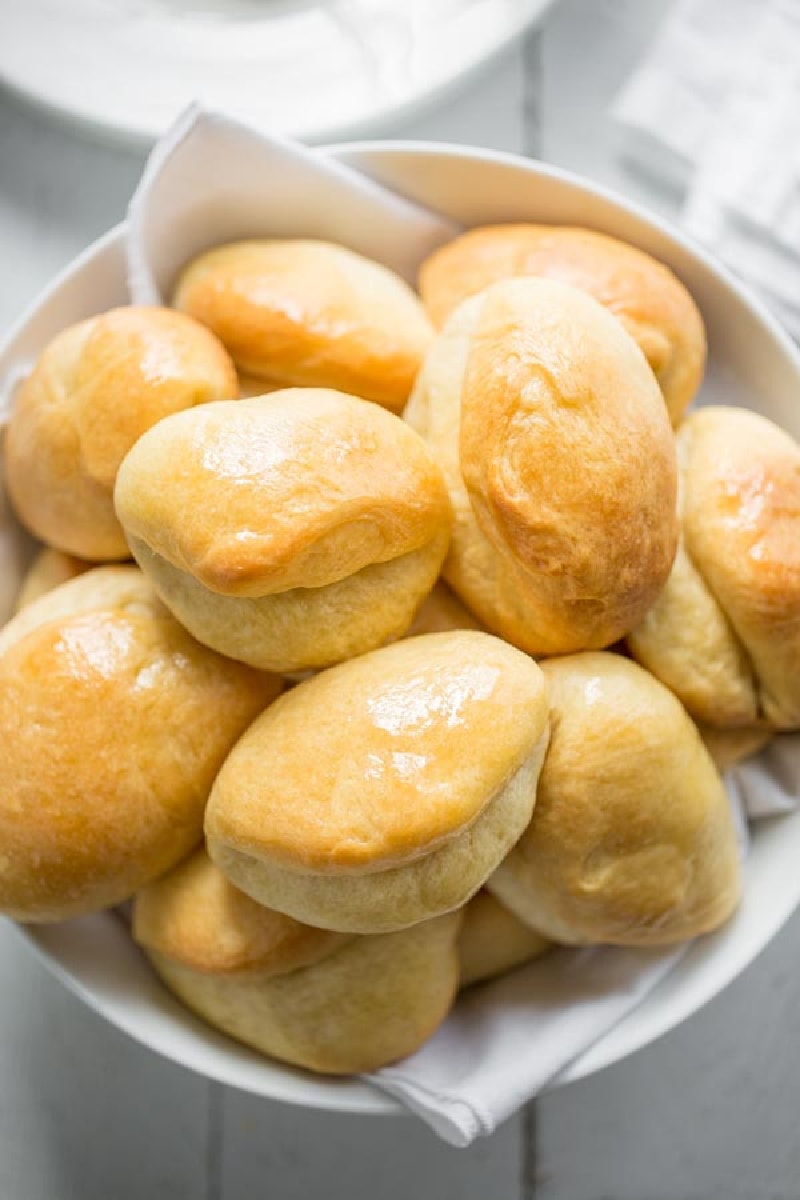 I can't wait until you try some leftover holiday turkey with a dab of mayonnaise on one, or two, of these delicious dinner rolls. These Parker House Rolls make the best little leftover turkey sandwiches! I kinda think it's worth it to make these just for the leftovers.
If you have out-of-town company for the holidays, these rolls will be a memorable treat. Pack a few for their trip home and be sure to share the recipe with them too! That is IF there are any left over after dinner. In fact, now that I think about it, it might be a good idea to double the recipe. Yes, you are very, very welcome!
Parker House Rolls
Classic recipe for these delicious rolls!
Recipe Details
Ingredients
1¼

cups

warm whole milk

(110 degrees on an instant read thermometer)

½

cup (1 stick)

unsalted butter,

melted

1

large

egg

4¼

cups

all purpose flour

(plus more, as needed)

3

tablespoons

granulated white sugar

2¼

teaspoons

rapid-rise yeast

(1 envelope or ¾ ounce)

1½

teaspoons

salt

vegetable or canola oil,

for greasing the bowl

extra melted butter,

for brushing on rolls before and after baking
Instructions
In a 4-cup measuring cup, with a spout if you have it, combine the warmed milk, melted butter, and the egg. Whisk until blended.

In the bowl of a stand mixer fitted with the dough hook, combine the flour, sugar, yeast and salt. Turn the mixer on low and slowly pour in the milk mixture and blend until a dough forms, about 2 minutes. Increase the speed to medium-low and mix until the dough is smooth and elastic, about 8 minutes. After 4 minutes of mixing you can add the additional flour if needed, one tablespoon at a time, just until the dough cleans the sides of the bowl but still sticks to the bottom. You may not need this additional flour depending on humidity, moisture in the butter, etc.

Scoop the dough out onto a lightly floured, clean work surface. Knead to form a smooth round ball of dough. Place the dough into a large, lightly oiled, clean bowl. Cover with a lightly sprayed piece of plastic wrap and place in a warm location to rise until doubled in size, about 1 to 1½ hours.

Line two large baking sheets with parchment paper and set aside. Melt 4 tablespoons of butter and have a pastry brush on hand.

Place the risen dough on a lightly floured work surface and divide into two equal parts. Place half the dough back in the bowl and cover with a clean dish towel. Working with the remaining half, pull and stretch the dough into a smooth and even 12-inch log. Cut the dough into 12 equal size pieces. Working with one dough ball at a time, roll into a smooth, tight ball using the palm of your hand. Cover the dough balls with the lightly greased plastic wrap while forming the rolls.

Use a small rolling pin or your hands to flatten each dough ball into an oval (about 4-inches long) with a depressed middle (higher on the sides). Lightly brush the center oval with melted butter, then fold in half to form the traditional Parker House roll shape. Press lightly on the edges to seal then transfer to a prepared baking sheet. The edges will not seal properly if buttered so try and keep the butter in the center of the oval. Repeat with the remaining dough balls spacing the rolls about 2-inches apart on the baking sheet. Cover the formed rolls with a lightly sprayed piece of plastic wrap and set aside in a warm location.

Repeat with the remaining dough, forming into a log, cutting into 12 equal sized pieces, etc. Set the second filled pan aside in a warm location to rise until doubled in size, about 45 minutes to 1¼ hours. To test for proper rise, the dough should barely spring back when poked with a knuckle.

Adjust oven racks to the upper-middle and lower-middle positions. Preheat oven to 350 degrees. Once risen, lightly brush the rolls with melted butter, and bake until golden brown, about 20 to 25 minutes. Switch and rotate the pans halfway through baking. Allow the rolls to cool, then serve warm brushed with additional melted butter if desired.
Notes
For this recipe you will need an instant read thermometer and a small rolling pin or dowel rod.
This recipe was made using Land-O-Lakes unsalted butter and has not been tested with other brands.
I use my microwave as a proofing oven. When the task light is on (under the microwave) the inside of the microwave stays warm and is free from drafts. It's the perfect place to proof dough!
Make ahead instructions: Once the dough is made, do not let it rise. Refrigerate the dough ball overnight or up to 16 hours. When ready to bake, let the dough rest at room temperature for 30 minutes, then continue with the remaining instructions for rising in step 3.
Unbaked, formed, fully risen rolls can be frozen for up to 1 month. Once frozen, transfer to a large ziplock bag for storage. To bake, remove the frozen rolls to a parchment lined baking sheet and allow them to rest at room temperature for 30 minutes, then bake. You may need to increase baking time to 25 to 30 minutes.
Nutrition
Serving:
1
roll
,
Calories:
136
kcal
,
Carbohydrates:
19
g
,
Protein:
3
g
,
Fat:
5
g
,
Saturated Fat:
3
g
,
Polyunsaturated Fat:
1
g
,
Monounsaturated Fat:
1
g
,
Trans Fat:
1
g
,
Cholesterol:
20
mg
,
Sodium:
155
mg
,
Potassium:
55
mg
,
Fiber:
1
g
,
Sugar:
2
g
,
Vitamin A:
155
IU
,
Vitamin C:
1
mg
,
Calcium:
20
mg
,
Iron:
1
mg