Here's a meatless, healthy dinner recipe for you:  Quinoa Stuffed Peppers.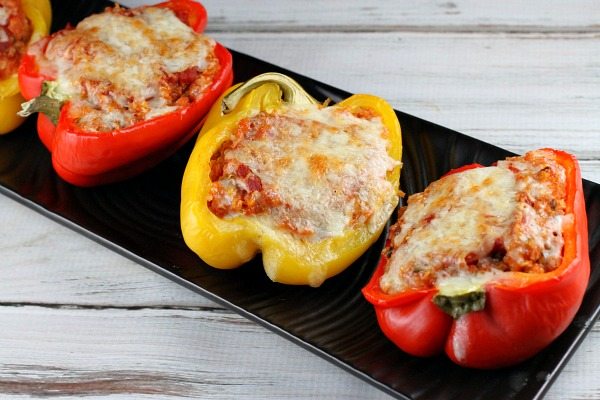 There are so many reasons to love today's post.  It's Monday, and everyone is happy on Monday, right?  Monday is known as "meatless Monday," which is a nice stray away from your family's usual meat-focused dinner, so I've got some beautiful quinoa stuffed peppers for you.  And we're celebrating the new Skinnytaste Cookbook by my sweet and talented friend Gina Homolka.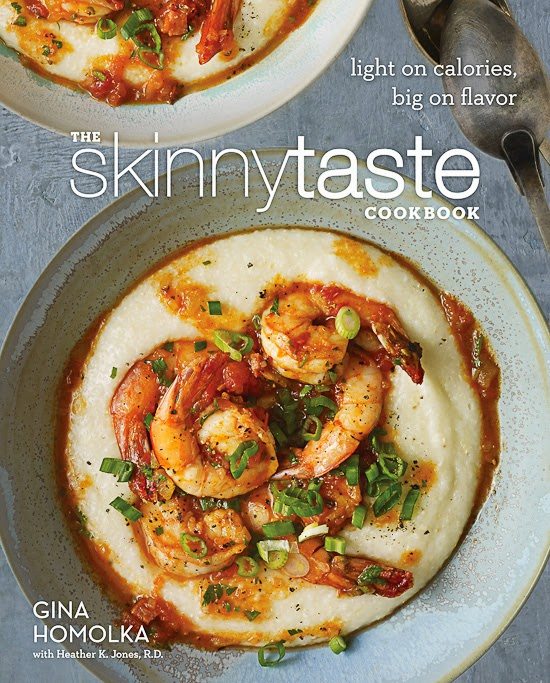 Listen to me now and trust what I'm going to say next.  The Skinnytaste Cookbook is officially being released tomorrow, and it's going to be HUGE.  It's already been selling well for weeks before the official release, but I'm telling you that this one is going to be a New York Times Best Seller.  Plan to buy it or put it on your wish list because you're going to want this one on your bookshelf FOR SURE.
Gina is so super talented at making skinny versions of delicious recipes.  The book is very well written, and it's filled with all kinds of "skinny" recipes you're going to want to try.
I'm excited to try the following:  Coconut Chicken Salad with Warm Honey-Mustard Vinaigrette, Pear and Brie Grilled Cheese, Baked Zucchini Sticks, Chicken Pot Pie Soup, Guiltless Chocolate Chip Pancakes, Mongolian Beef and Broccoli, Kiss My Shrimp and Grits, Vegetable Fried Brown Rice, Quinoa Tabbouleh and Silky Chocolate Cream Pie.  There are so many good ideas in this book!  All recipes contain nutritional information too!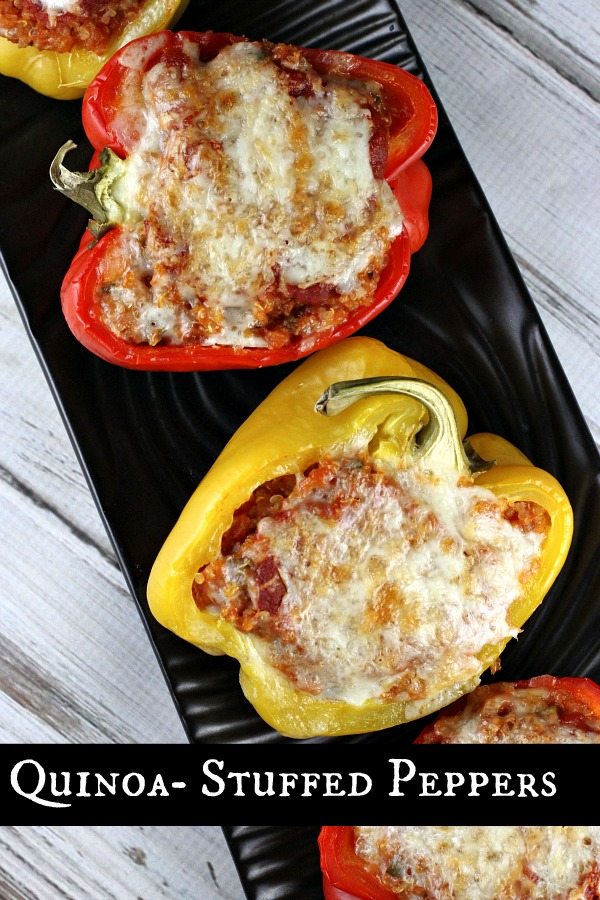 These quinoa stuffed peppers are stuffed with a tomato-based, cheesy quinoa filling.  They're a delicious and filling main dish, and you can feel good that you're not eating too much for dinner.  My husband and I loved them.  My kiddo happily ate the filling, but he pushed away the peppers (ignore him though… he's a picky and opinionated 13-year old who is set in his ways, for the time being!)
Give these quinoa stuffed peppers a try for a meatless family dinner!  And be sure to check out The Skinnytaste Cookbook.  I think you'll be very happy to have it in your collection!
Quinoa Stuffed Bell Peppers
Yield: 4 servings
Prep Time: 30 minutes
Cook Time: 1 hour 10 minutes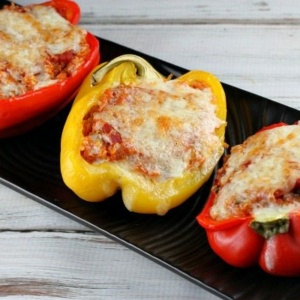 Ingredients:

FILLING:

1/2 cup quinoa, rinsed thoroughly
1 cup vegetable broth
1 teaspoon extra-virgin olive oil
2 garlic cloves, chopped
3/4 cup canned crushed tomatoes
1/4 teaspoon Kosher salt
freshly ground black pepper
3 tablespoons grated Pecorino Romano cheese
1/2 cup chopped baby spinach
2 tablespoons chopped fresh basil
1/4 cup shredded whole milk mozzarella cheese (1 ounce)

PEPPERS:

2 large peppers (I used yellow and red)
4 tablespoons canned crushed tomatoes
2 teaspoons grated Pecorino Romano cheese
1/4 cup shredded whole-milk mozzarella cheese (1 ounce)
1/3 cup vegetable broth

Instructions:

Prepare the filling: Place rinsed quinoa in a medium saucepan. Add the broth and bring to a rolling boil. Reduce heat to low, cover, and cook until the liquid is absorbed, about 15 minutes. Remove the pan from heat and let stand, covered, for 5 minutes. Fluff with a fork.
Preheat the oven to 350 degrees F. Heat a medium saucepan over medium heat. Add the oil and garlic and cook, stirring, until golden, about 1 minute. Add the tomatoes, salt, and pepper to taste, and cook, stirring, for 5 minutes to develop the flavors. Remove the pan from heat, add the cooked quinoa, Romano, spinach, basil and mozzarella.
For the peppers: Halve the peppers lengthwise and remove the core and seeds. Place the peppers cut-side-up in a baking dish. Fill each pepper with 1/2 cup of the filling. Top each with 1 tablespoon crushed tomatoes, 1/2 teaspoon Romano and 1 tablespoon Mozzarella. Pour the broth into the bottom of the dish. Cover tightly with foil.
Bake until the peppers are soft, about 50 minutes. Remove them from the oven and let cool for 5 minutes before serving.

Tips:

If you are sharing this recipe as GLUTEN-FREE, just be sure to use brands of vegetable broth and tomatoes that are known to be GF.

Nutrition:

Nutritional Information per serving (Serving size: 1 pepper half) Calories: 183, Fat: 6g, Saturated Fat: 2g, Sugars: 6g, Sodium: 411mg, Fiber: 5g, Protein: 8g, Cholesterol: 11mg, Carbohydrates: 25g
Weight Watchers POINTS: Freestyle SmartPoints: 5, SmartPoints 5, Points Plus: 5, Old Points Program: 3

SOURCE:

RecipeGirl.com (recipe shared with permission from

The Skinnytaste Cookbook

) by Gina Homolka. Published by Clarkson-Potter, 2014.
Here are a few more stuffed peppers recipes you might enjoy: