I don't know about you, but I've been pretty wary about trying Quinoa for a very long time. Those little granules… how could those possibly turn into anything worth eating?! Seriously??! Well, it just so happens that they're edible. Quite edible, in fact. You just have to know how to prepare those little granules so that they're worthy of eating. Adding a bunch of other good stuff in with them is helpful too. I put together a little Mexican Quinoa Salad for you.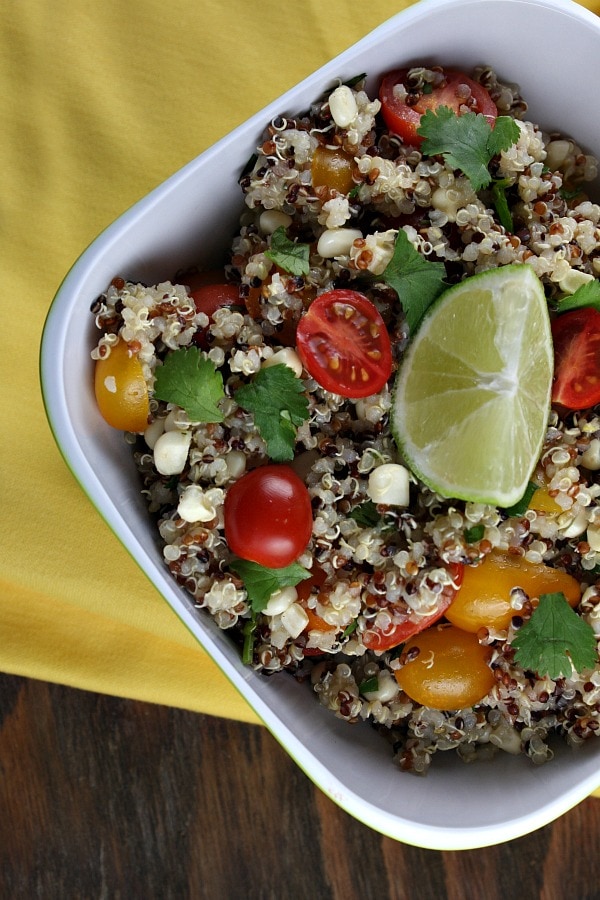 I added good stuff like cherry tomatoes, fresh corn and cilantro. There's a little lime in there too and a light dressing. Easy.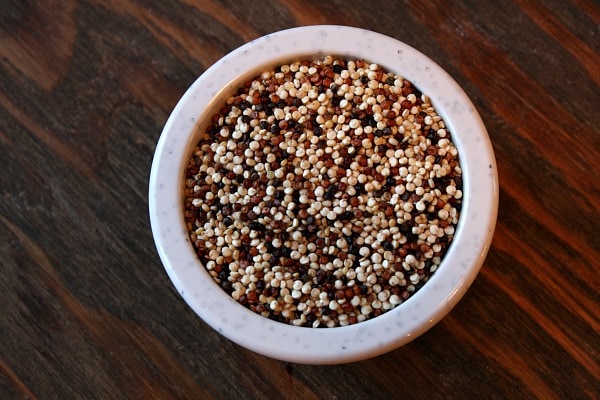 This is a fancy-schmancy tricolor quinoa from Trader Joe's.  Otherwise, it's just one color.  Find it in the same section of your market where you'd find rice.
Some schooling for you… Quinoa (properly pronounced as "Keen-Wah") is a type of whole grain/seed. It cooks up quicker than other whole grains (just 10 to 15 minutes) and it's naturally vegan, vegetarian, gluten free and cholesterol free. Quinoa has the highest protein content of any other grain, and it contains all 8 amino acids (so it's good for ya!) It's prepared just as rice is prepared with one part quinoa to two parts water. It's important to rinse quinoa well before cooking it since it's coated with a naturally occurring plant chemical that can cause a bitter taste. It's super fine though, so you'll need a fine mesh strainer to use for rinsing.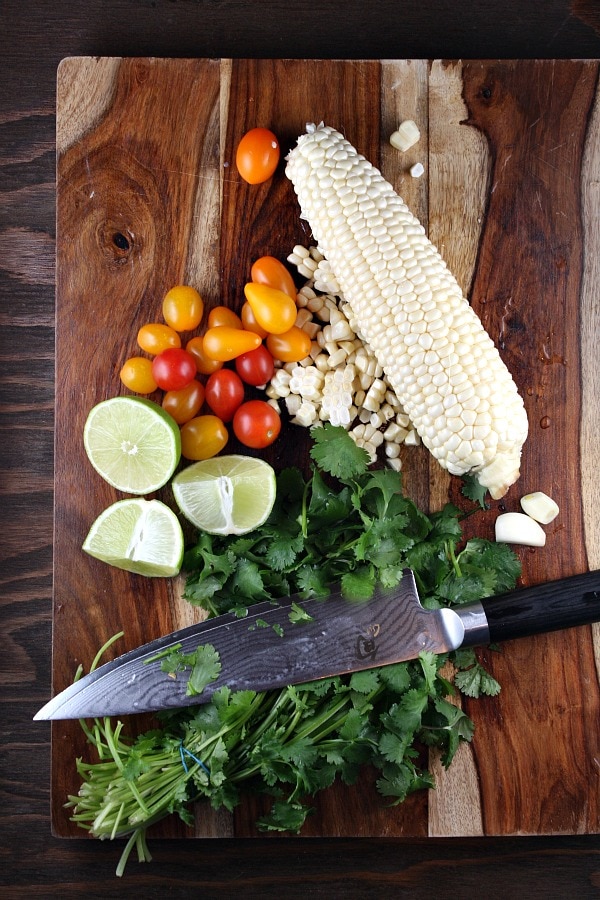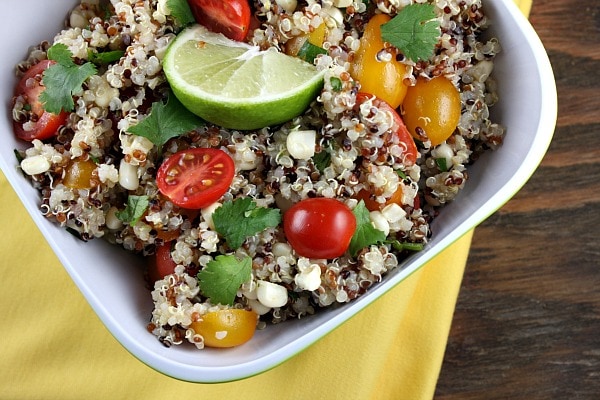 Prepare your quinoa in a little saucepan, and in 10 minutes it's ready… add your veggies and herbs and a simple dressing and big bang bongo you've got yourself a salad- served warm or lukewarm or cold.  Or you could be totally brave and just hit the Farmer's Market, grabbing whatever sounds good to you and add it to quinoa.  It's all good.
Are you a fan of quinoa already?  Have you yet to try this little grain?  Have I turned you on to the idea of trying it?  Hope so!
Horizons need to be broadened, salads need to be shaken up a bit, quinoa needs to be eaten, and… do as Lennon said and Give Peace a Chance.  (Though the first time I wrote that it came out as, "Give Peaches a Chance."  Hmmm.  Ignore me and my crazy thoughts here.  Just eat some quinoa.
Mexican Quinoa Salad
This is a simply, fresh flavored quinoa salad, served warm or cold.
Yield:
4 servings
Prep Time: 20 min
Cook Time: 12 min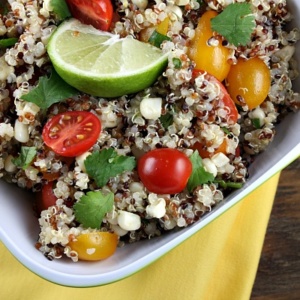 Ingredients:

Dressing:
1 1/2 tablespoons extra-virgin olive oil
2 tablespoons white wine vinegar
2 cloves garlic, minced
salt and freshly ground black pepper, to taste

Salad:
1 cup dry quinoa, rinsed well through a fine strainer/sieve
1 cup halved cherry tomatoes
3/4 to 1 cup fresh corn (sliced off the cob, raw)
1/4 cup finely chopped cilantro
lime wedges
salt and freshly ground black pepper, to taste

Instructions:

1. Whisk the dressing ingredients together in a small bowl. Set aside.

2. Prepare the quinoa according to package directions. Cool slightly.

3. In a medium bowl, toss the quinoa with the tomatoes, corn and cilantro. Add the dressing and toss to coat everything. Squeeze lime on top, and season with salt and freshly ground pepper, to taste.

4. Serve with lime wedges, for individual squeezing.

Nutrition:

Nutritional Information per serving:
Serving size: 1/4th of the salad
Calories per serving: 258
Fat per serving: 8.4g
Saturated Fat per serving: .8g
Sugar per serving: 4.3g
Fiber per serving: 4.4g
Protein per serving: 7.6g
Cholesterol per serving: 0mg
Carbohydrates per serving: 40.1g

WW POINTS per serving:
Points Plus Program: 7 Old Points Program: 5