I have (truly) a prize-winning dessert recipe to share with you today: Raspberry- Mango Dessert Bruschetta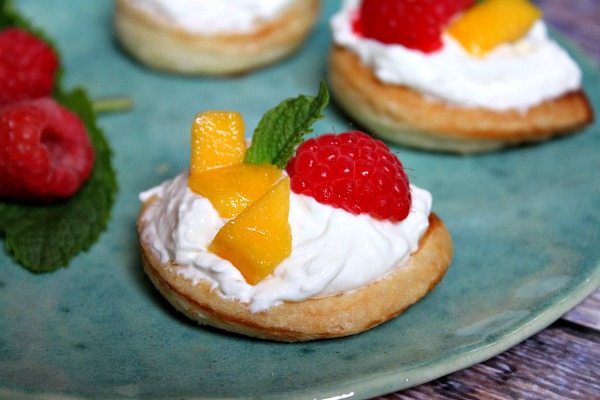 Now before you think I'm getting all weird on you and trying to talk you into thinking that adding some sweet stuff to the top of a piece of baguette is good enough to call it dessert… it's totally not like that at all.  This "bruschetta" uses puff pastry as a base for the toppings.  And it's puff pastry that has been partnered with sugar and cinnamon and baked until it's all cinnamony sweet and crusty.  THEN it's good enough to top with a sweetened cream cheese and fresh raspberry and mango.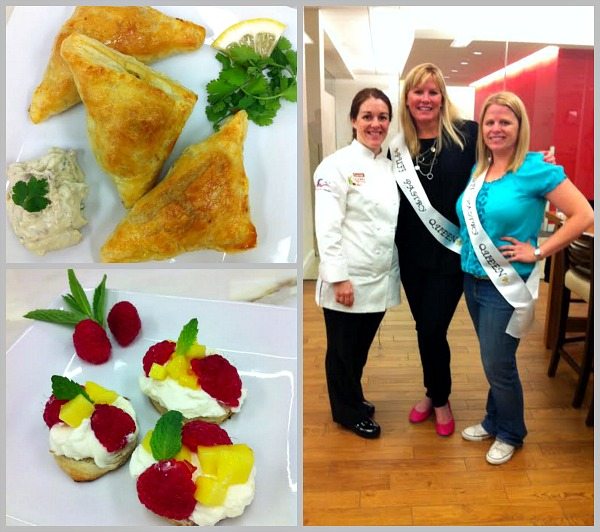 I was in Norwalk, Connecticut a couple of weeks ago at the Pepperidge Farm company headquarters.  Since I've been working on creating recipes with Puff Pastry for the last several months, they flew me and a few other partnering bloggers and recipe contest winners in for a visit.  While there, we participated in an "Iron Chef" sort of challenge.  My partner (Erin from the Dinners, Dishes and Desserts blog) and I made one savory recipe using Puff Pastry and one sweet recipe.  Erin featured the savory recipe – Brazilian Chicken Turnovers with Avocado- Yogurt Dip on her blog last week.  I'm featuring the sweet recipe- Raspberry-Mango Dessert Bruschetta on my blog today!  The judges judged and scored, and Erin and I won the competition.  We were crowned "Puff Pastry Queens" for the day 🙂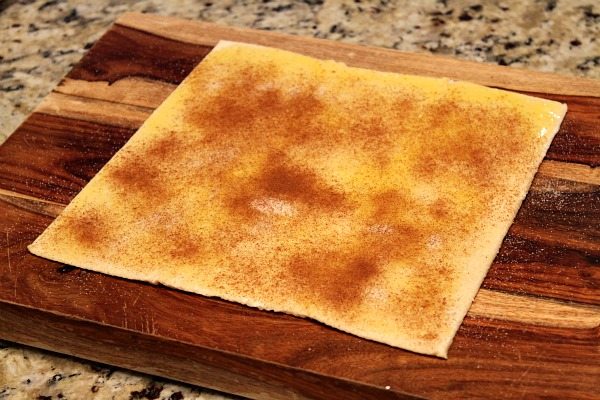 Here's how you make this recipe (so easy):  Thaw out a sheet of Puff Pastry.  Brush it with egg, sprinkle it with sugar and then sprinkle it with cinnamon.  Roll it up into a log, cut slices, and bake for 15 minutes.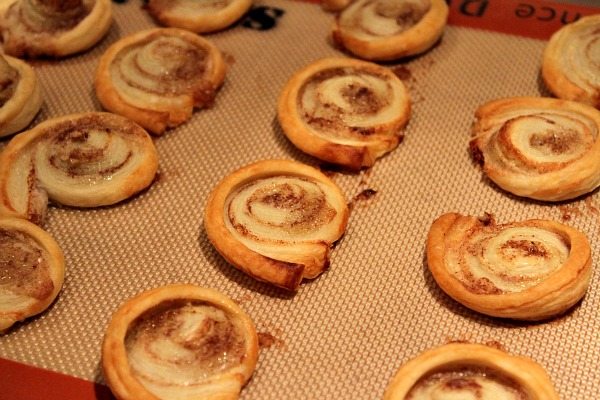 Here is what they look like when they come out of the oven.  Turns out, they make a perfect base for topping with stuff for a bite-sized dessert.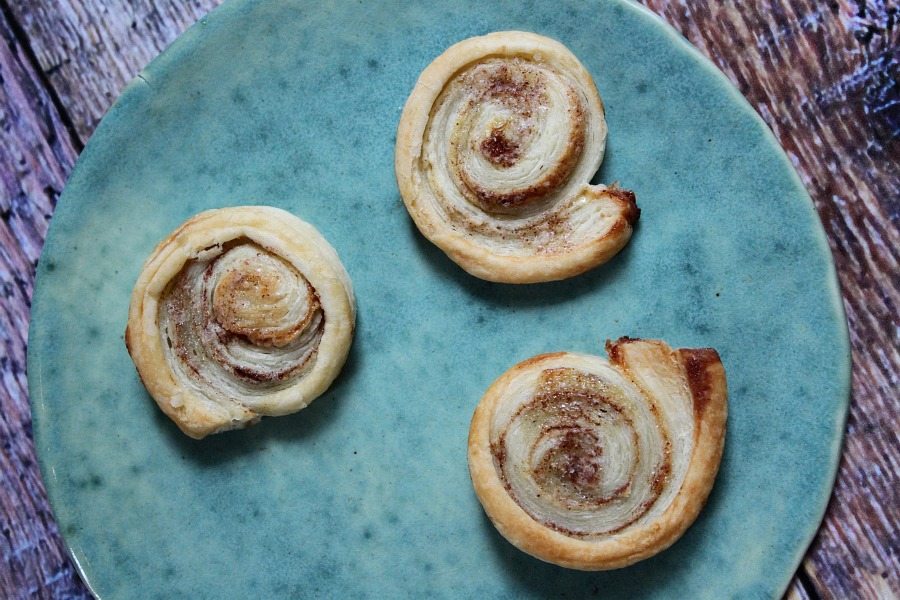 To assemble:  Lie the baked cinnamon swirl pastries on a serving platter.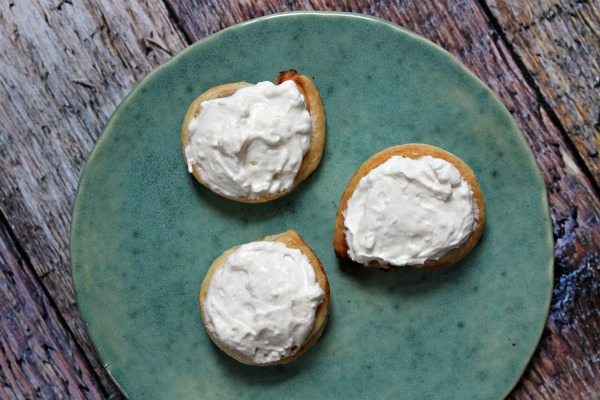 Top with a sweetened cream cheese mixture.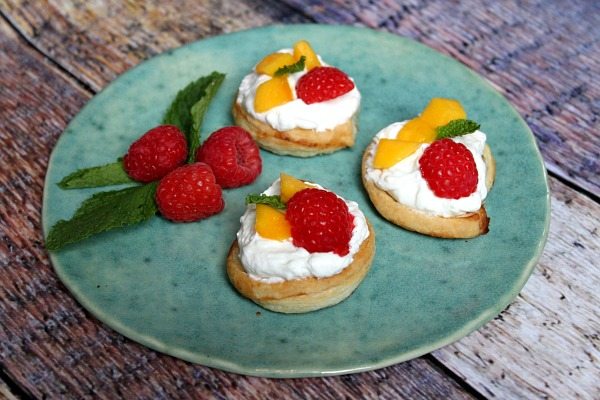 Finish them off with chopped mango, raspberry, and a small mint leaf.  Don't be afraid of the mint leaves.  They're totally okay to eat, and they add to the fresh, delicious vibe of the recipe.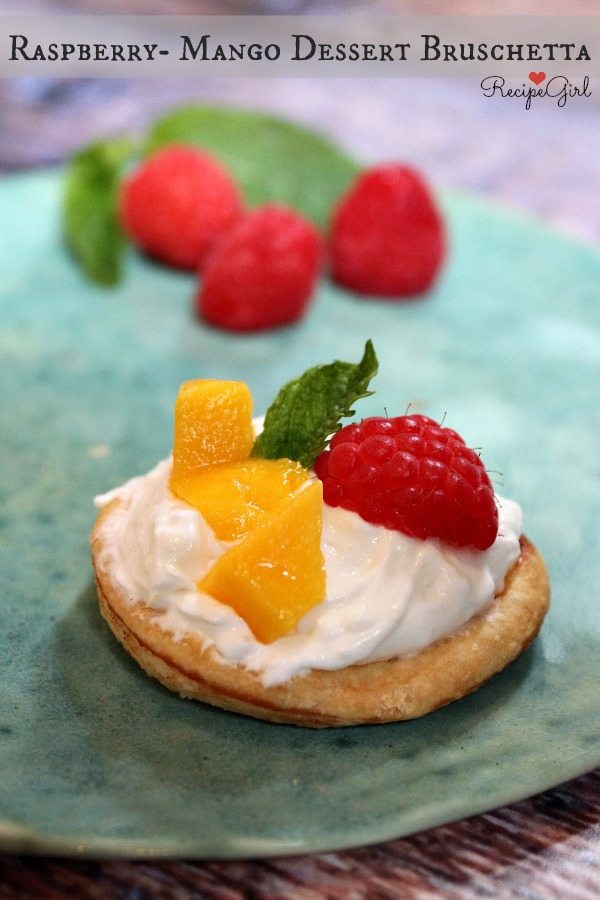 I have to admit- these are REALLY good.  I'm not surprised they were a winning recipe (though I thought all of the recipes made by the people participating were amazing!!)  Think about how cute these would be for a summer holiday weekend… to make them red, white and blue just use chopped strawberries and blueberries.  Fun, right?  I think so.  If you're in the USA this weekend, enjoy your long holiday weekend… and celebrate with some of these!
Raspberry- Mango Dessert Bruschetta
Yield:
20 dessert bites
Prep Time: 30 min
Cook Time: 15 min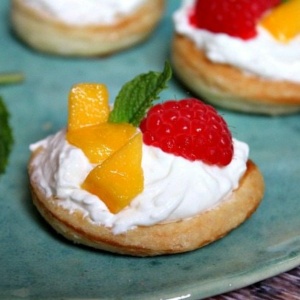 Ingredients:

BASE:
1 sheet of Puff Pastry (I use Pepperidge Farm), thawed
1 large egg, whisked
2 tablespoons granulated white sugar
ground cinnamon

TOPPING:
4 ounces cream cheese, softened
1/3 cup plain or vanilla Greek yogurt
1/2 cup heavy cream
2 to 3 tablespoons powdered sugar
1/2 teaspoon lemon zest

WAY ON TOP:
halved raspberries
chopped, ripe fresh mango
very small mint leaves

Instructions:

1. Preheat the oven to 400 degrees F. Line a baking sheet with parchment paper or a silpat mat.

2. Brush some egg onto the puff pastry sheet. Sprinkle sugar on top of the egg. Sprinkle cinnamon on top of the sugar. Roll the pastry into a log- grab short sides and roll. Cut slices from the log (you should be able to get about 20 slices). Place the slices on the prepared baking sheet. Bake 15 minutes. When the pastries come out of the oven, use a spatula to flatten any pastries that may have puffed up a bit.

3. In a medium bowl, use an electric mixer to combine the cream cheese and yogurt. Mix until smooth and creamy. Add in the cream. 2 tablespoons powdered sugar and lemon zest. Mix until thick and creamy. Taste. If you'd prefer more sweetness, mix in another tablespoon of powdered sugar. Spread a generous amount of the topping mixture onto each pastry. Top decoratively with mango, raspberry and a mint leaf. Keep refrigerated until ready to serve. It's okay to make these a few hours ahead.