This recipe for Sausage Pinwheels is a variation on classic English Sausage Rolls.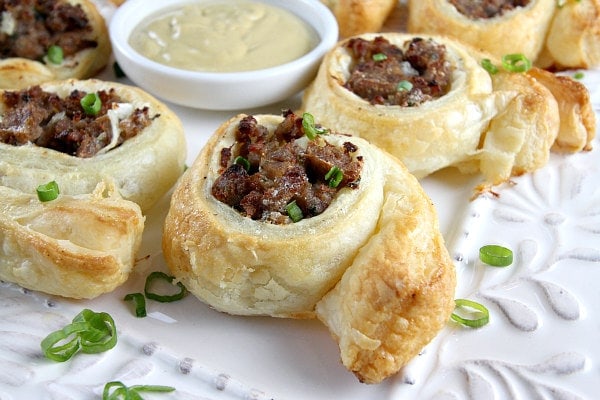 They're an easy appetizer to make– crumbled sausage with onions, fresh sage and cheese with Puff Pastry rolled around it.  Slices of the roll turn into pinwheels when baked.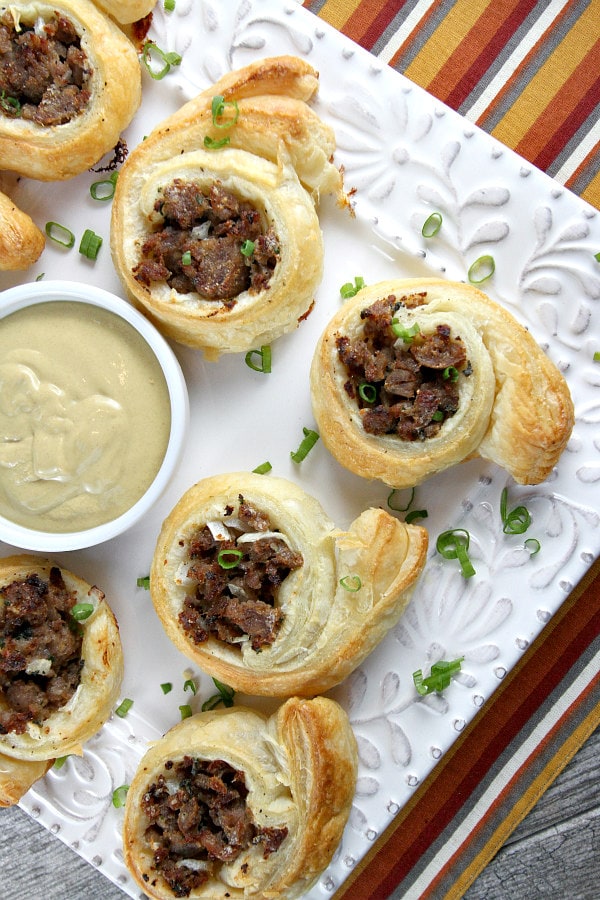 These Sausage Pinwheels are a great appetizer to serve at a finger food party, football Sunday or a Downton Abbey themed gathering.
Serve with Dijon mustard… or honey Dijon mustard for dunking.
Sausage Pinwheels
In the photos shown above, the recipe is made with crumbled English bangers.
Yield:
18 pinwheels
Prep Time: 20 minutes
Cook Time: 30 minutes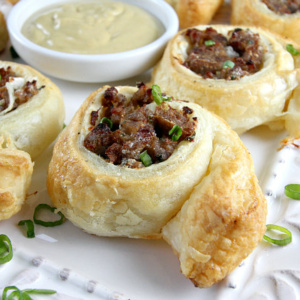 Ingredients:

1 lb sausage or English bangers, skin removed and crumbled
1/2 large onion, finely chopped
1 1/2 tablespoons finely chopped fresh sage
3 tablespoons finely grated Parmesan cheese
One 17.3-ounce package Puff Pastry (2 sheets), thawed
1 large egg, beaten with 1 tablespoon water
salt and pepper
chopped green onions or chives for garnish, optional

Instructions:

Preheat the oven to 400 degrees F.  Line a baking sheet with parchment paper or a silpat mat.
In a large bowl, combine the sausage with the onion, sage and Parmesan.  Using your hands for best results, squish the onion, sage and Parmesan into the sausage.  Wash your hands.
Roll out the two sheets of Puff Pastry to make them a little bit thinner.  Divide the sausage mixture between the two sheets of Puff Pastry and form it each into a log down the middle of the Puff Pastry.  Brush the edges of the Puff Pastry with the egg wash.  Roll the pastry over the sausage into a long roll and wrap around to make sure the edges are sealed.  Brush with more egg wash to make sure.  Slice the the edges off and discard.  Slice each roll into nine 1-inch slices.  Place on the baking sheet, sausage-side-down.  Brush the pastries with egg wash and sprinkle with salt and pepper.
Bake 25 to 30 minutes, or until the pastry is baked through and golden throughout.
SOURCE:  RecipeGirl.com
Here are a few more English appetizers you might enjoy: