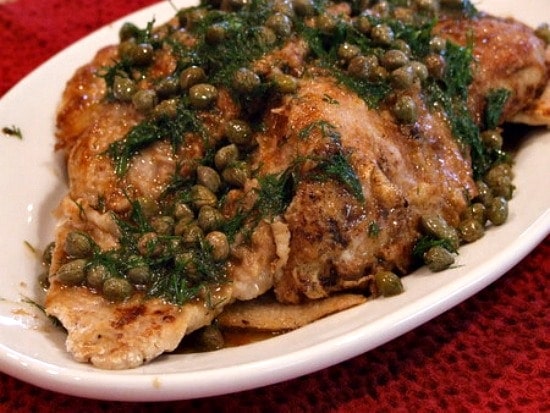 Veal Scallops with Capers, Vermouth and Dill
This recipe is nice served with green beans and orzo, and paired with a dry white wine.
Yield:
4 servings
Prep Time: 15 min
Cook Time: 10 min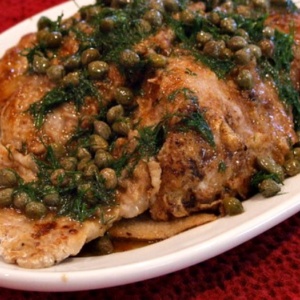 Ingredients:

flour
salt and pepper
1 pound veal scallops (about 1/4-inch thick)
5 tablespoons butter
1 tablespoon olive oil
2 tablespoons dry vermouth
3 tablespoons drained capers
1/3 cup chopped fresh dill

Instructions:

1. Place the flour in a low-lying bowl. Season with salt and pepper. Coat each piece of veal with the flour mixture, shaking off excess. Melt 2 Tablespoons butter with oil in heavy large skillet over medium-high heat.

2. Working in batches, add the veal the the pan and cook until light brown, 1 to 2 minutes per side. Transfer to a platter and cover with foil.

3. Add 3 Tablespoons butter to the skillet and melt, scraping up any browned bits. Add the vermouth and capers; bring to boil. Add the dill. Season with salt and pepper and pour over veal on the platter.

Tips:

*If you are preparing this recipe as gluten-free, use a GF all-purpose flour alternative.