One of my husband's favorite dinner recipes: Ziti with Vodka Sauce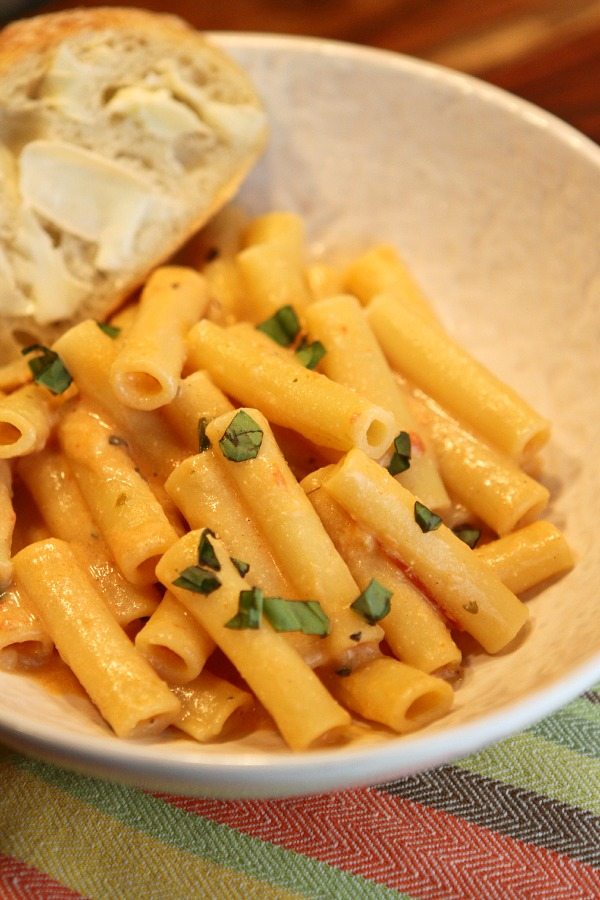 Ziti with Vodka Sauce
This is terrific with a great caesar salad, and crusty french bread to scoop up the extra sauce.
Yield:
3 to 4 servings
Prep Time: 25 min
Cook Time: 20 min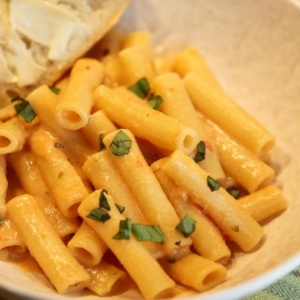 Ingredients:

2 tablespoons butter
2 cloves garlic, minced
1/2 cup sour cream (can use light)
a splash of milk or cream
1/2 cup shredded Parmesan (plus additional for serving)
1 tablespoon chopped fresh basil (plus more for garnish)
2 to 3 tablespoons tomato sauce
dash of white pepper
8 ounces ziti pasta, cooked and drained
1 1/2 shots vodka

Instructions:

1. In a medium skillet, brown the garlic in melted butter. Add the rest of the ingredients except the pasta and vodka. Stir until bubbly and heated through.

2. Add vodka to sauce and pour over the cooked pasta. Place in individual pasta bowls and sprinkle with additional Parmesan and chopped basil.

Tips:

*I like to double the sauce recipe because my husband loves it so much!
*In a pinch, you can use marinara sauce in place of tomato sauce.
More pasta recipes you might enjoy:
Mushroom- Florentine Pasta by She Wears Many Hats
Skillet Pasta Carbonara by RecipeGirl
Creamy Caprese Pasta by Give Recipe
Creamy Gruyere and Shrimp Pasta by RecipeGirl
One Pot Farmer's Market Pasta by The View From Great Island