Crustless Spinach and Cheese Quiche
Yield: 4 servings
Prep Time: 20 min
Cook Time: 45 min
Crustless Spinach & Cheese Quiche
I love this dish for a really nice lunch with a little side salad and a glass of white wine!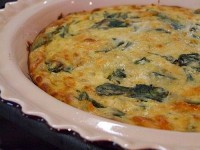 Ingredients:
1 teaspoon olive oil
2/3 cup diced onions
3 to 4 cups fresh baby spinach leaves
1 clove garlic, minced
3 large eggs
1/4 teaspoon ground black pepper
1 teaspoon regular Spike seasoning
1/2 Tablespoon worcestershire sauce
1 cup low fat ricotta cheese
2 ounces crumbled feta cheese
1/4 cup grated Swiss cheese
1/4 cup grated Parmesan cheese
Directions:
1. Preheat oven to 350°F. Spray 9-inch glass pie plate with cooking spray.
2. Heat oil in large skillet. Add onions to hot oil and sauté for 3 minutes.
3. Add spinach and garlic and sauté for another 2 minutes, or until spinach is completely wilted. Remove from heat.
4. Whisk remaining ingredients together in a medium mixing bowl. Stir in spinach mixture and then pour into pie plate.
5. Bake on center rack for 40 minutes. Let sit for about 5 minutes before slicing.
Tips:
*Use reduced fat cheeses to reduce fat/calorie content.
Nutritional Information per serving:
Serving size: 1/4 of the quiche
Calories per serving: 265
Fat per serving: 17g
Saturated Fat per serving: 9g
Sugar per serving: 2.5g
Fiber per serving: .9g
Protein per serving: 19g
Cholesterol per serving: 203mg
Carbohydrates per serving: 9g
WW POINTS per serving:
Points Plus Program: 7 Old Points Program: 7
5 Responses to "Crustless Spinach and Cheese Quiche"
Leave a Comment