Lamb Spaghetti with Spinach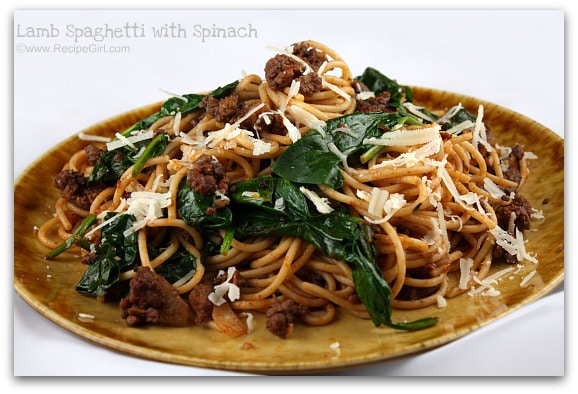 Substituting lamb for ground beef in this quick and easy pasta recipe… with the addition of mint and fresh spinach (big hit for dinner in my family).
Print Recipe
LAMB SPAGHETTI W/ SPINACH
www.RecipeGirl.com
2 Tbsp. extra-virgin olive oil
1 small onion, chopped
3 large garlic cloves, finely chopped
1 lb. ground lamb
1/3 cup tomato paste
¾ cup dry red wine
½ tsp. dried oregano
salt & freshly ground black pepper, to taste
6-ounce bag baby Spinach
3 Tbsp. finely chopped fresh mint
1 lb. spaghetti
freshly grated Parmesan or Romano cheese, for topping
1. In a large saucepan, heat olive oil over medium-high heat. Add onion and garlic and cook, stirring, until translucent, about 5 minutes. Add the lamb and cook, stirring, until the meat is lightly browned, about 10 minutes. Drain fat.
2. Stir in tomato paste, wine and oregano; season with salt & pepper. Cover and simmer over low heat for about 10 minutes. Add spinach and mint; stir until wilted.
3. Meanwhile, in a large pot of boiling, salted water, cook pasta until al dente. Drain the pasta, reserving ½ cup of the cooking liquid.
4. Toss the pasta with the cooking liquid and the ground lamb sauce.
5. Serve with grated cheese.
Serves: 6
Recipe Source: Adapted from Food & Wine
Leave a Comment