Substituting lamb for ground beef in this quick and easy pasta recipe… with the addition of mint and fresh spinach (big hit for dinner in my family): Lamb Spaghetti with Spinach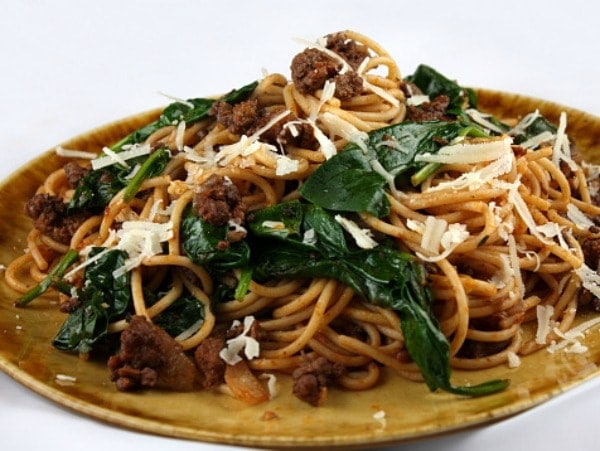 Lamb Spaghetti with Spinach
Yield:
6 servings
Prep Time: 25 minutes
Cook Time: 30 minutes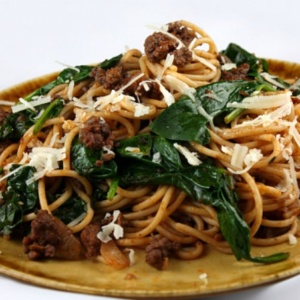 Ingredients:

2 tablespoons extra-virgin olive oil
1 small onion, chopped

3 large garlic cloves, finely chopped

1 pound ground lamb

1/3 cup tomato paste

3/4 cup dry red wine
1/2 teaspoon dried oregano

salt & freshly ground black pepper, to taste

One 6-ounce bag fresh baby spinach

3 tablespoons finely chopped fresh mint

16 ounces spaghetti

freshly grated Parmesan or Romano cheese, for topping

Instructions:

In a large saucepan, heat olive oil over medium-high heat. Add onion and garlic and cook, stirring, until translucent, about 5 minutes. Add the lamb and cook, stirring, until the meat is lightly browned, about 10 minutes. Spoon out the fat and discard.
Stir in the tomato paste, wine and oregano; season with salt & pepper. Cover and simmer over low heat for about 10 minutes. Add spinach and mint; stir until wilted.
Meanwhile, in a large pot of boiling, salted water, cook pasta until al dente. Drain the pasta, reserving 1/2 cup of the cooking liquid.
Toss the pasta with the cooking liquid and the ground lamb sauce.
Serve with grated cheese.
SOURCE:  RecipeGirl.com (Adapted from Food and Wine)