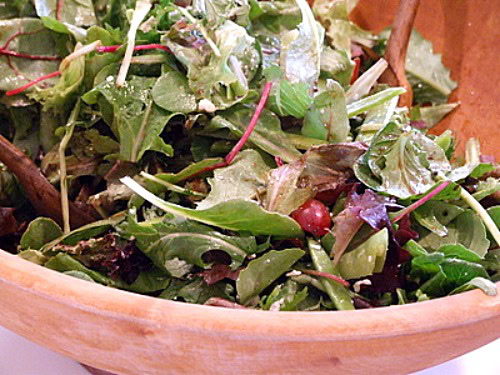 Field Salad with Snow Peas, Grapes and Feta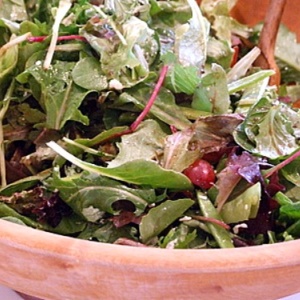 Yield:
6 servings
Prep Time: 15 min
Ingredients:
5 tablespoons balsamic vinegar
5 tablespoons freshly squeezed orange juice
2 tablespoons extra virgin olive oil
2 1/2 teaspoons granulated white sugar
1/2 teaspoon salt
1/4 teaspoon freshly ground black pepper
8 cups gourmet salad greens
2 cups snow peas, trimmed and cut lengthwise into thin strips
2 cups seedless red grapes, halved
1/2 cup (2 ounces) crumbled feta cheese
Directions:
1. Combine first 6 ingredients (through pepper) in a small bowl. Stir well with whisk.
2. Combine remaining ingredients in a large bowl. Drizzle dressing over salad; toss well. Serve immediately.
Nutrition:
Nutritional Information per serving:
Serving size: 1/6th of the salad
Calories per serving: 147
Fat per serving: 7.5g
Saturated Fat per serving: 2.5g
Sugar per serving: 13g
Fiber per serving: 2.5g
Protein per serving: 3g
Cholesterol per serving: 11mg
Carbohydrates per serving: 18g
WW POINTS per serving:
Points Plus Program: 4 Old Points Program: 4