Refreshingly simple, Strawberry Avocado Salad with Balsamic Chicken is like springtime in a bowl. Fresh, juicy strawberries, creamy avocado, crunchy pistachios and pan-seared chicken is nestled in a bed of greens and drizzled with a sweet-savory balsamic dressing.  Healthy and easy!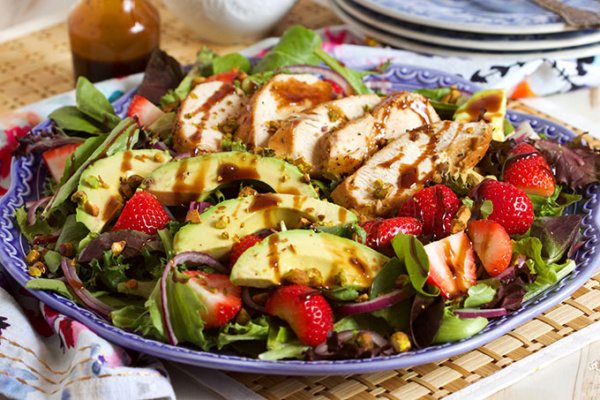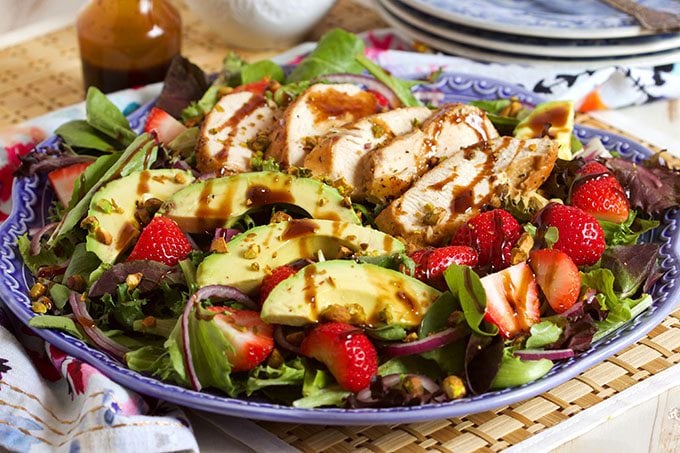 So, this is the time of year when I try to pull things back together….reset the healthy eating meter, so to speak.  When the weather gets warmer and I know that I'll eventually have to put on a pair of shorts, I do my best to eat a little lighter, a little leaner, a little brighter.  Salads are always my go-to because you can layer them with flavor without packing in the calories. Fresh ingredients start to pop up in the farmer's markets and this is where I go for my salad inspiration.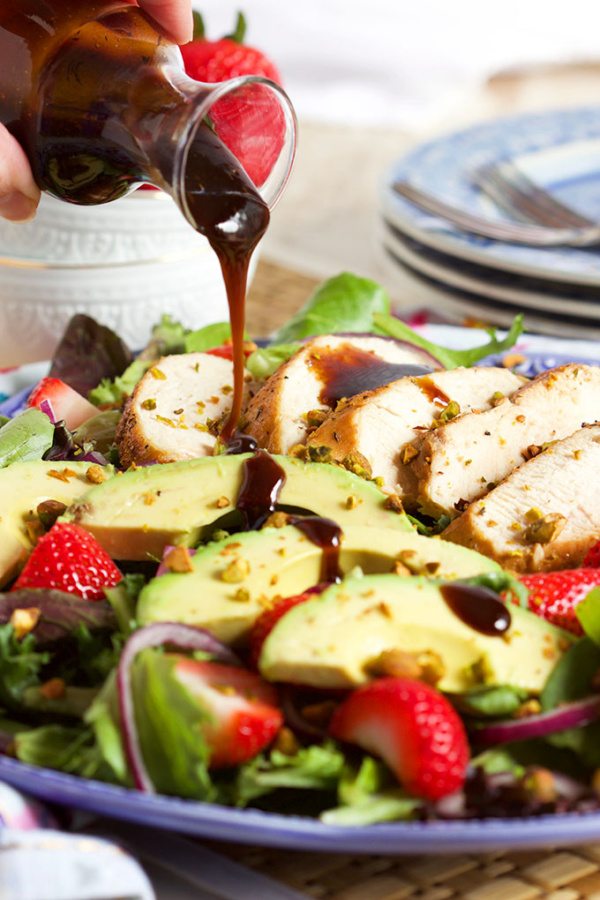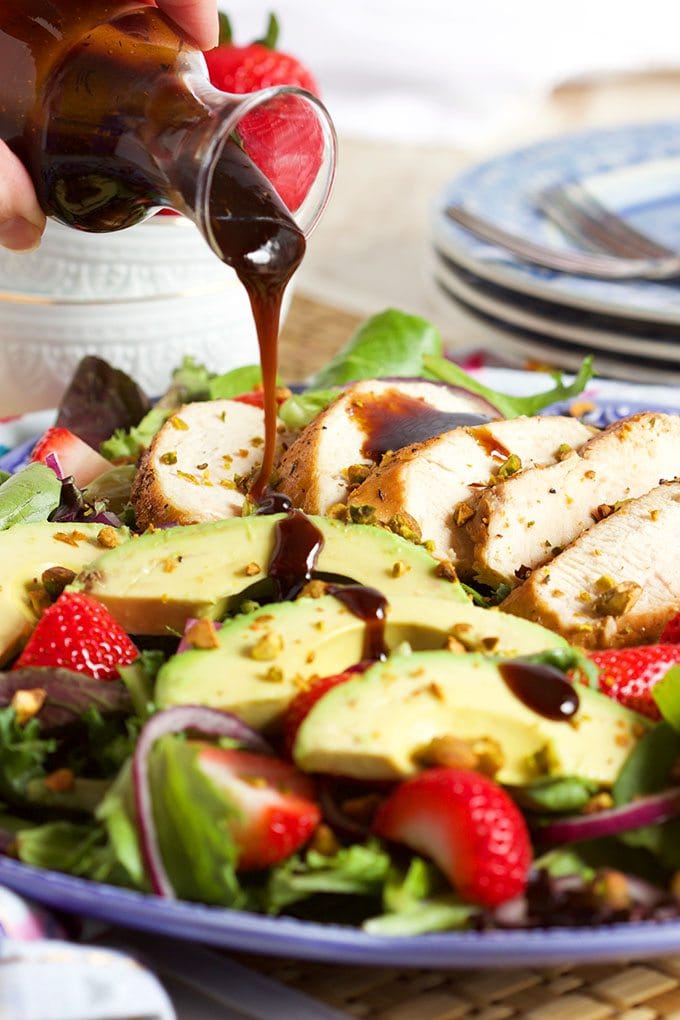 Strawberries are looking mighty fine right now so I picked up a basket and a handful of avocados. They're like my favorite flavors right now, the sweet/tart strawberries pared with buttery avocado just works in a magical way.  I pan seared a chicken breast and then "braised" it, sorta, in a Brown Sugar Balsamic sauce which doubled as the base for a syrupy vinaigrette.  That's how this Strawberry Avocado Salad with Balsamic Chicken was born….it was kind of genius, if you ask me.  One less dish to wash!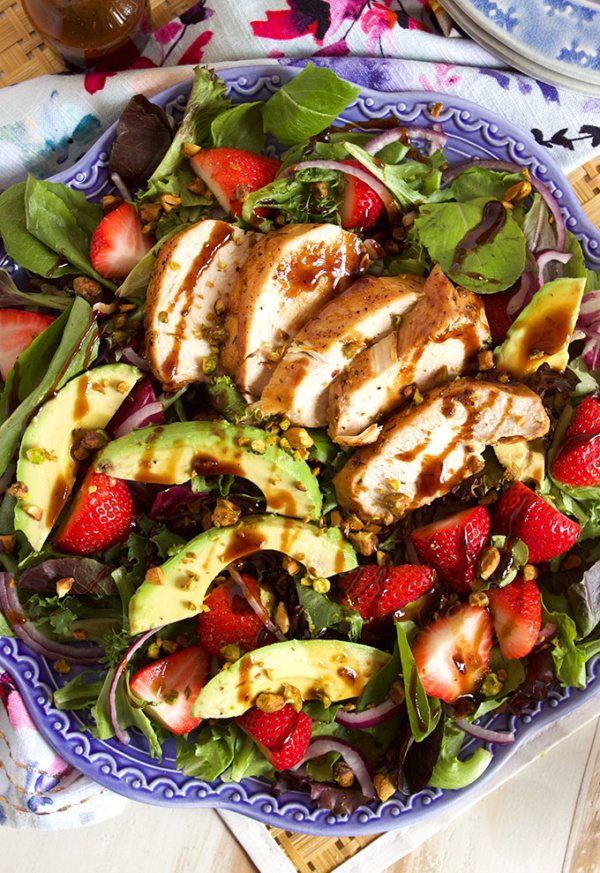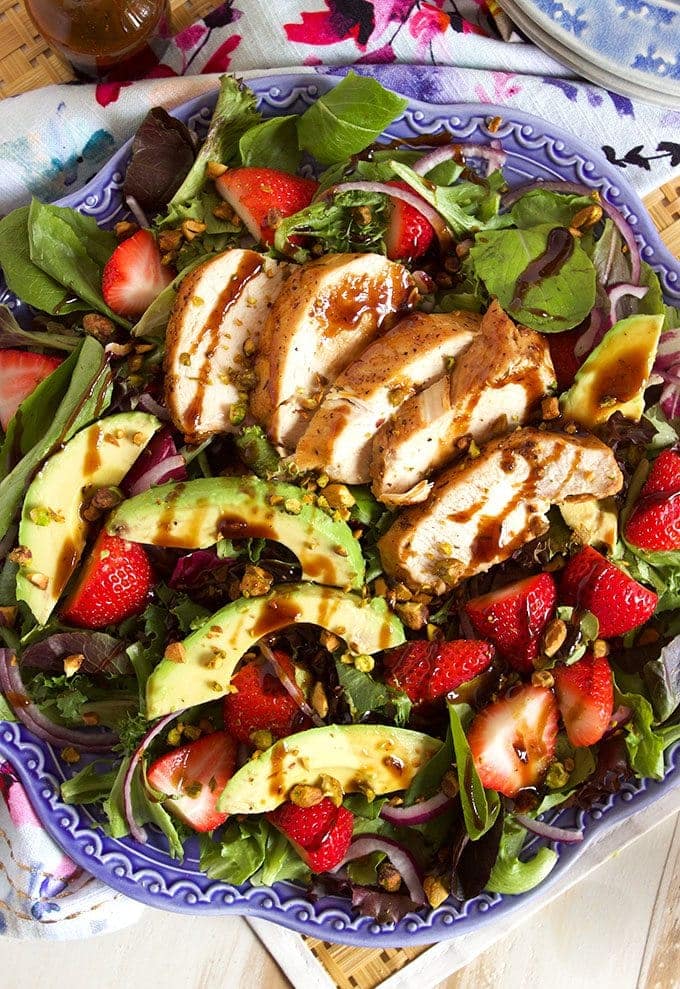 I arranged a pile of greens on a platter then topped them with the strawberries, avocados and chicken, sprinkled on some thinly sliced red onion, chopped pistachios and drizzled with my warm pan vinaigrette. The whole thing comes together in about 20 minutes….served warm it makes a fantastic main course salad worthy of entertaining, serve it chilled for a super tasty workday lunch.  Either way, your tastebuds are going to beg you to make this Strawberry Avocado Salad with Balsamic Chicken pretty regularly.  And so will your entire family.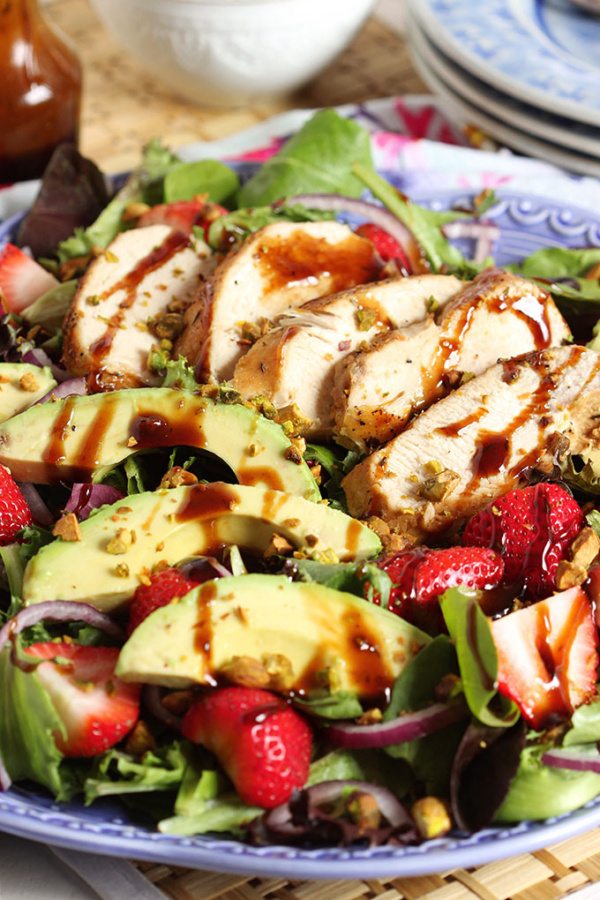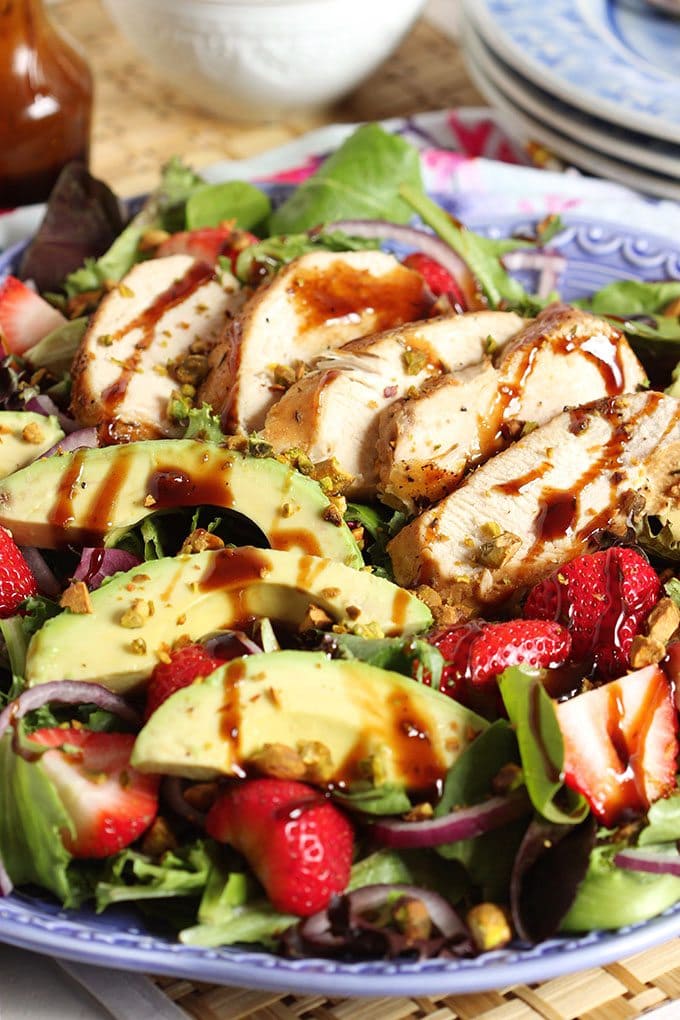 Strawberry Avocado Salad with Balsamic Chicken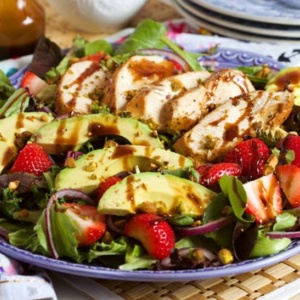 Yield:
4 servings
Prep Time:10 minutes
Cook Time:20 minutes
Ingredients:
1 tablespoon olive oil
2 boneless, skinless chicken breasts
1/4 cup brown sugar
1/4 cup balsamic vinegar
1/2 cup water
1 tablespoon Dijon mustard
1 teaspoon dried thyme
7 cups baby spinach or field greens, washed and dried
2 cups sliced strawberries
1 large avocado, pitted and sliced
1 small red onion, thinly sliced
1/2 cup chopped pistachios
Directions:
Heat the olive oil in a large skillet over medium heat.
Season the chicken breasts with salt and pepper. Add to the pan and cook for 5 to 6 minutes on each side.
While the chicken is cooking, whisk together the brown sugar, vinegar and water. Pour the mixture over the chicken and bring to a boil.
Continue cooking the chicken in the balsamic syrup for an additional 3 to 4 minutes until cooked through and no longer pink. Transfer to a platter and keep warm.
Remove the pan from the heat. Whisk in the mustard and thyme. Set aside.
Arrange the greens on a large platter.  Top with the strawberries, avocado and red onion. Slice the chicken and arrange on top of the salad.
Sprinkle with pistachios and drizzle with the dressing. Serve immediately.
SOURCE:  RecipeGirl.com
Here are a few more of my favorite salads you may enjoy: