The 4th of July summer holiday is over and now it's time to get back on the eating-healthy bandwagon.  Are you with me?!!  I don't know about you, but it's felt like vacation every day for the last several weeks.  And vacation for me means eating.. a lot… like whatever I want whenever I want.  We've had our fun, and now it's time to lighten thing up a bit.  I announced this to my husband last night and then made him eat this salad for dinner:  Strawberry Chicken Salad with Bacon and Avocado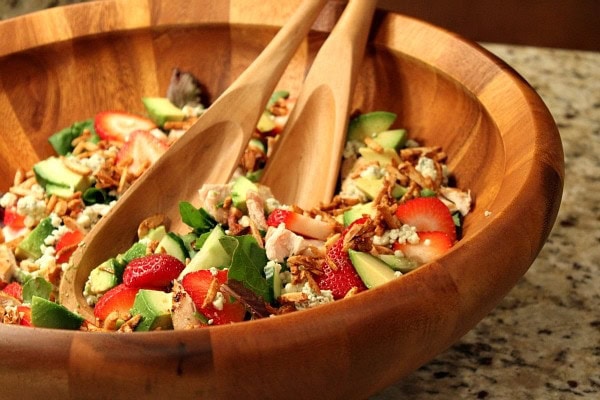 It wasn't like eating this salad for dinner was torture or anything.  There was a good amount of roasted chicken in there, sugared almonds, avocado and BACON.
I also snuck in some cucumber, yellow bell pepper, blue cheese and plenty of fresh strawberries.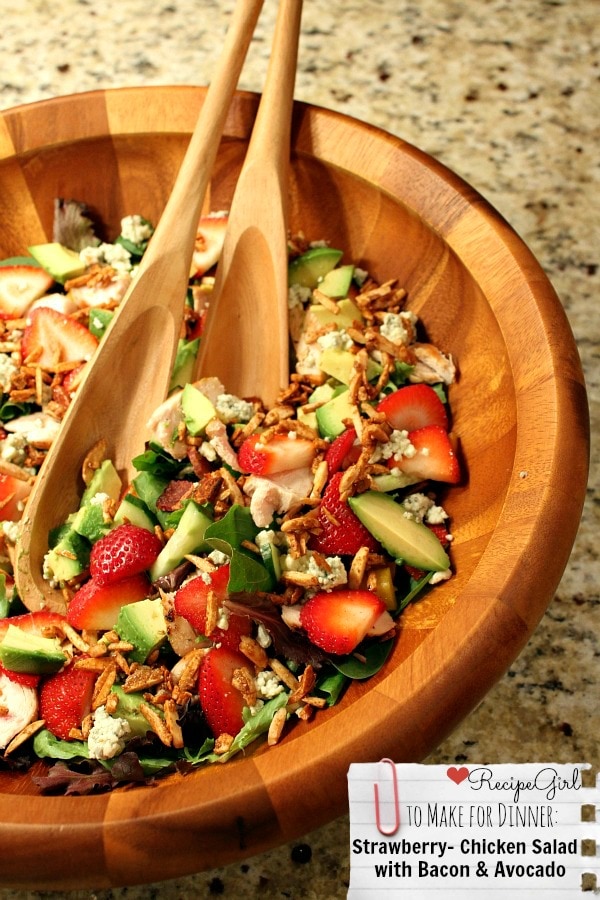 The dressing was my GO-TO homemade vinaigrette:  Strawberry Balsamic.  Simple.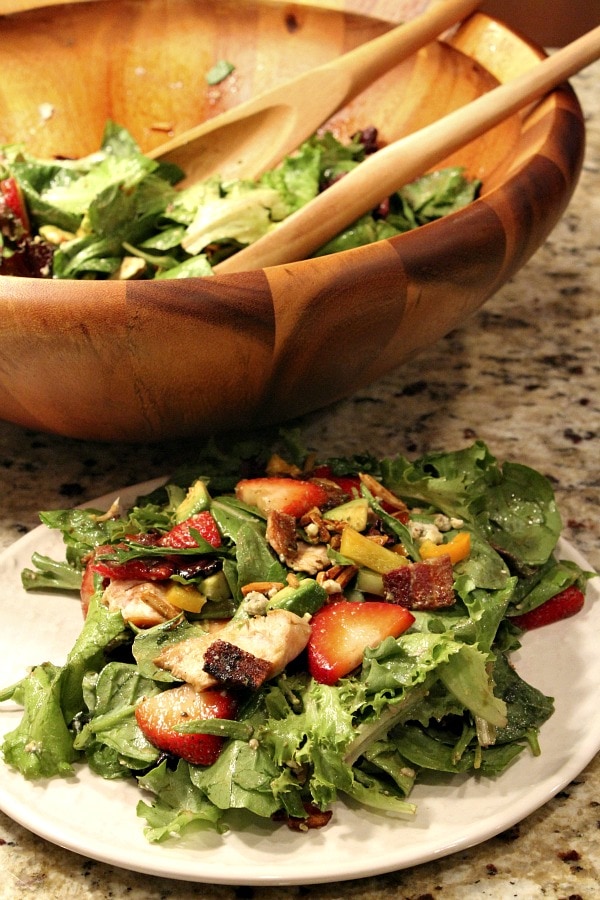 This recipe serves up 4 to 6 side dish salads, but if you're eating it as a main dish salad and you're really hungry, you may wish to just split the big bowl with someone else in your family (or halve the recipe).  As for my husband- the guy who is never, ever excited about eating salad for dinner- he was absolutely delighted with this one, and I heard zero griping.  Praise, in fact, all-around.  We both loved it, and ate the entire bowl between the two of us!
Strawberry Chicken Salad with Bacon and Avocado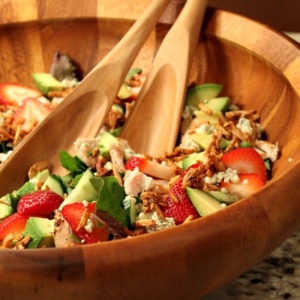 Yield:
4 smaller plates or 2 large
Prep Time:25 min
Ingredients:
SALAD:
4 or 5 large handfuls of mixed greens
5 slices bacon, cooked until crisp and crumbled
3/4 cup chopped cucumber
1/2 cup chopped yellow bell pepper
1 1/2 cups chopped cooked chicken
1 1/2 cups sliced fresh strawberries
1 large avocado, chopped
1/3 cup crumbled blue cheese, goat cheese or feta cheese
1/3 cup slivered almonds, sugared (see tips below)
VINAIGRETTE:
3 tablespoons balsamic vinegar
1 1/2 tablespoons extra-virgin olive oil
1 tablespoon strawberry jam (a little less if you don't like sweet dressing)
1/2 teaspoon Italian seasoning
salt and freshly ground pepper, to taste
Directions:
1. See the tip below to make the sugared almonds.
2. Place the greens in a large bowl. Add all of the other ingredients. In a small bowl, whisk together the vinaigrette ingredients. Drizzle in the vinaigrette a little at a time, as desired, and toss (you may not wish to use it all).
3. Divide among plates and serve immediately.
Tips:
*To make the sugared almonds: In a small skillet, heat 1 tablespoon brown sugar over medium heat until it begins to melt. Add the almonds to the pan and toss rapidly until the sugar coats all of the almonds and the almonds are lightly toasted. Sprinkle with a tiny bit of cayenne pepper, if you'd like to add some spice to them. Pour them out onto a glass dish and separate almonds with a fork. Cool until hardened and break into pieces.
*If you are preparing this salad as gluten-free: be sure to use GF varieties of bacon and jam, and use goat or feta cheese.
More strawberry salads on the blogs that are lookin' good:
Avocado- Strawberry Spinach Salad with Poppyseed Dressing by Gimme Some Oven
Strawberry- Cucumber Salad by Oh Sweet Basil
Quinoa Salad with Blueberries, Strawberries and Watermelon by Gluten-Free Goddess
Strawberry, Pistachio, Feta Cheese and Basil Salad by Cookin Canuck
Triple Berry Salad with Sugared Almonds by RecipeGirl