Banana- Chocolate Chip Bread
This quick loaf bread is a favorite in my house: Banana- Chocolate Chip Bread
Yield: One loaf
Prep Time: 15 min
Cook Time: 45 min
Banana- Chocolate Chip Bread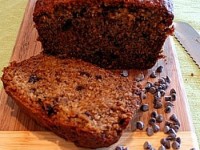 Ingredients:
1/2 cup (1 stick) butter, at room temperature 
1  1/4 cups granulated white sugar
1 teaspoon baking soda
1/4 cup sour cream
2 large eggs
1 cup mashed ripe bananas (about 2 medium)
1 teaspoon vanilla extract
6 ounces chocolate chips (mini chips are best)
1 1/2  cups all-purpose flour
Directions:
1. Preheat the oven to 350 degrees F. Grease and flour one 8x5-inch loaf pan.
2. In large bowl, use an electric mixer to combine the butter and sugar. Add the baking soda, sour cream, eggs, bananas and vanilla. Blend well. Stir in the flour and chocolate chips, just until combined.
3. Pour the batter into the prepared pan and bake 40 to 50 minutes, or until a toothpick inserted into the center comes out clean.
Tips:
*You may also use 3 mini loaf pans- test after 35 minutes of baking.
Leave a Comment