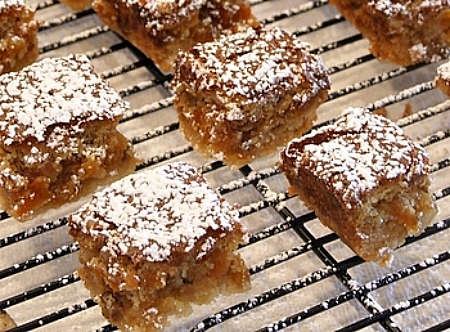 Yield: 18 bars
Prep Time: 30 min
Cook Time: 1 hr
Apricot Bars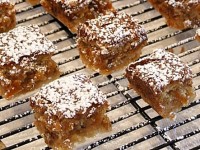 Ingredients:
SHORTBREAD LAYER:
1 cup all-purpose flour
1/4 cup granulated white sugar
pinch of salt
1/2 cup (1 stick) chilled unsalted butter, cut into small pieces
APRICOT LAYER:
2/3 cup dried apricot halves, chopped finely
1/3 cup all-purpose flour
1/2 teaspoon baking powder
1/4 teaspoon salt
2 large eggs
1 cup packed light brown sugar
1/2 teaspoon vanilla extract
1/2 cup chopped toasted walnuts
powdered sugar
Directions:
1. Preheat oven to 350 degrees F. Spray 8x8-inch pan with nonstick spray.
2. Prepare the shortbread layer: Blend flour, sugar and salt in food processor. Add the butter gradually and process until coarse crumbs form. Press the crumbs onto the bottom of the prepared dish. Bake until the center is golden, about 25 minutes. Keep the oven heated.
3. While the shortbread layer is baking, prepare the apricot layer: Place the apricots in small saucepan, and add enough water to cover them. Boil until soft, about 4 minutes. Drain and set aside.
4. Sift the flour, baking powder, and salt into small bowl. In a separate, large bowl, beat the eggs with an electric mixer. Add the brown sugar and vanilla, and beat until thickened. Stir in the flour mixture, then nuts and apricots. Gently spread over the baked shortbread layer.
5. Bake bars until they are puffed and dark brown. A toothpick inserted into the middle should come out with a few crumbs attached, about 35 minutes. Cool completely before cutting.
6. Cut uniformly into desired size. Transfer to waxed paper or rack w/ paper towels underneath. Sift powdered sugar over bars.
Leave a Comment