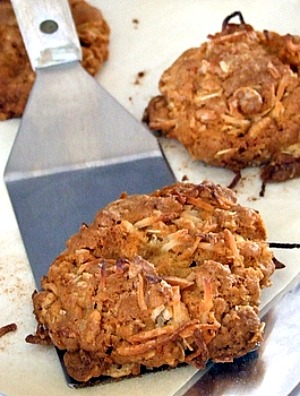 LONE RANGER COOKIES
www.RecipeGirl.com
1 cup shortening
1 cup granulated sugar
1 cup brown sugar, packed
2 large eggs, beaten slightly
1 tsp vanilla extract
2 cups flour
3 tsp baking soda
½ tsp baking powder
1 tsp salt
2 cups rice krispies
2 cups oatmeal
1 cup shredded coconut
1. Preheat oven to 375 degrees F.
2. Cream together shortening and sugars in a large bowl.
3. Add eggs and vanilla and mix well.
4. Sift together flour, soda, baking powder and salt. Add to wet mixture.
5. Stir in rice krispies, oatmeal and coconut until well blended.
6. Drop by teaspoonfuls on greased cookie sheets. Bake 13-15 minutes.
Cooking Tips:
*Leave out the coconut for the kids, as they typically do not like it! Or, divide the batter up and make half with coconut and half without.
2 Responses to "Lone Ranger Cookies"
Leave a Comment