Triple Chocolate Brownies
Yield: 2 dozen brownies
Prep Time: 25 min
Cook Time: 20 min
Triple Chocolate Brownies
Don't overbake these- you want them to be soft and gooey inside!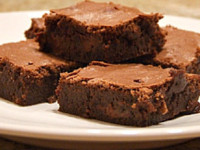 Ingredients:
3 ounces unsweetened chocolate, coarsely chopped
2 ounces semi-sweet chocolate, coarsely chopped
1/2 cup (1 stick) butter
1 cup all-purpose flour
1/2 teaspoon salt
1/4 teaspoon baking powder
1 1/2 cups granulated white sugar
3 large eggs
1 teaspoon vanilla extract
1/4 cup sour cream
1/2 cup milk chocolate chips
powdered sugar
Directions:
1. Preheat the oven to 350 degrees F. Lightly grease 13x9-inch pan.
2. Place the unsweetened chocolate and semi-sweet chocolate and butter in medium microwavable bowl. Microwave on high for 2 minutes, or until butter is melted; stir until chocolate is completely melted. Cool until warm (no longer hot to touch).
3. Combine the flour, salt and baking powder in a small bowl. Set aside.
4. Beat the sugar, eggs and vanilla in a large bowl with an electric mixer at medium speed until slightly thickened. Beat in the chocolate mixture until well-combined. Add the flour mixture; beat at low speed until blended. Add the sour cream; beat at low speed until combined. Stir in the chocolate chips.
5. Spread the mixture evenly into the prepared pan. Bake 20-25 minutes, or until a toothpick inserted in the center comes out almost clean. Cool the brownies completely in the pan on a wire rack before cutting into squares.
6. Place the powdered sugar in fine-mesh strainer and sprinkle over brownies.
Leave a Comment