I thank my Lucky Stars for meals like this one I'm sharing with you today. It's one of those that the whole family likes (no one is complaining except the kid who refuses to eat red sauce), and it's one that takes very little time, effort or skill to prepare! Yee Hah! Bring on the easy dinner recipe, right?! It's Skillet Chicken Parmesan- adapted from an old Cooking Light recipe.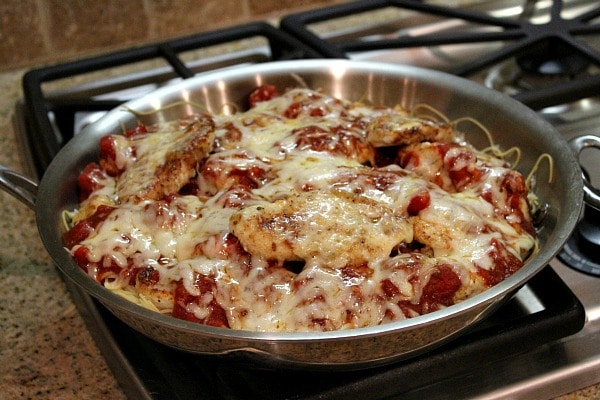 I changed things up a little to make it not quite as light, but you can always visit CL to see their  recipe if you're concerned with keeping to some dietary guidelines and calorie intake (CL has nutritional info on their version of the recipe).
Here's how you put it together: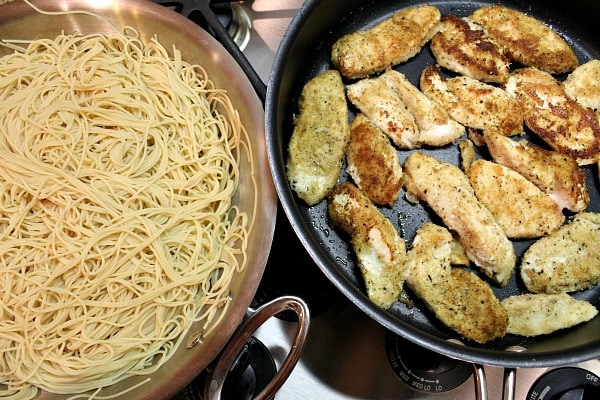 Saute chicken strips that have been dunked quickly in egg white and cheesy, herbed breadcrumbs. Dump some quickly boiled angel hair pasta into a separate, oven-safe pan.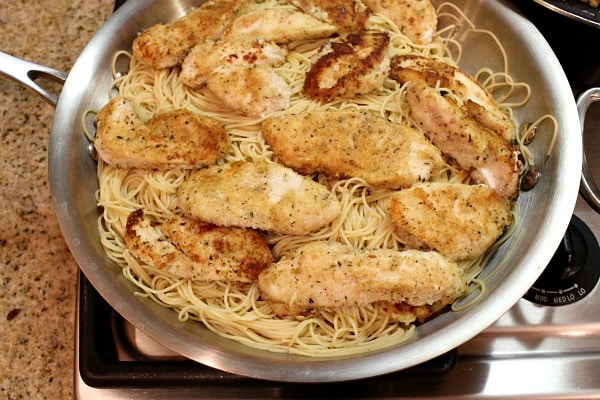 Move the cooked chicken into the pasta pan.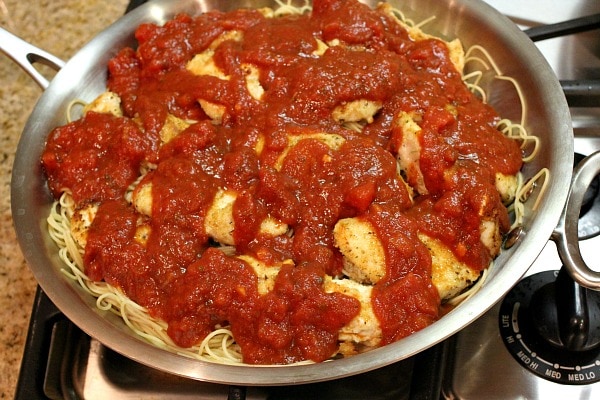 Drizzle with a jazzed up marinara sauce…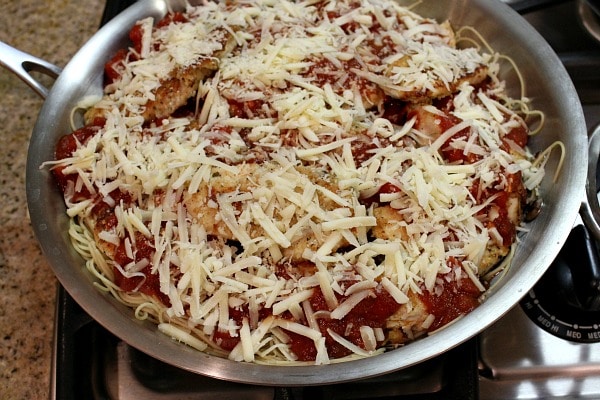 …and sprinkle with Italian cheeses.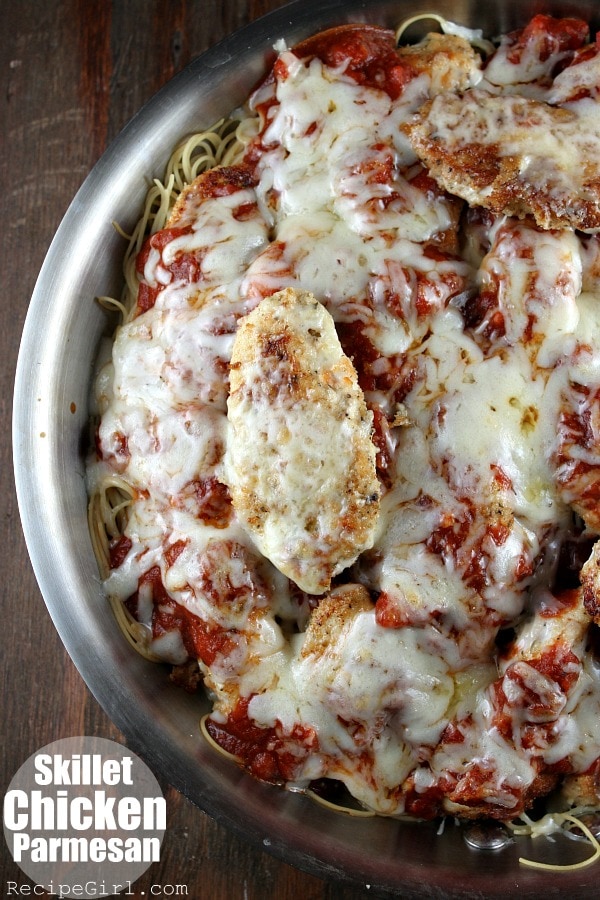 Broil until bubbly!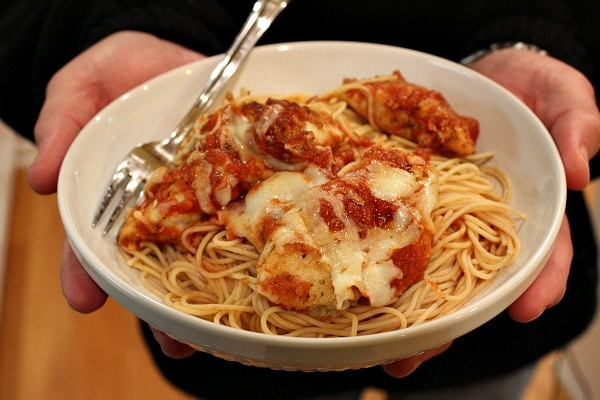 And feed it to your family, who will welcome you to the dinner table with open arms and giant, appreciative kisses. Seriously, my whole family enjoyed this one so much that we didn't have one ounce of leftovers.
Have a wonderful weekend!
Skillet Chicken Parmesan

Yield: 4 servings

Prep Time: 25 min

Cook Time: 10 min

Ingredients:

1/2 cup grated Parmesan cheese, divided
1/3 cup dry breadcrumbs
1 teaspoon dried oregano
1 teaspoon dried basil
1/4 teaspoon salt, divided
1 large egg white, lightly beaten
1 1/2 pounds chicken breast tenders (or chicken breasts cut into strips)
1 tablespoon butter
1 tablespoon olive oil
12 ounces angel hair pasta, cooked and drained
1 1/2 to 2 cups tomato-basil marinara (see *Tips below)
1 tablespoon balsamic vinegar
1/4 teaspoon black pepper
1/2 cup shredded Provolone or Mozzarella cheese

Directions:

1. Preheat the broiler on the oven. You'll need a large nonstick skillet and a large stainless steel or cast iron skillet for this recipe.

2. Combine 3 tablespoons Parmesan, breadcrumbs, oregano, basil and 1/8 teaspoon salt in a shallow bowl. Place the egg white in a separate shallow bowl. Heat the butter with the olive oil in your nonstick skillet over medium heat. Dip each piece of chicken in egg white, then coat in the breadcrumb mixture. Add the chicken to the pan and cook 3 minutes on each side or until cooked through.

3. Place the cooked pasta in your oven-safe skillet. Place the cooked chicken on top of the pasta. In a medium bowl, mix marinara with balsamic, pepper and remaining 1/8 teaspoon salt. Spoon the sauce over the chicken. Sprinkle evenly with the remaining Parmesan and Provolone cheeses. Broil 2 to 4 minutes, or until the cheese is melted and bubbly. Serve immediately- a generous portion of pasta with chicken and sauce on top.

Tips:

*I prefer to use Classico brand Tomato Basil sauce- it doesn't have any sugar in it, so it tastes most like homemade marinara to me. Or, you can always make some homemade too-