Chicken Tikka Masala ~ an incredibly popular dish made with tender chunks of yogurt marinated chicken, folded into a richly spiced tomato sauce with just a hint of heat.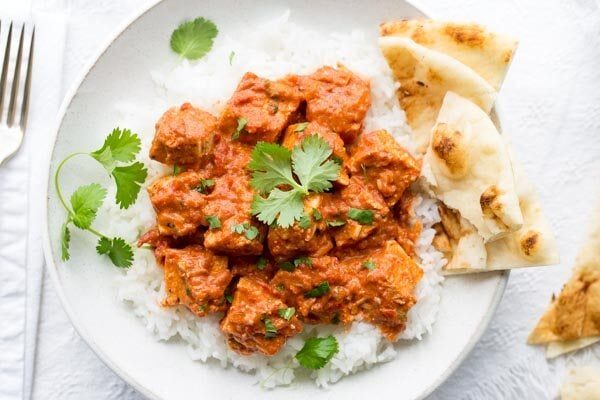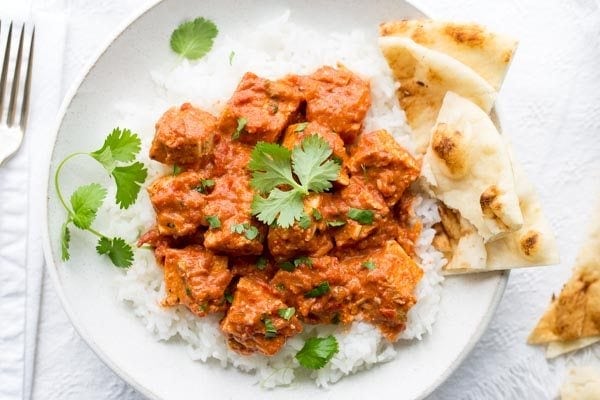 The beautiful orange-red color is common in all Chicken Tikka Masala dishes, but the spices vary greatly from recipe to recipe.  Many years ago when I tried Chicken Tikka Masala for the very first time, I knew this dish would be a regular on our menu rotation.  It was new and exciting and I was surprised to find the chicken incredibly tender, and the aromatic sauce rich with warm spices.  The aroma of this dish is certainly enticing with hints of cinnamon and fresh ginger.
Masala loosely means a mixture of spices commonly used in South Asian cooking.  Garam masala is one of the spices used heavily in traditional Indian cooking and is readily available in the spice section of your local grocery store. Garam masala is usually a mixture of ground coriander, black pepper, cumin, cardamon and cinnamon.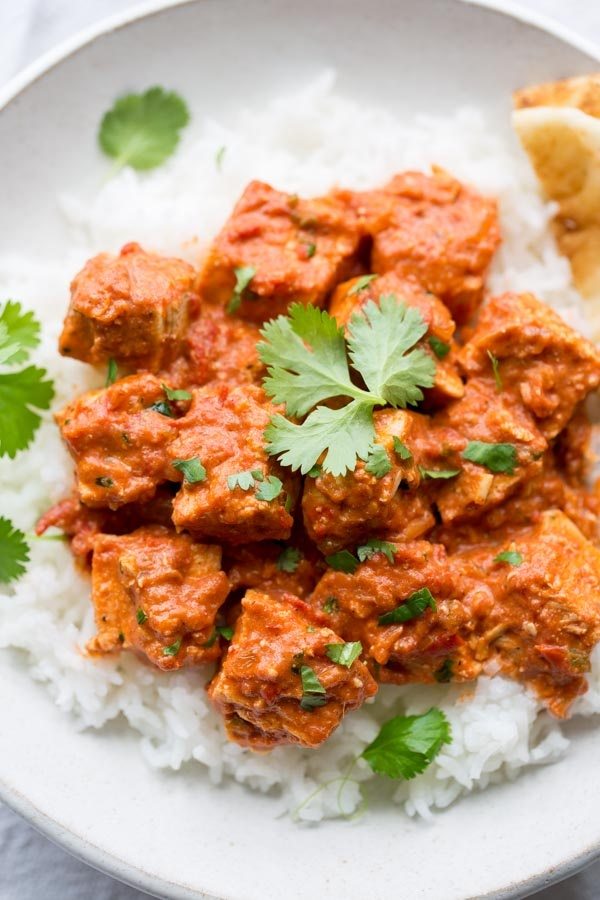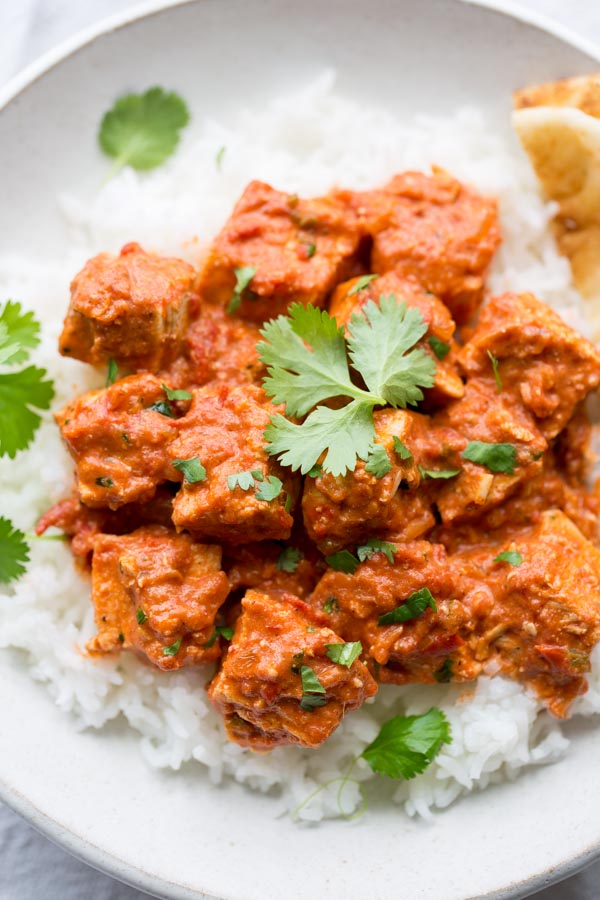 Chicken Tikka Masala is one the most popular dishes in the United Kingdom and has been called the true national dish of Britain.  The origins of the recipe are unclear, and often disputed, but the taste is certainly memorable.  If you can't travel to Britain, India, Pakistan or Bangladesh where this dish is often served in restaurants, then make it at home.  It's worth a little effort to multitask this to your table.  Enjoy a wonderful culinary adventure without leaving your own kitchen!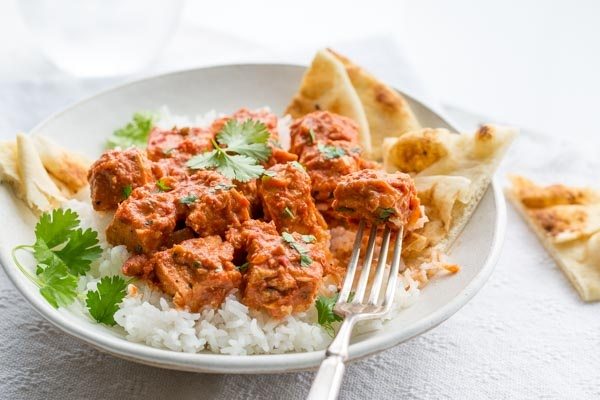 Garnish with cilantro and serve over rice with homemade naan bread on the side for a complete, filling and delicious meal!
Chicken Tikka Masala
Yield:
6 servings
Prep Time: 30 minutes
Cook Time: 75 minutes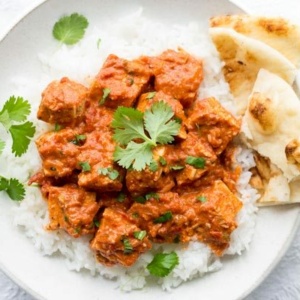 Ingredients:

For the chicken:

1/2 teaspoon ground cumin
1/2 teaspoon ground coriander
1/2 teaspoon (or more) cayenne pepper
1 teaspoon salt
6 boneless, skinless chicken breasts
1 cup Greek Yogurt (not fat free – I used 2% Fage)
2 tablespoons vegetable oil
3 medium garlic cloves, minced
1 tablespoon fresh grated ginger

For the masala sauce:

3 tablespoons vegetable or canola oil
1 large onion, diced
3 medium garlic cloves, minced
2 teaspoons fresh grated ginger
1 fresh Serrano chili (ribs and seed removed) minced
1 tablespoon tomato paste
1 tablespoon garam masala
1 (28 ounce) can crushed tomatoes
2 teaspoons sugar
1 teaspoon salt
1 cup heavy cream
1/4 cup fresh cilantro leaves, chopped plus extra for garnish

Instructions:

For the chicken combine the cumin, coriander, cayenne and salt in a small bowl. Place the chicken breasts on a large sheet pan and flatten a little to ensure even baking. Sprinkle both sides of the chicken with the spice mixture and press into the meat. In a medium mixing bowl combine the yogurt, oil, garlic and ginger. Spoon the yogurt mixture evenly over both sides of the chicken and spread to cover. Using tongs, place the chicken breasts in large ziplock bag and refrigerate for at least 1 hour or up to 8 hours.
Preheat oven to 400 degrees.  Place the chicken breasts on a rimmed baking sheet in a single layer.  Bake for 40 minutes, turning once after 20 minutes.  Bake until the chicken is fully cooked and lightly browned.  Remove and let the chicken rest for about 10 minutes.  Carefully slice into bite size pieces.
While the chicken is in the oven, prepare the sauce. Warm the vegetable oil in a large Dutch oven over medium heat. Add the onion and cook stirring frequently until light golden brown, about 10 minutes.  Add the garlic, ginger, chili pepper, tomato paste and the garam masala.  Cook stirring continuously until fragrant, about 3 minutes.  Add the crushed tomatoes, sugar and salt.  Bring mixture to a boil and reduce the heat to medium-low.  Cover and simmer 15 minutes stirring occasionally.  Stir in the cream and return to a simmer.  Remove the pan from the heat and cover to keep warm.
Toss the chicken in the warm masala sauce but do not cook.  Stir in the cilantro and check the seasoning. Garnish with additional cilantro if desired.

Nutrition:

Serve with rice and Naan bread for a wonderful, filling meal.
SOURCE: RecipeGirl.com (Inspired by a 2007 Cook's Illustrated recipe)
HERE ARE A FEW MORE INDIAN INSPIRED RECIPES YOU MIGHT ENJOY: