Light and tangy, Carolina Style Barbecue Chicken is the best way to mix things up at your next cookout. A mustard based sauce that's a little sweet with a pleasant tartness is absolutely perfect for your grilled chicken. Ready in minutes!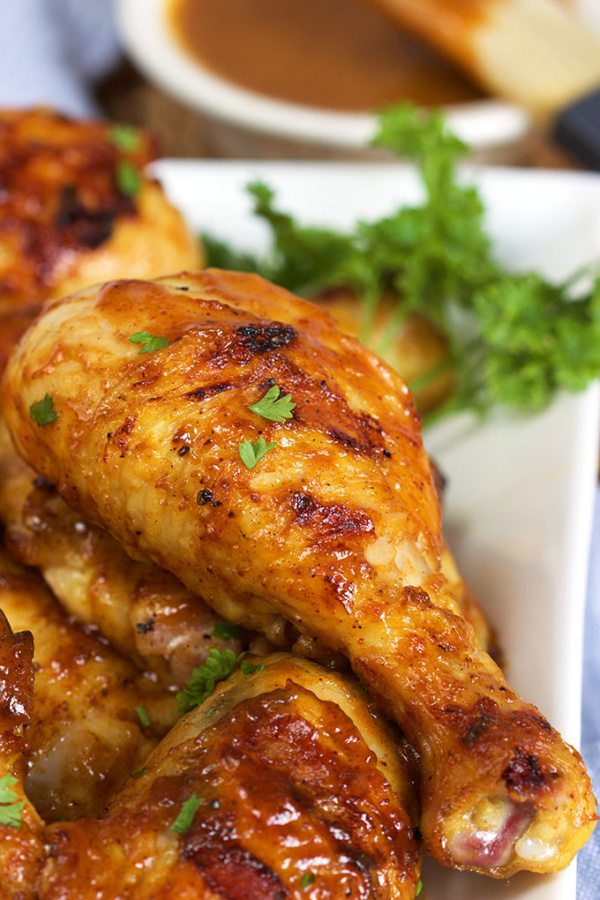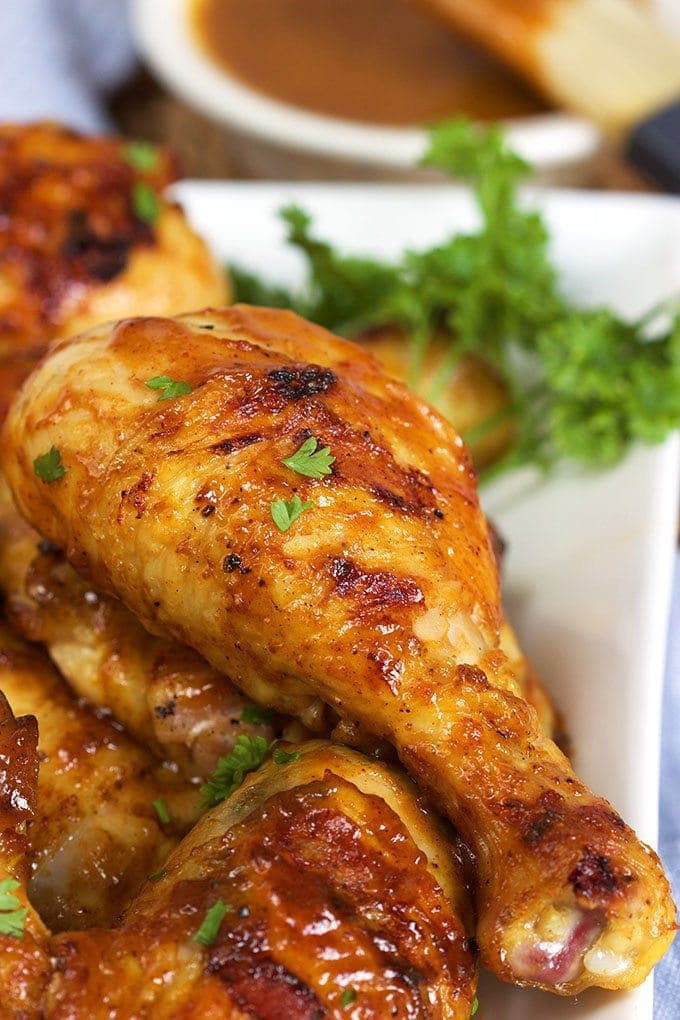 Hey y'all! I'm taking you back to the south again….I simply can't help myself. I guess I'm just a southern gal at heart dreaming of long summer nights batting away the gigantic palmetto bugs and chasing down teeny lizards. I really do love it there, prehistoric bugs and all….nothing beats the leisurely southern pace and the food…..oh, the food.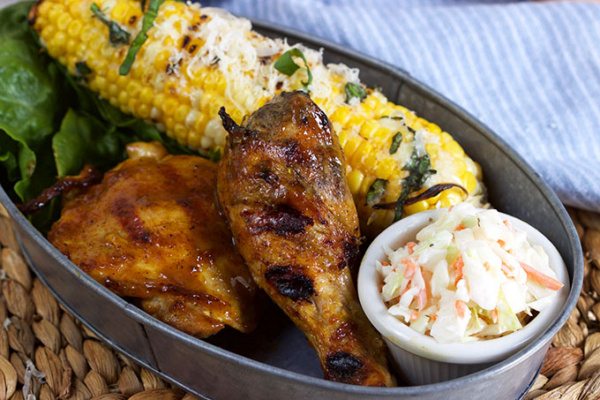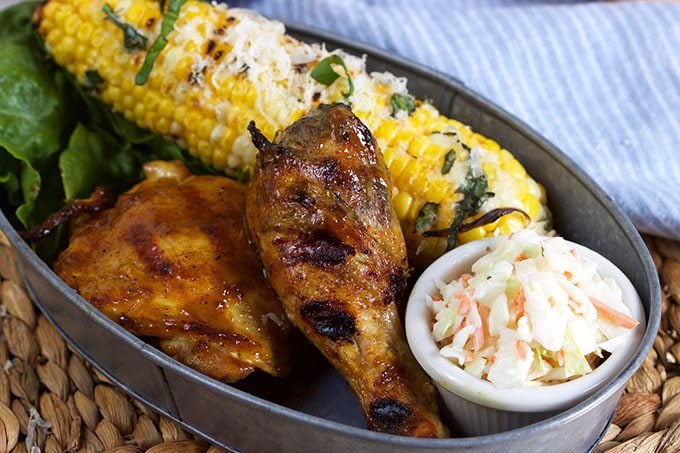 My last trip to South Carolina included a trip to a rib joint that was simply spectacular in every way. From the fall off the bone racks of ribs to the crispy, crunchy hushpuppies…everything was a big bite of comfort food that forced you to change into stretchy pants as soon as you got home.
My favorite part about this restaurant was all the different sauces they had piled on the table. From the super, insanely spicy to something so sweet you could actually eat it for dessert. It was so much fun to try a variety of sauces and narrow down your favorite….which was nearly an impossible task. They were all so good. But, I managed and my hands down favorite was the Carolina Style Barbecue Sauce….which inspired this Carolina Style Barbecue Chicken. (But you probably already knew that was coming, right?)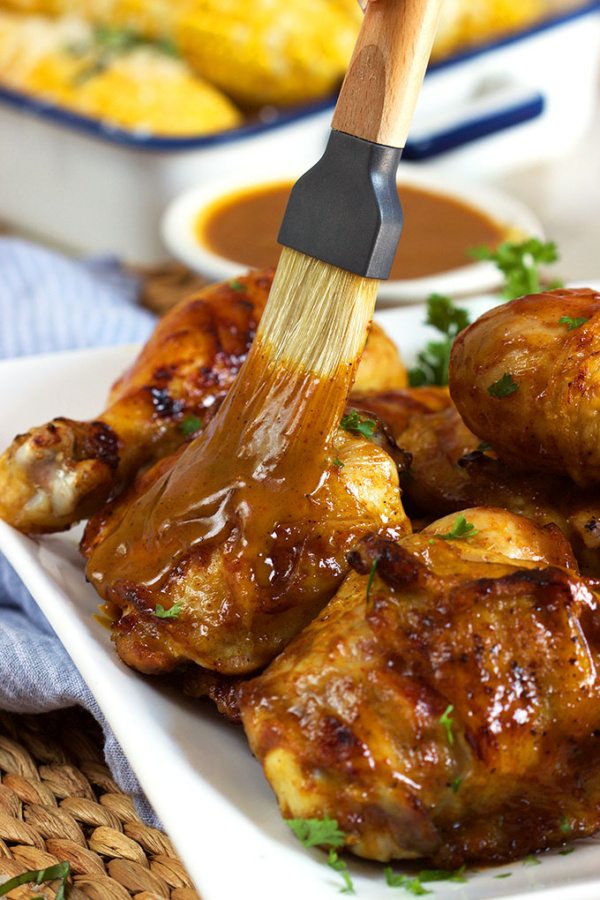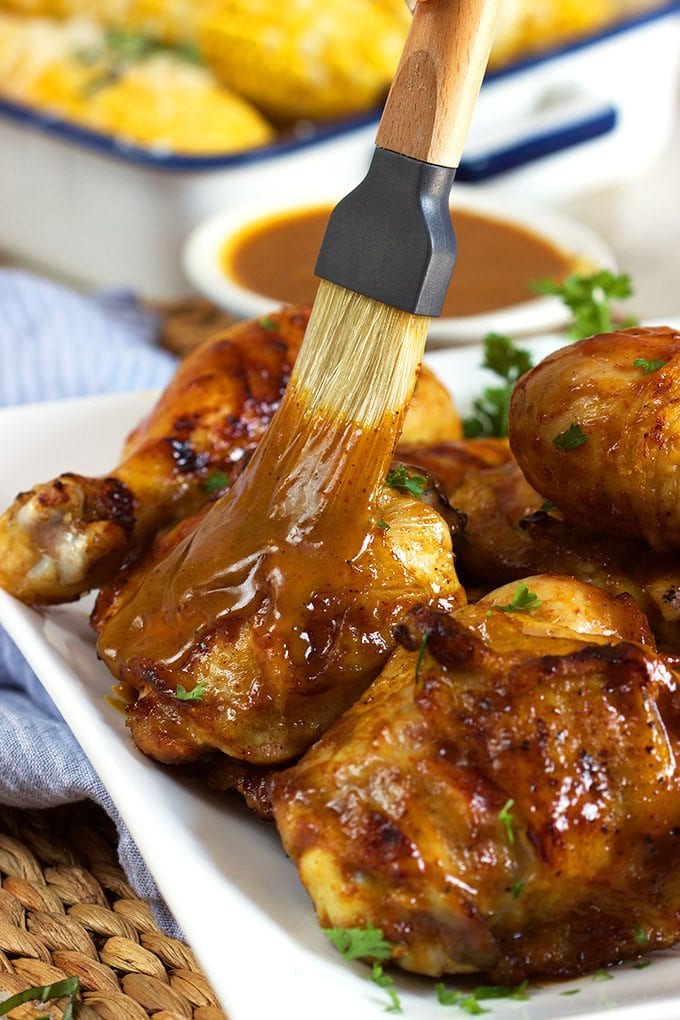 Carolina Barbecue Sauce is more of a vinegar/mustard based sauce rather than the tomato-y sauce that is so common to many of us. There are so many variations of Carolina Barbecue Sauce and many people will say it's just vinegar based…no mustard and others will totally say they're sooooo wrong…mustard is a necessity.
Well, to me…for the purpose of barbecue, I like my sauce a little thicker so I use mustard to give it a little body and help it adhere to the chicken better. Plus, it's a very lovely color….and since we eat with our eyes this Carolina Style Barbecue Chicken is basted several times to ensure it develops that gorgeous golden color. So delish!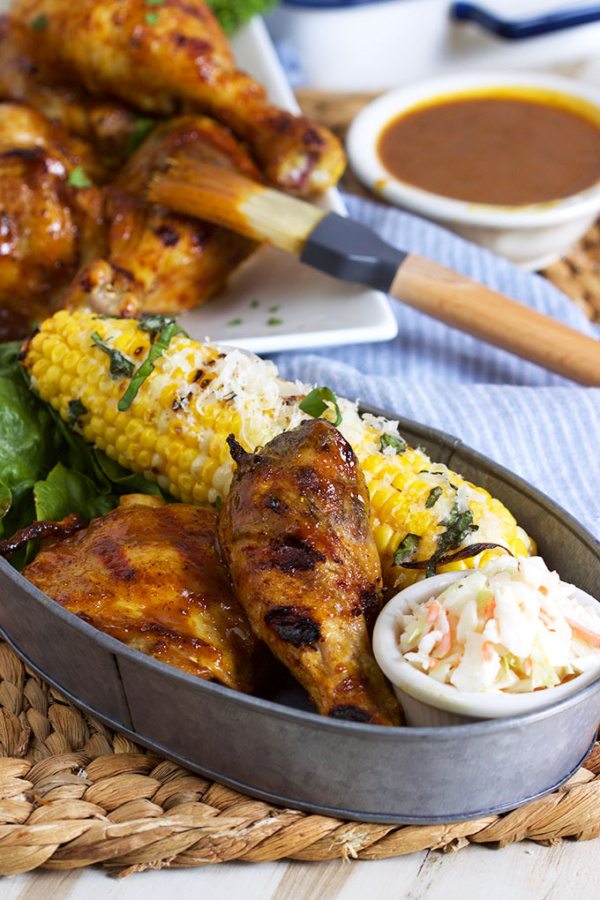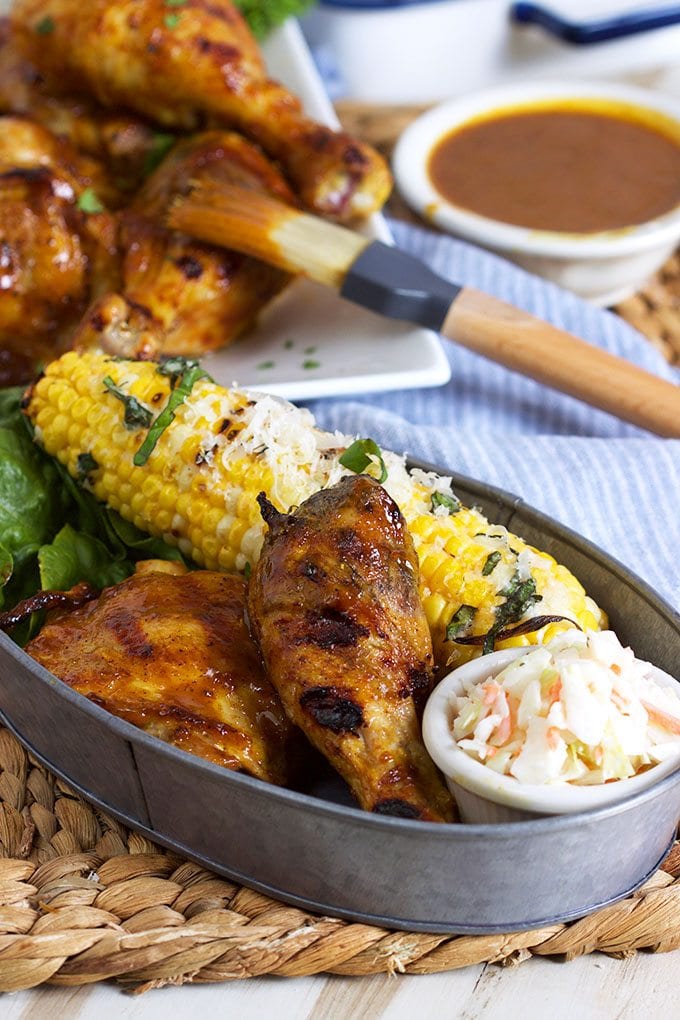 And this Carolina Style Barbecue Chicken couldn't be simpler to make. The sauce whips up in about 10 minutes and you don't need to wait for it to cool to use it. You could also make the sauce in advance, I like to mix up a big batch and store it in the fridge for barbecue chicken emergencies. There are a lot of those here….more like, we have nothing to make for dinner so I pick up some chicken on the way home and have a finger licking good sauce to slather on at home. Always be prepared.
You're going to love this one as much as we do, I promise you that!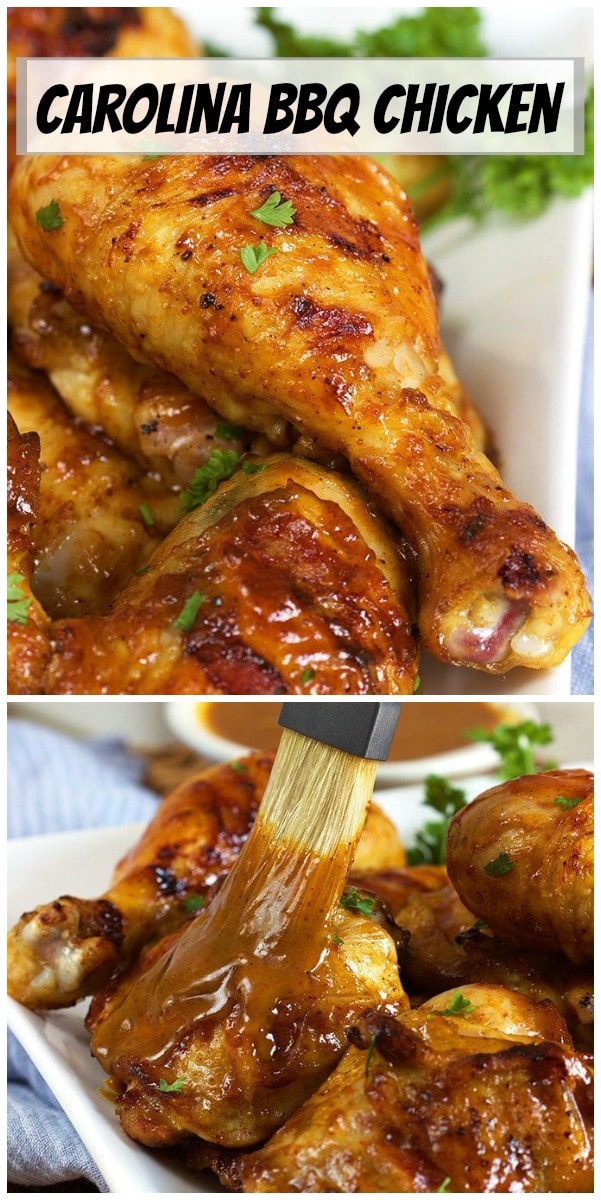 Here are a few more barbecue recipes you may enjoy:
Carolina Style Barbecue Chicken
A totally delicious way to do barbecue!
Recipe Details
Ingredients
SAUCE:
1½

cups

yellow mustard

1

cup

brown sugar

1/2

cup

cider vinegar

1/4

cup (½ stick)

butter

1/4

cup

water

1

tablespoon

fish sauce

1

tablespoon

chili powder

1

teaspoon

ground cumin

1

teaspoon

ground cayenne pepper

1/2

teaspoon

garlic powder

1/2

teaspoon

kosher salt

1/2

teaspoon

freshly ground black pepper
CHICKEN:
4

chicken legs

4

chicken thighs
Instructions
PREPARE THE SAUCE:
In a medium saucepan, whisk together the mustard, brown sugar and cider vinegar. Bring the mixture to a boil and then turn the heat to low and simmer.

Stir in the butter, water, fish sauce, chili powder, cumin, cayenne, garlic powder, salt and pepper. Simmer for 5 minutes until the mixture has thickened a bit. Turn off the heat and cool to room temperature. Set aside 1/2 cup of the sauce for serving. Use the rest for grilling.
GRILL THE CHICKEN:
Place the chicken on the grill skin side down and cook for 4 to 5 minutes. Turn the chicken over and baste with the barbecue sauce. Cook for an additional 3 minutes.

Turn the chicken again and baste with the sauce. Cook for an additional 3 minutes. Repeat two more times.

Transfer the chicken to a platter and allow to rest for 5 minutes. Serve immediately with extra sauce on the side, if desired.
Nutrition
Serving:
1
serving
,
Calories:
691
kcal
,
Carbohydrates:
46
g
,
Protein:
46
g
,
Fat:
35
g
,
Saturated Fat:
12
g
,
Cholesterol:
246
mg
,
Sodium:
1670
mg
,
Potassium:
772
mg
,
Fiber:
3
g
,
Sugar:
41
g
,
Vitamin A:
1213
IU
,
Vitamin C:
2
mg
,
Calcium:
103
mg
,
Iron:
4
mg