Dear Busy People of the World,
Do you own a slow cooker?  Or are you among the crowd of people who say "slow-cooker recipes are no good!"?  I hope you own a slow cooker.  And I hope you're not in that no-good crowd.  Slow Cookers definitely aren't the best for everything, and not all slow-cooker recipes are worth keeping.  But they sure come in handy for a lot of things… things like housing large quantities of chili and soup,  warming mashed potatoes on Thanksgiving Day, and using GOOD slow-cooker recipes to make dinner for you on busy days/nights where you can't imagine lifting a finger to do it yourself.  It's days like this that you should make things like these Pulled Barbecued Chicken Sandwiches.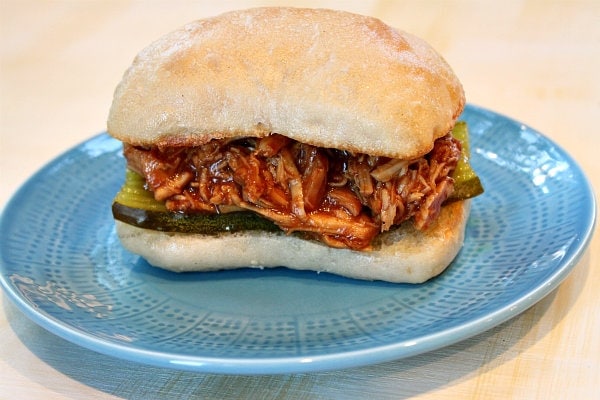 I made these recently for a family gathering- one in which a crowd of family was going to be converging upon my house directly after a sporting event.  I wasn't going to be home to make dinner, so I decided to rely on the 'ol slow cooker to do the work for me.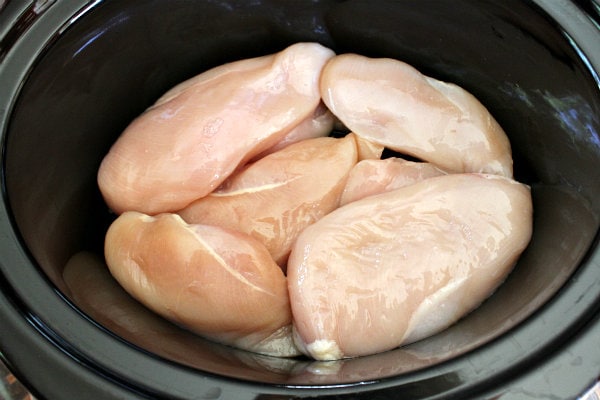 So super-easy and no-brainer.  Chicken breasts in the slow cooker.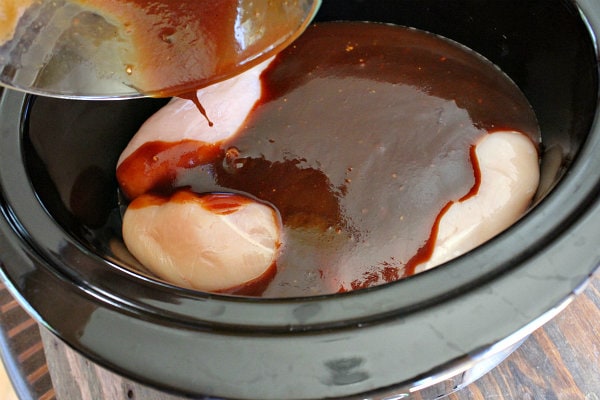 Add a quick-to-put-together sauce on top.  Then press the button and cook on low for 4 1/2 to 5 hours.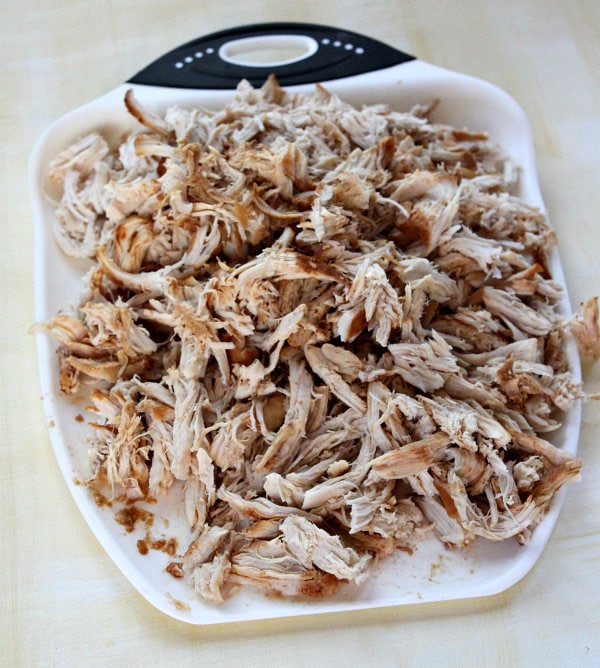 At that point, the chicken is removed and pulled apart into shreds.  Wrap it in foil to keep it warm and moist.  The sauce is thickened up briefly with some cornstarch.  Chicken is returned to the sauce and it's ready for sandwiches (or eating on its own with some potatoes or rice or whatever).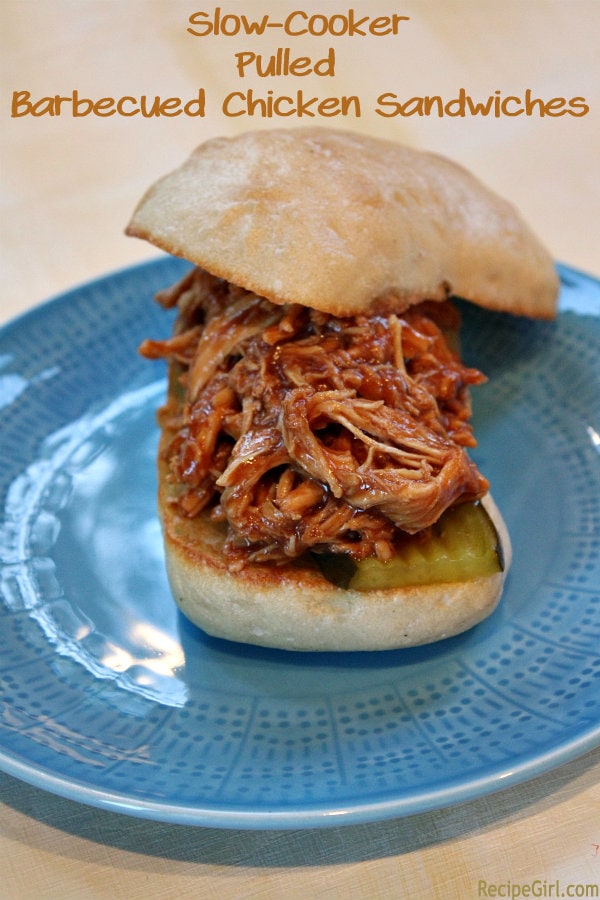 These little rolls are Panini Rolls from Trader Joe's.  They work out just fine for a dinner sandwich roll, but you can use any sort of roll- even mini sliders.  The best part is… this is one of those slow cooker recipes that you'll actually like and make again.  It's family-friendly (the little ones will like it too).  And dinner is easy when you are feeling like you're overwhelmed.  Don't go for fast food- use your slow cooker!
Love, RecipeGirl
P.S.  Bread and Butter Pickles are optional, but they're oh-so-good!!
P.S.S. If you don't have a slow cooker and are wondering what kind you might want to get, THIS is the brand I have. I love it because it's fully programmable, and it automatically turns to "warm" when it's done with it's cycle (so it doesn't continue to cook the food, but it doesn't turn off completely).
Pulled Barbecued Chicken Sandwiches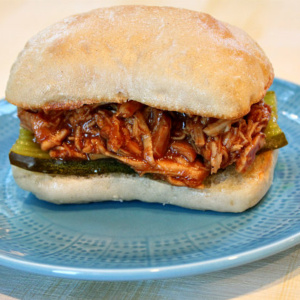 Yield:
8 to 10 sandwiches
Prep Time:10 min
Cook Time:6 hrs
Ingredients:
2 pounds boneless, skinless chicken breasts
1 cup barbecue sauce (a flavor you like)
1/3 cup Italian dressing (reduced-fat or fat-free okay)
2 tablespoons packed brown sugar
1 tablespoon Worcestershire sauce
2 tablespoons cornstarch
2 tablespoons chicken broth
additional barbecue sauce, if desired
rolls, for serving as sandwiches
bread and butter pickles, optional
Directions:
1. Place chicken in the slow cooker. In a medium bowl, whisk together the barbecue sauce, Italian dressing, sugar and Worcestershire sauce. Pour the sauce over the chicken. Cover and cook on low for 4 1/2 to 5 hours.
2. Remove the chicken to a cutting board. In a small bowl, mix cornstarch and chicken broth. Stir it into the sauce in the slow cooker. Cover and cook on high until the sauce is thickened and heated through (10 to 15 minutes). Meanwhile, use two forks to shred the chicken. Return the shredded chicken to the slow cooker and stir. Add additional barbecue sauce if more sauce is needed or desired. Cover and continue cooking on low for 45 minutes. Serve chicken piled onto rolls. Add pickles, if desired.
Tips:
*The brand of barbecue sauce that you use can make a big difference in the flavor of the chicken. I like Sweet Baby Ray's!
Source:  RecipeGirl.com (Adapted slightly from All You)
More slow cooker recipes you may enjoy… from great food blogs:
Coconut- Ginger Chicken and Vegetables from Simple Bites
Root Beer Pulled Pork from RecipeGirl
Chickpea, Butternut Squash and Lentil Stew from Eat, Live, Run
Pumpkin Short Ribs from In Erika's Kitchen
Tex Mex Chicken and Beans by RecipeGirl
15 Awesome Slow Cooker Recipes by The Kitchn
Gluten-Free Slow Cooker Recipes for Soups, Stews, Chili and Roasts by Gluten Free Goddess