I love this totally family-friendly recipe for Taco Soup.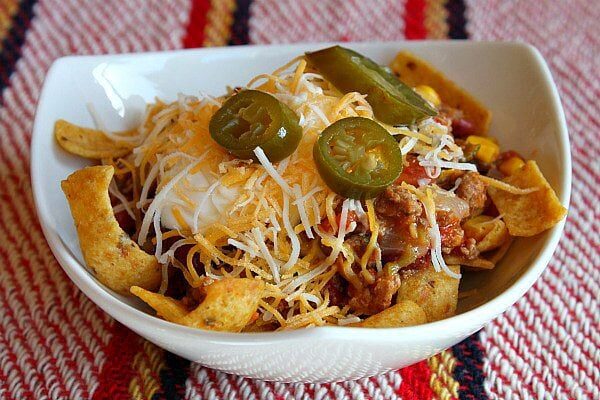 My brother has always had quite a fond attachment to Fritos.  As a kid he chose Fritos over any other type of chip-like snack, popping them into his chili and tucking them underneath the tuna in his tunafish sandwiches.
I never understood the appeal of Fritos, really.  A handful of them leaves you with a most unpleasant greasy-sheen on your fingers, and then there's that corny aftertaste that leaves you wondering how the heck you're going to get that flavor out of your mouth.  They are, however, a good idea for this super easy, perfect-for-Game-Day Taco Soup recipe.  Just pile this "soup" on top of a good handful of Fritos.  It's so good!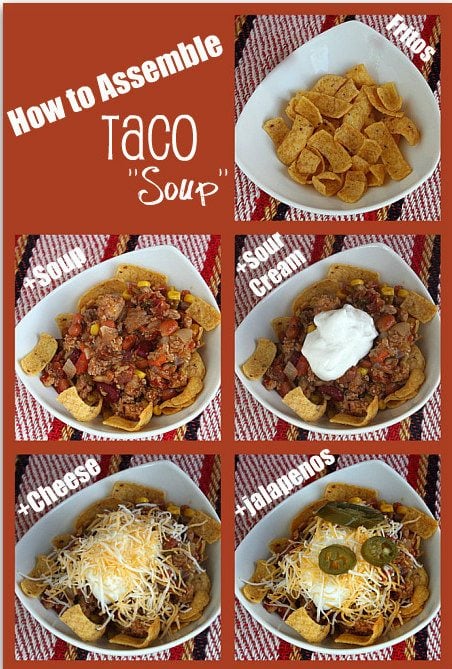 See how easy? Just set up a Taco Soup Bar and let your guests have at it. The "Soup" is really more the consistency of chili and the topping ideas are endless… chopped bell peppers, onions, guacamole, chopped lettuce…  the Fritos (or any sort of corn chips) are not optional- they simply make this recipe what it is!
If you happen to be following the Weight Watchers program, make this recipe with ALL 99% lean ground turkey.  Each serving will count as just one Weight Watchers SmartPoint.  Toppings are extra, of course!
Yield: 12 to 16 Servings
Prep Time: 25 minutes
Cook Time: 6 hours
Taco Soup
Comfort food at its best- and great for sports-themed parties...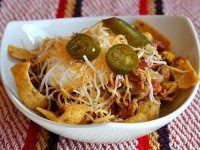 Ingredients:
1 pound ground beef
1 pound ground turkey
2 large onions, diced
2 15.5-ounce cans pinto beans, drained & rinsed
1 15.5-ounce can kidney beans
1 15.25-ounce can sweet white corn, drained
1 14.5-ounce can Mexican-style stewed tomatoes
1 14.5-ounce can diced tomatoes
1 14.5-ounce can tomatoes with chiles
2 4.5-ounce cans mild diced green chiles
1 4.6-ounce can sliced black olives, drained
1 1.25-ounce package taco seasoning mix
1 1-ounce package ranch salad dressing mix
Fritos, sour cream, grated cheese & pickled jalapeños for serving
Directions:
Brown the beef and turkey with the onions in a large skillet. Drain fat, then transfer cooked meat & onions to a large slow cooker (or stockpot). Add beans, corn, tomatoes, chiles, olives and seasonings; cook in slow cooker on low for 6 to 8 hours (or simmer on low heat for about 1 hour if using a pot on the stove).
To serve: sprinkle a few corn chips in the bottom of a bowl and ladle soup over them. Top with desired garnishes.
Tips:
This really isn't technically a "soup." It's more like a thick chili-sort of dish and it's fabulous over the corn chips- don't leave those out!
Consider other garnishes too: guacamole, chopped onions, lettuce, tomatoes, etc.
WEIGHT WATCHERS Freestyle SmartPoints per serving: 1 (if you use ALL 99% lean ground turkey.  Toppings should be counted as extra points.)
Here are a few more soup recipes you might enjoy:
Comments