This recipe for Barbecued Shrimp with Remoulade Sauce is one I keep coming back to every single summer.  The shrimp is coated with the most amazing blend of spices, and it's served with a simple, slightly spicy remoulade sauce.  It's the perfect summer grilling recipe!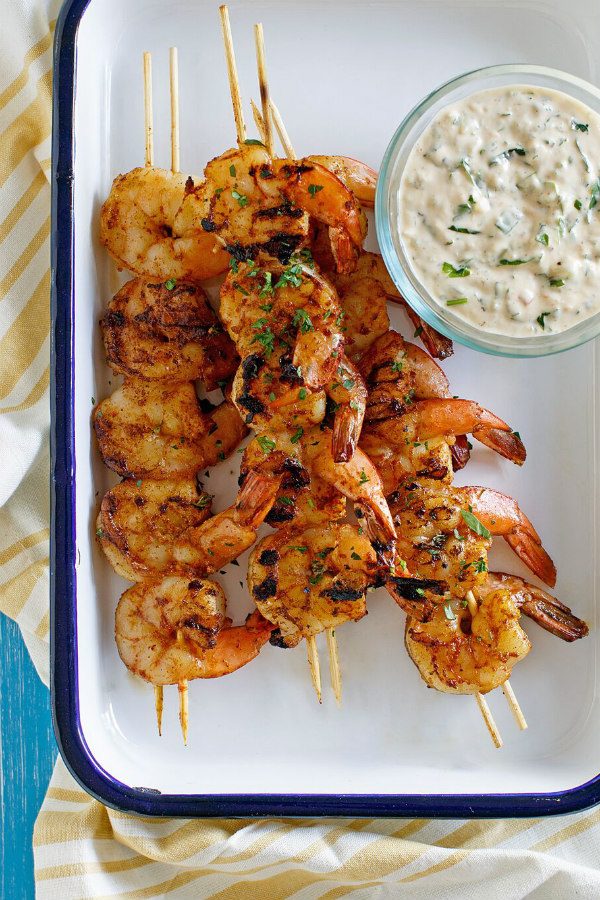 What you'll find most surprising about this recipe is the list of ingredients.  What I have to tell you about that you have no need to freak out that it's quite a long list.  If you take a closer look, you'll find that the ingredient list is basically a medley of spices that you (more than likely) already have in your spice cupboard.
The shrimp is coated with a nice blend of spices to give it amazing flavor that you can't usually find in a store bought seafood spice blend.  You'll taste things like cumin, thyme, curry powder and a touch of cayenne.  The flavor combination is excellent.
The shrimp is marinated in this wonderful spice mixture for 30 minutes.  I took this recipe on a camping trip once (yes, we like to eat gourmet when we're camping!), and I threw the spices in with the shrimp in the morning, packed the shrimp on ice, drove to our campsite and grilled it up that night.  So the extra marinating time did not harm the shrimp at all!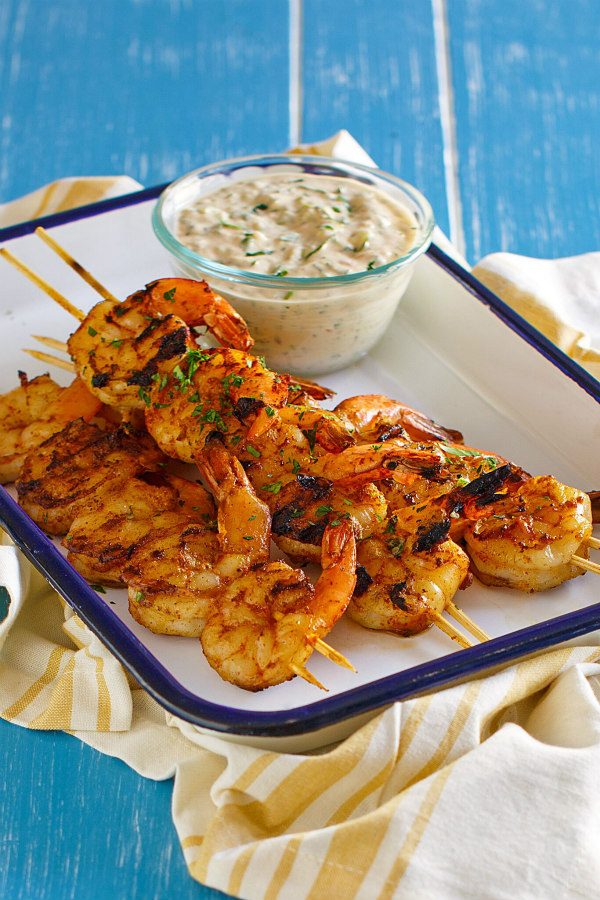 What is Remoulade Sauce and How do you Make Remoulade Sauce?
The grilled shrimp is served with a homemade remoulade sauce.  Remoulade Sauce is a condiment that was invented in France that is mayonnaise- based.  It's very easy to make homemade, and I suggest you don't skip this part because it's REALLY GOOD with this shrimp!
Again, you're going to find a long list of ingredients for the sauce.  Just like the shrimp rub, the ingredients for the sauce are made up of a nice blend of spices and things that you already have in your cupboard or refrigerator.  They're simply mixed together to create the sauce, and then you'll store it in the refrigerator until you're ready to serve it.  The flavor of remoulade sauce is actually better after 24 hours, and you can keep it in the refrigerator for up to 2 weeks.
Again, I prepared remoulade sauce ahead of time for the camping trip I mentioned before, and it was excellent served with the shrimp.  The campers surrounding us were completely jealous of our meal.
Let me know if you try this recipe.  I really love the spices in both the shrimp rub and the sauce!
If you are looking for more seafood recipes, I suggest you try my Grilled Cilantro Lime Shrimp or this Smoked Salmon Dip.  A Shrimp Po Boy Sandwich or Manhattan Clam Chowder are also good ideas!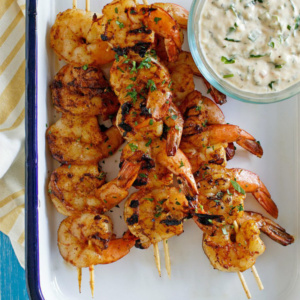 Barbecued Shrimp with Remoulade Sauce
A delicious seafood rub is added to the shrimp before grilling, and the sauce just brings it all together!
Ingredients
REMOULADE SAUCE:
2

tablespoons

finely chopped green onions

1/2

teaspoon

finely minced garlic

1/2

cup

light mayonnaise

1/4

cup

finely chopped celery

2

tablespoons

finely chopped parsley

2

tablespoons

mustard

2

tablespoons

prepared horseradish

2

tablespoons

ketchup

2

teaspoons

freshly squeezed lemon juice

2

teaspoons

white wine vinegar

1

teaspoon

worcestershire sauce

1/4

teaspoon

tabasco sauce

1/2

teaspoon

salt

1/4

teaspoon

dry mustard

1/4

teaspoon

paprika
FOR THE SHRIMP:
2

tablespoons

extra virgin olive oil

1

tablespoon

chili powder

1

teaspoon

ground cumin

1

teaspoon

salt

1/2

teaspoon

granulated white sugar

1/2

teaspoon

dry mustard

1/2

teaspoon

dried thyme

1/2

teaspoon

freshly ground black pepper

1/2

teaspoon

curry powder

1/4

teaspoon

cayenne pepper

2 1/2

pounds (20 per pound)

large shrimp,

peeled & deveined
Instructions
PREPARE THE SAUCE:
Mash the green onions and garlic in a bowl. Stir in remaining sauce ingredients. Chill, covered with plastic wrap, for 1 to 24 hours. The flavor is best after 24 hours. You may store in the refrigerator for up to 2 weeks.
PREPARE THE SHRIMP:
Mix the olive oil and remaining ingredients (except shrimp) in a bowl (or put in large zip baggie). Add the shrimp and toss to coat. Marinate, covered, in the refrigerator for 30 minutes.
GRILLING:
Preheat a grill or a heavy skillet. Brush the grill rack with additional olive oil and arrange the shrimp on the rack (or place on kebabs). Grill over hot coals for 1 to 2 minutes per side or just until barely opaque in the center. Arrange on a heated platter and serve with the sauce. You may also serve chilled.
Recipe Notes
*Weight Watchers Freestyle SmartPoints per serving (8 servings):  1 point for a serving of the shrimp + 2 points for about 1/4 cup of the sauce.
*If you're preparing this recipe as gluten-free, just be sure to use brands of worcestershire, ketchup, mustard and mayonnaise that are known to be GF.
Nutrition Facts
Barbecued Shrimp with Remoulade Sauce
Amount Per Serving (1 serving)
Calories 223
Calories from Fat 72
% Daily Value*
Fat 8g12%
Cholesterol 359mg120%
Sodium 1765mg77%
Potassium 183mg5%
Carbohydrates 4g1%
Protein 29g58%
Vitamin A 495IU10%
Vitamin C 9mg11%
Calcium 218mg22%
Iron 3.6mg20%
* Percent Daily Values are based on a 2000 calorie diet.