Spinach and Arugula Salad with Indian- Spiced Chickpeas
This recipe has been featured in a post on The Recipe Girl blog- Spinach & Arugula Salad with Indian Spiced Chickpeas and Charred Red Onions.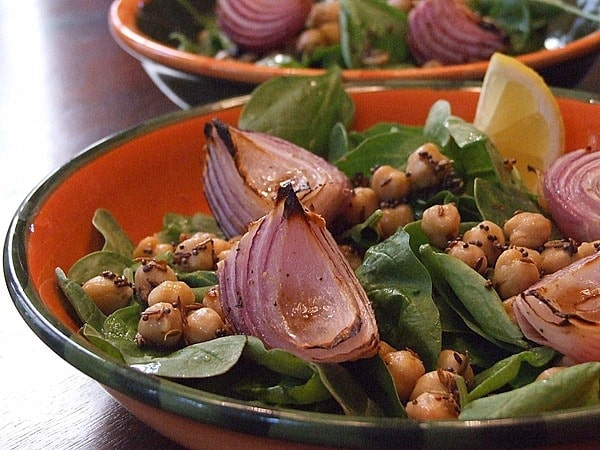 Yield: 4 servings
Prep Time: 25 min
Cook Time: 20 min
Spinach & Arugula Salad w/ Indian- Spiced Chickpeas
I make this salad quite often. The roasted onions are super yummy, as are the chickpeas. The simple squeeze of lemon as a 'dressing' is perfect!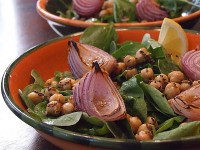 Ingredients:
3 medium red onions, trimmed & cut into wedges
kosher salt & freshly ground pepper
4 Tablespoons extra- virgin olive oil
3 cloves garlic, peeled & minced
2 teaspoons brown mustard seeds
2 teaspoons cumin seeds
1 (15 ounce) can chickpeas, drained & rinsed
1 Tablespoon chopped basil
4 handfuls each of spinach & arugula
1 large lemon, juiced,
Directions:
1. Preheat oven to 450°F. Toss onion wedges in 1 Tablespoon oil. Sprinkle with salt and pepper and roast until charred at the edges. (check on them every 5 minutes until done.)
2. Heat remaining 3 Tablespoons of oil in a nonstick skillet on medium and add mustard seeds. When they begin to pop, cover the pan and let them finish (20- 30 seconds). Immediately turn down the heat to prevent the seeds from burning and add garlic and cumin seeds. Toss until garlic and cumin are toasted. Add chickpeas and toss to coat in the spices and oil. Remove from heat.
3. Assemble salad: Place greens in each of four bowls. Sprinkle with chickpeas. Split roasted onions between the salads. Squeeze lemon juice over each salad and sprinkle with kosher salt. Serve immediately.
Leave a Comment