I'm gifting you a breakfast recipe to try sometime soon- it's both filling and full of good, healthy, real ingredients:  Bagel Quiche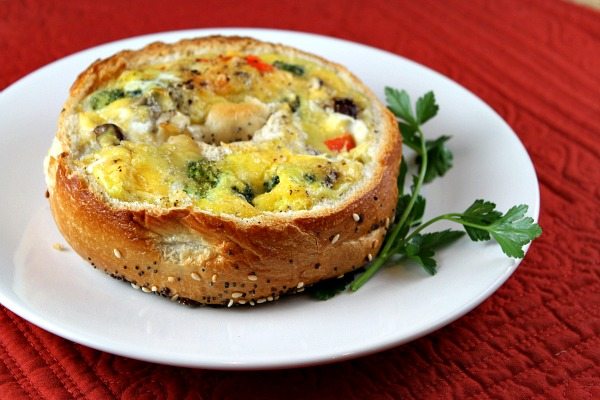 Here's something you probably don't know about me > I worked at a Jewish Elementary School for many years- as a teacher's aide, as their after-school daycare program director and finally as a substitute teacher.  I ate a lot of challah and a lot of bagels during my years at the school.  We ordered lunch regularly from a local bagel deli, and I often got some awesome bagel creations.  My favorite was a bagel smeared with cream cheese and then melted cheddar cheese on top.  Yeah, that was back in the days where I didn't have to worry about calories as much!!  There were some great egg-bagel items on the menu too.  But for some reason, I've always had this Bagel Quiche idea in my head.  Why not  hollow out a bagel and make a quiche inside of it??  So that's what I did.  But first… here are some cool facts about eggs that maybe you don't already know >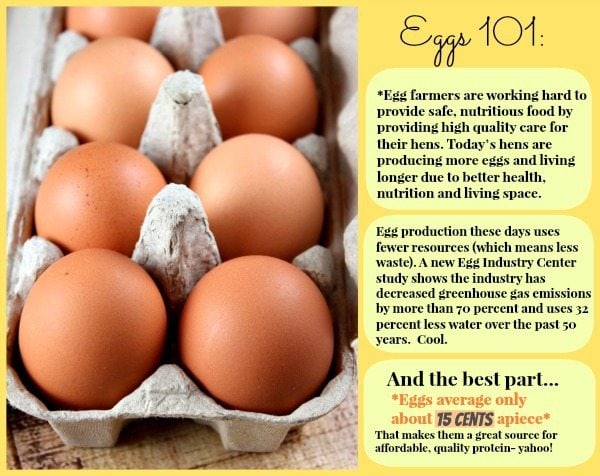 Did you make a "healthy eating" resolution this year?  And are you still on the bandwagon, or have you jumped off already?   My husband and I sat down at the beginning of the year and decided to make a commitment to dumping processed foods for more, real, fresh foods… REAL ice cream, REAL cheese, no more light sour cream or mayonnaise, and REAL, whole, fresh eggs.  The American Egg Board shares that eggs are packed with vitamins/minerals and antioxidants, and they have  a ton of healthy protein- 6 grams per egg (that's 13% of the recommended daily value)… and nearly half of that protein is found in the yolk.  So it's beneficial for you to eat the whole egg!  One egg = 70 calories.  Check out their environmental footprint studies > HERE.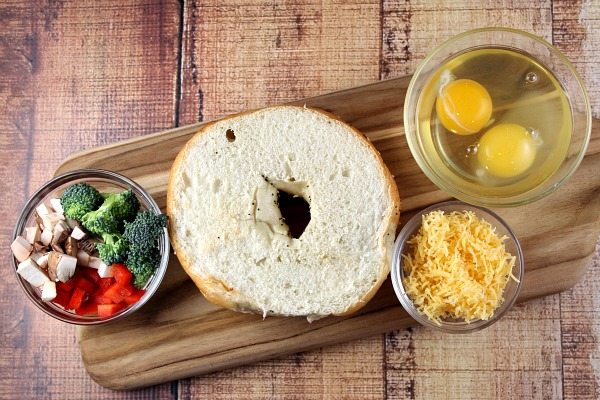 On with the featured recipe! > Here's how you make a Bagel Quiche.  You'll need these ingredients- half a bagel, 2 or 3 eggs (depending on the size of your bagel) and desired quiche fillings.  I used cheese, mushroom, red bell pepper and broccoli.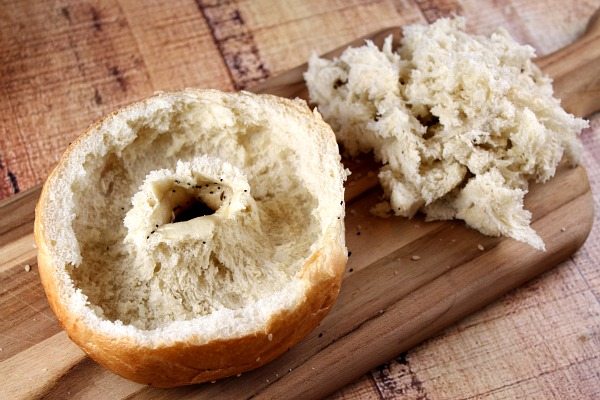 First:  Hollow out your quiche.  That may seem strange, but people order their bagels "skinny" all the time at bagel shops around the world.  You get the benefit of eating a fabulous bagel without all of the extra bread.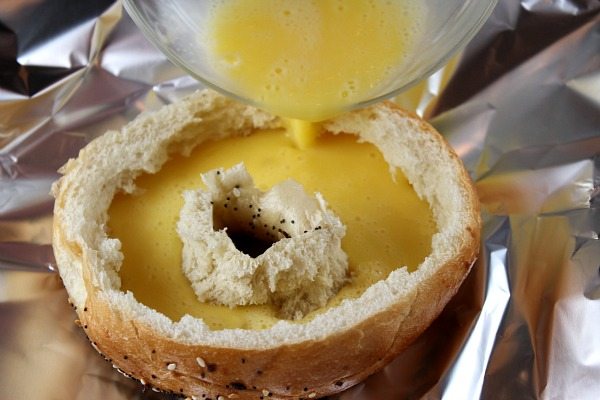 Whisk your eggs and pour them into your hollowed out bagel.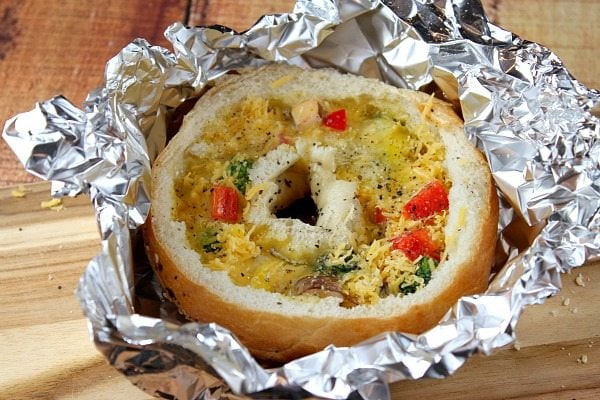 Sprinkle your fillings inside the egg.  Add another whisked egg on top if your bagel isn't quite full enough.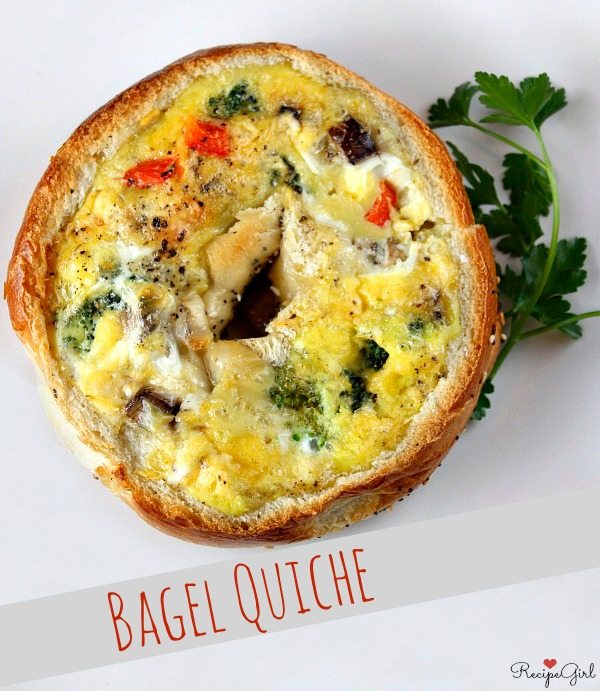 Bake until the egg is set, and you've got yourself a bagel quiche!  I'm glad I finally acted on the "Quiche inside a Bagel" idea in my head.  It's now one of my new, favorite breakfasts… especially on a day where I want something substantial, but healthy before I hit the slopes.  Enjoy!
Yield: Serves 1
Prep Time: 10 min
Cook Time: 20 min
Bagel Quiche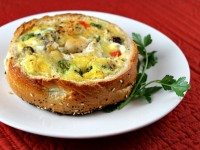 Ingredients:
1 bagel (any flavor that would go well w/ egg)
2 to 3 large eggs
desired fillings (such as cheese and chopped vegetables)
Directions:
1. Preheat oven to 375 degrees F. Spray a piece of foil with nonstick spray.
2. Slice the very bottom of the bagel off nice and evenly. Set aside to eat, turn into breadcrumbs or discard.
3. Carefully hollow out the bread inside of the cut bagel using your fingers to pull the bread away from the crust of the bagel (discard or turn into breadcrumbs). Set the bagel, cut-side-up on the foil.
4. Whisk 2 eggs and pour them into the hollowed out bagel. Place desired filling choices into the egg. If the egg and filling does not fill the bagel completely, you can add another whisked egg on top.
5. Wrap the bagel up the sides with the foil, but keep the top open to the heat of the oven. Bake 20 to 30 minutes, or until the egg is completely set. Timing will depend on how many eggs used and how large the bagel is. Serve immediately (pick it up and eat it with your hands!)
More healthy egg recipes to check out:
Microwave Breakfast Flatbread Pizza
Breakfast Quesadillas
Simple Frittata
Green Chile, Bacon and Cheese Egg Bake
Eggs and Hash Browns Skillet
Disclosure:  This post was written in collaboration with the American Egg Board, who is encouraging consumers to get a fresh start on health by eating real, all natural foods like eggs.  I have a similar vision, so this partnership was a good match for me and my readers.  
56 Responses to "Bagel Quiche"
Leave a Comment