The perfect recipe for a potluck: Pizza Pasta Salad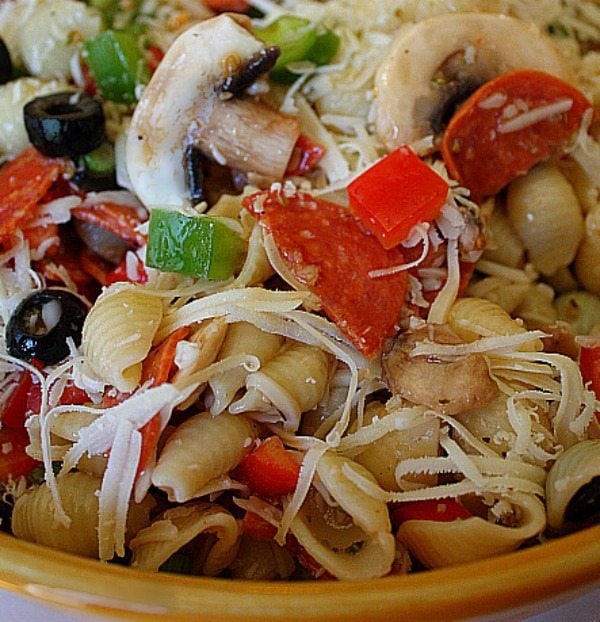 Yield: 8 to 10 servings
Prep Time: 20 minutes
Cook Time: 12 minutes
Pizza Pasta Salad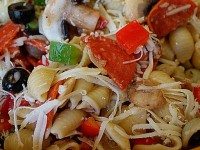 Ingredients:
One 16-ounce package small shell pasta
1 medium red bell pepper, chopped
1 medium green bell pepper, chopped
1 large tomato, chopped
5 green onions, chopped
8 ounces sliced mushrooms
2 1/2 ounces sliced pepperoni
One 2.25-ounce can sliced black olives, drained
2 cloves garlic, minced
1 teaspoon dried oregano
1/2 teaspoon salt
1/4 teaspoon ground black pepper
1 cup prepared Italian dressing
1 cup shredded mozzarella cheese
2 tablespoons grated Parmesan cheese
Directions:
Cook pasta according to package directions until al dente; rinse under cold water and drain. Let cool.
In a large bowl, combine the pasta, bell peppers, tomato, green onions, mushrooms, pepperoni, olives, garlic, oregano, salt and pepper. Toss together, then cover with plastic wrap and refrigerate until chilled.
Just before serving, mix in the dressing and the cheese. Toss well.
SOURCE: RecipeGirl.com
One Response to "Pizza Pasta Salad"
Leave a Comment