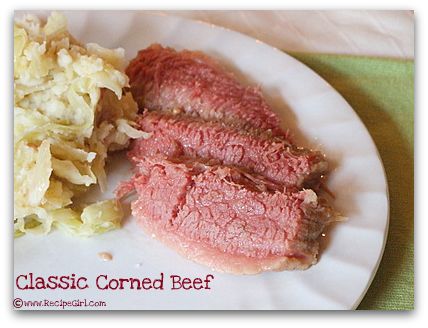 CLASSIC CORNED BEEF
www.RecipeGirl.com
3 to 5 lb. corned beef
1 bay leaf
1 head garlic
3 whole cloves
10 whole peppercorns
5 whole allspice berries (or two pinces of ground allspice)
1 whole onion
1. Put the corned beef in a large, heavy pot and cover with water (you can use a crock pot if you'd like). Add all the remaining ingredients. Bring to a boil and skim all the foam that rises to the surface.
2. Lower the heat so that the water bubbles occasionally rather than constantly. Cook, turning every 30 minutes or so, for about 2 hours. Pierce with a thin-bladed knife, such as a boning knife; the meat will probably still be fairly tough, but it's time to begin checking.
3. Check every 15 minutes or so; when the corned beef allows the knife to pass into the middle without much resistance, it is ready. Drain; if you like, put the meat into a 300°F. oven for 10 minutes to dry out the exterior a little. (Or wrap it carefully in tin foil and refrigerate for up to 2 days; reheat at 300°F for 30 minutes in the foil; unwrap and heat about 15 minutes more.)
4. Slice (across the grain, as you would brisket), and serve.
Cooking Tips
*Serve with mustard, pickles and good bread.
Recipe Source: How to Cook Everything
PRINT THIS RECIPE using your browser's 'print' function. It's automatically formatted to print recipe & picture only.
RATE THIS RECIPE[ratings]
"Easy recipe, and delicious too. I added 1 bottle of harp to the pot to add just a little extra flavor. I also used the spice packet that came with the corned beef instead of the spices in the recipe. We let it cook for about 4 hours in the crockpot, rather than the two mentioned in the directions."
-San Diego, CA
Leave a Comment