My Mother-in-Law apparently makes the best Irish Soda Bread. My son Brooks spends weekends sometimes with his grandparents and comes home raving about his Grammy's homemade bread. Wouldn't you think he'd like Mom-the-Recipe-Girl's recipes for soda bread the best? Nope- Grammy has always had his heart won on hers. The funny thing is- I don't even think she follows a recipe! I've never seen one written, but I suppose I'll have to do some heavy investigating. In the meantime, I messed with Bon Appetit's recipe for Brown Butter Soda Bread to create my own twist on this bread.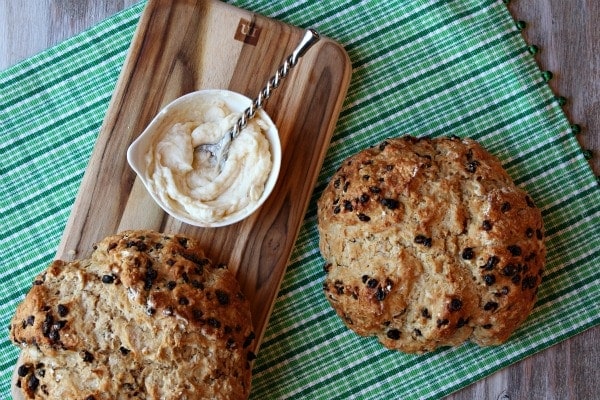 BA's version was a savory sort. I took the savory out of it and turned it into sweet instead. The bread itself isn't sweet, but I didn't want rosemary or other spices mixing flavors with the dried currants that I wanted to add. The most difficult part of this recipe is browning the butter, which takes all of 4 minutes on the stove and is super easy to do. Take the time to brown the butter- it has magical flavors!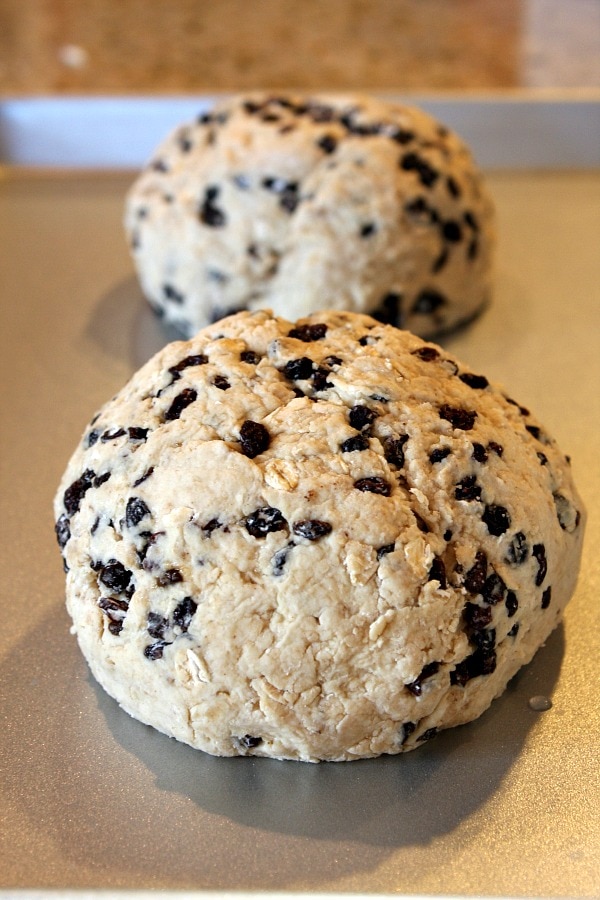 The dough is super easy to work with- I mixed in a little whole wheat flour to my recipe. No yeast is involved, and it just pats together into two small loaves.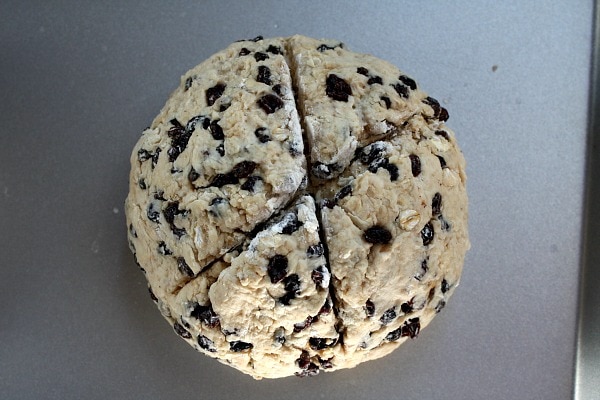 Cut (score) an X into the tops of the loaves. The "X" allows the bread to expand properly while cooking (and let steam escape). It also provides for a visually appealing look to the surface of the bread. Thanks to The Fresh Loaf for their awesome bread-scoring tutorial!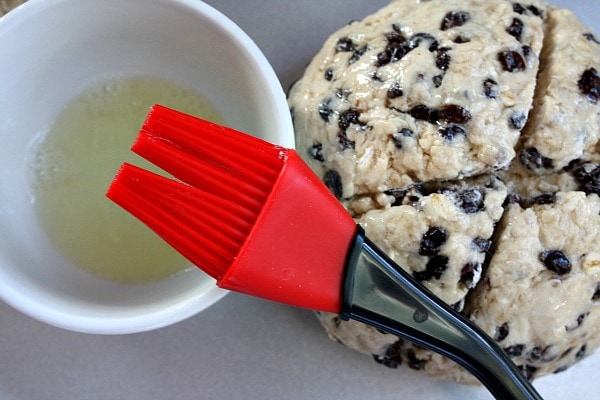 Brush with a little bit of egg white wash.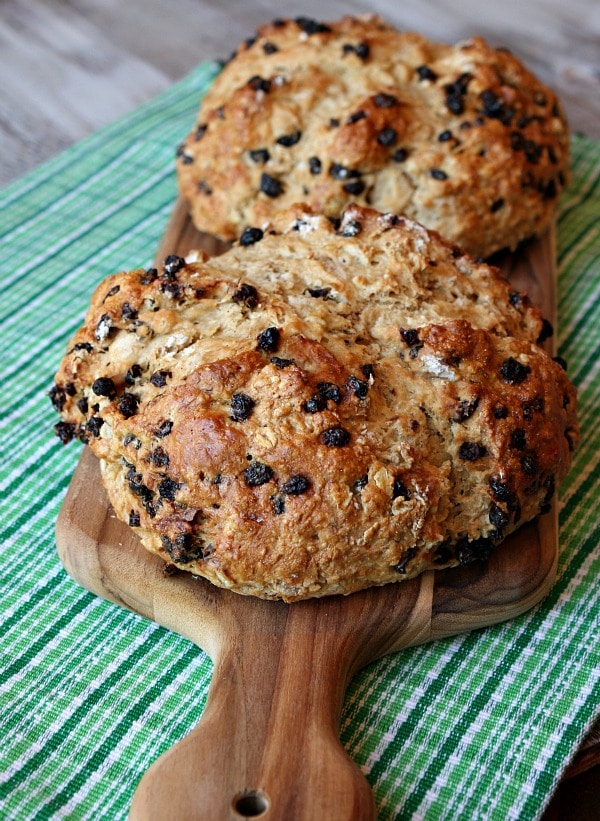 And bake until golden and crispy on the outside.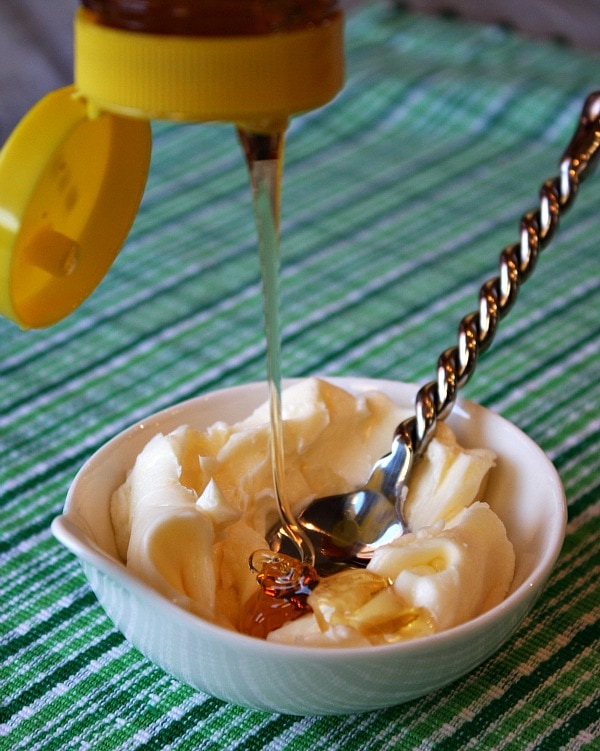 While my bread was baking, I assembled a sweet butter to go with it. Mix softened butter with a good drizzle of honey and a sprinkle of cinnamon.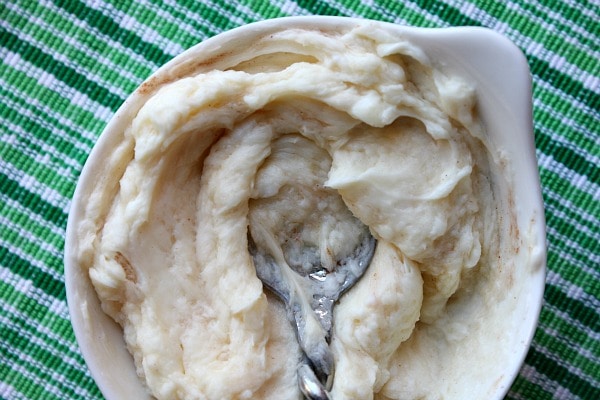 And you'll see how amazing this is when spread onto warm soda bread. It's a must, really.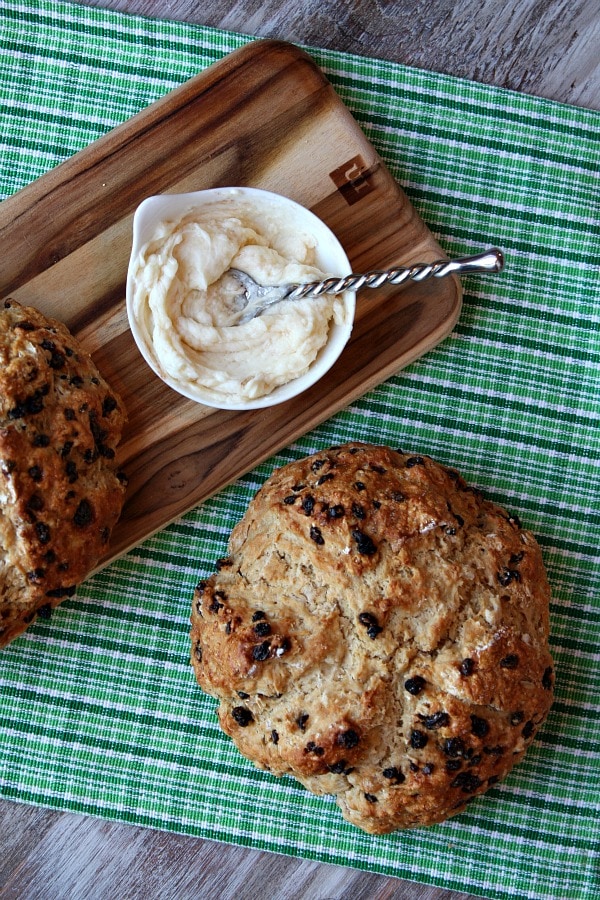 Ready for eating. I suggest just tearing off a warm chunk of bread and having a go at it. My family of three plowed through 1 1/2 of these small loaves during our dinner where salad was our main dish. It was very easy to eat, and the honey butter was so good that I had to make more!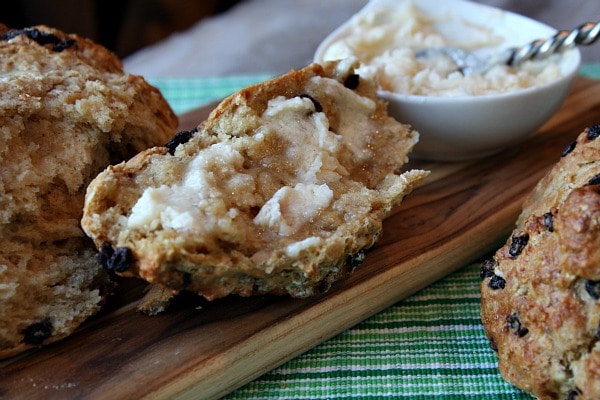 I think Grammy might have some competition here. Brooks really, really enjoyed this soda bread. Did he like it better than Grammy's? Well… when I asked him, he wouldn't respond. So either he didn't want to hurt my feelings or he didn't want to hurt Grammy's. I think he was kinda smart to keep those thoughts to himself 🙂
Check out Jessica's version of this recipe on How Sweet it Is for a savory version of Brown Butter Soda Bread.
Brown Butter Soda Bread
The brown butter makes this soda bread extra special. We love it served with honey butter.
Recipe Details
Servings:
12
servings (2 small loaves)
Ingredients
SODA BREAD
¼

cup (½ stick)

unsalted butter

2

cups

all purpose flour

1½

cups

whole wheat flour

½

cup

oats

1

tablespoon

packed brown sugar

2

teaspoons

baking powder

1

teaspoon

baking soda

1

teaspoon

salt

1¾

cups

buttermilk

½

cup

dried currants

1

large

egg white,

beaten
HONEY BUTTER (optional)
½

cup (1 stick)

unsalted butter,

softened

1

tablespoon

honey

1 to 2

shakes

ground cinnamon
Instructions
SODA BREAD
Preheat the oven to 375°F.

Melt the butter in a small saucepan over medium heat until melted and golden brown (stirring often and keeping a close eye), 3 to 4 minutes. Remove the pan from heat and set it aside to cool.

In a large bowl, whisk together the flours, oats, brown sugar, baking powder, baking soda and salt. Stir in the brown butter and buttermilk until the flour mixture is moistened and comes together.

Turn the dough out onto a well floured work surface. Sprinkle the currants on top and knead them gently into the dough until the dough comes together, about 7 turns. Divide the dough in half. Shape each half into ball, and lightly flatten each into 6-inch round. Place the rounds on ungreased baking sheet, spacing 5 inches apart. Use a knife to cut a ½ inch deep "X" in the top of each round of dough. Brush the tops with the egg wash.

Bake the loaves until they turn deep golden brown and tester inserted into center comes out clean, about 40 to 45 minutes. Cool breads on rack at least 10 minutes. Serve warm or at room temperature.
HONEY BUTTER
If you'd like to make the honey butter, just mix the butter with honey and cinnamon in a small bowl until blended. Serve with the bread.
Notes
Tip from Bon Appetit: You'll get the most tender soda bread by kneading the dough gently and briefly, just until it comes together, so the gluten is minimally developed.
Nutrition
Serving:
1
serving
,
Calories:
214
kcal
,
Carbohydrates:
35
g
,
Protein:
6
g
,
Fat:
6
g
,
Saturated Fat:
3
g
,
Polyunsaturated Fat:
1
g
,
Monounsaturated Fat:
1
g
,
Trans Fat:
0.2
g
,
Cholesterol:
14
mg
,
Sodium:
401
mg
,
Potassium:
185
mg
,
Fiber:
3
g
,
Sugar:
7
g
,
Vitamin A:
187
IU
,
Vitamin C:
0.3
mg
,
Calcium:
96
mg
,
Iron:
2
mg