Roasted Beets with White Balsamic and Citrus Dressing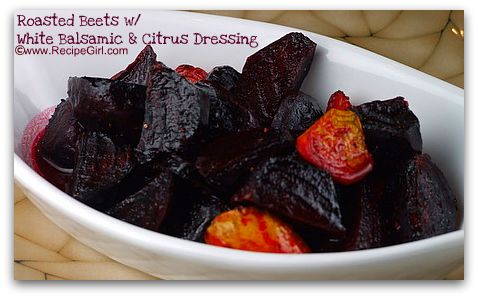 ROASTED BEETS W/ WHITE BALSAMIC & CITRUS DRESSING
www.RecipeGirl.com
FOR ROASTING THE BEETS:
½ lb beets (4 to 5 medium)
2 Tbs extra-virgin olive oil
¼ tsp kosher salt
FOR THE DRESSING:
¼ cup strained fresh orange juice
1 Tbs white balsamic vinegar
1 tsp fresh lemon juice
¼ tsp sea salt; more to taste
freshly ground black pepper
1 to 2 Tbs chopped fresh chives (optional)
1. Position a rack in the center of the oven and heat the oven to 450°F.
2. Trim, peel, and cut the beets into 1-inch wedges. Discard the greens or save for another use. Put the beets in a shallow 9×13-inch (or similar) baking dish, toss them with the olive oil and salt until thoroughly coated, and then arrange them in a single layer. Roast the beets, stirring after 20 minutes, until tender when pierced with a fork or skewer and lightly browned on the edges, 30 to 40 minutes.
3. Meanwhile, whisk orange juice, vinegar, lemon juice, salt and pepper in a small bowl until the salt has dissolved.
4. Remove the beets from the oven and while they're still hot, drizzle the dressing over them, tossing to coat. Let the beets cool to room temperature to meld the flavors. Taste and add more salt, if necessary. Serve at room temperature or gently warmed, topped with chives, if using.
Servings: 4
Amount Per Serving
Calories 92
Calories From Fat (66%) 61
Total Fat 6.89g
Saturated Fat 0.93g
Sodium 247.64mg
Potassium 223.29mg
Carbohydrates 7.46g
Dietary Fiber 1.65g
Sugar 5.18g
Net Carbohydrates 5.81g
Protein 1.06g
WW Points: 3
Recipe Source: Fine Cooking
PRINT THIS RECIPE using your browser's 'print' function. It's automatically formatted to print recipe & picture only.
RATE THIS RECIPE[ratings]
Leave a Comment