This recipe has been featured in a post on The Recipe Girl blog: Gluten Free Thanksgiving Menu. This dish is gluten free adaptable- see tips below the recipe…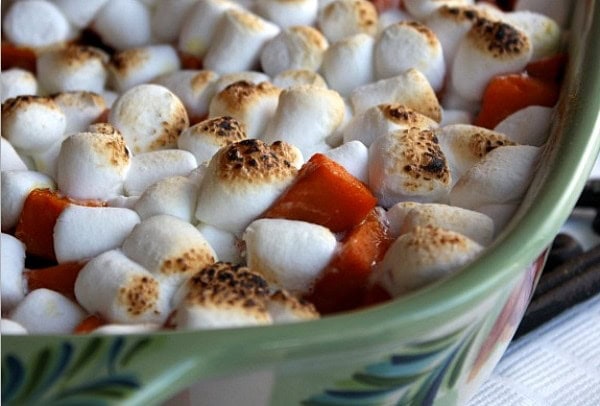 Caramelized Yams w/ Toasted Marshmallows
Simply roasted yams brushed with a sweet orange sauce and topped with marshmallows... then toasted until warm and gooey.
Yield:
8 servings
Prep Time: 25 min
Cook Time: 35 min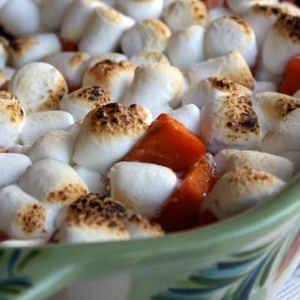 Ingredients:

3 large yams (about 2 pounds), peeled and cut into 1-inch cubes
1 Tablespoon unsalted butter, melted
juice from 1 medium orange
1 tablespoon brown sugar
1/2 teaspoon salt
1/4 teaspoon ground ginger
1 1/2 cups mini marshmallows

Instructions:

1. Preheat oven to 425 degrees F. Spray a large, rimmed baking sheet with nonstick spray.

2. In a large bowl, toss yams with butter. Spread in a single layer on the prepared baking sheet. Roast until tender, about 20- 25 minutes, tossing the yams to rearrange mid-way through baking.

3. Meanwhile, prepare the glaze. In a small saucepan, combine orange juice, brown sugar, salt and ginger. Bring to a boil, stirring occasionally. Reduce heat and cook, until mixture is syrupy and reduced by about a third (about 5 minutes).

4. Brush roasted yams with glaze. Carefully scoop yams into to a 9x13-inch casserole dish. (Make ahead tip: At this point you can cover with plastic wrap and refrigerate until you're ready to serve. Bring them to room temperature, then microwave them until hot and continue with the recipe). Sprinkle marshmallows on top and place under a broiler until marshmallows are warm, toasted and gooey. Keep an eye on it so you don't burn the marshmallows!

Tips:

*If you are preparing this recipe as gluten free, just make sure that you use gluten-free marshmallows.