Corned Beef & Cabbage Turnovers
This recipe has been featured in a post on The Recipe Girl blog: What to Do With Leftover Corned Beef.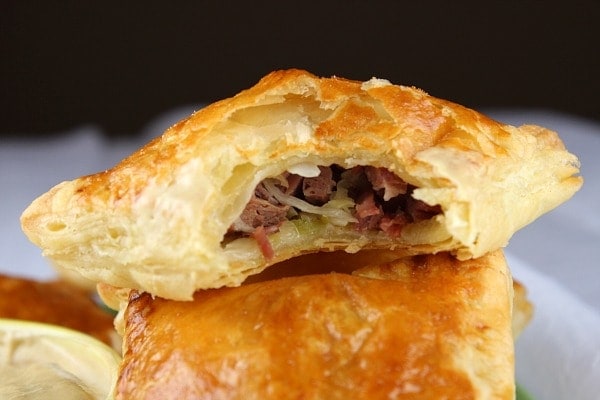 Yield: 9 turnovers
Prep Time: 25 minutes
Cook Time: 20 minutes
Corned Beef & Cabbage Turnovers
What do you do with your leftover corned beef after St. Patrick's Day? You should use it up to make some of these turnovers. We used them as heavy appetizers, which turned out to be dinner!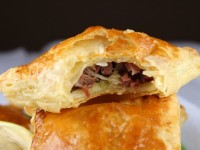 Ingredients:
2 Tablespoons canola oil
1 medium sweet onion, finely chopped (about 1 cup)
4 cups coleslaw mix (12 ounces of shredded cabbage & carrot)
1/2 pound cooked corned beef, chopped finely
salt and pepper, to taste
2 sheets (one 17.3-ounce package) frozen puff pastry, thawed
1 large egg
1/2 cup mayonnaise
2 Tablespoon Dijon mustard
Directions:
1. Preheat oven to 375 degrees F. Line one large baking sheet with parchment paper.
2. In a large skillet, heat oil over medium heat. Add onion and sauté until translucent, stirring occasionally, about 5 minutes. Add coleslaw mix and sauté until mixture is wilted, stirring occasionally, about another 5 minutes. Stir in corned beef, salt and pepper and set aside. Let cool.
3. Lightly flour a surface and rolling pin. Roll out thawed sheet of puff pastry to even out & seal seams. Cut out 9 (2 3/4 -inch) squares from each sheet. Scoop a rounded Tablespoon of filling into the center of 9 puff pastry squares. Rub edges of each square with water. Place another square in your hands, stretch it slightly, and then place it on top of the filling to cover (like a ravioli). Use a fork to press the edges together and seal. Continue until all nine squares have been covered and sealed.
4. Place filling turnovers onto a parchment-lined baking sheet. Brush tops with beaten egg. Bake about 20 minutes, or until golden brown.
5. Let cool slightly, then serve with a mixture of ½ cup mayonnaise and 2 Tbsp. Dijon to make a mustard sauce dip.
Tips:
*There's a nice looking (non-mayo) mustard sauce recipe on this appetizer website.
*If you do not have leftover corned beef, you can always just pick up some corned beef in the deli and chop it up.
3 Responses to "Corned Beef & Cabbage Turnovers"
Leave a Comment