This dish is gluten-free adaptable– please see notes below the recipe.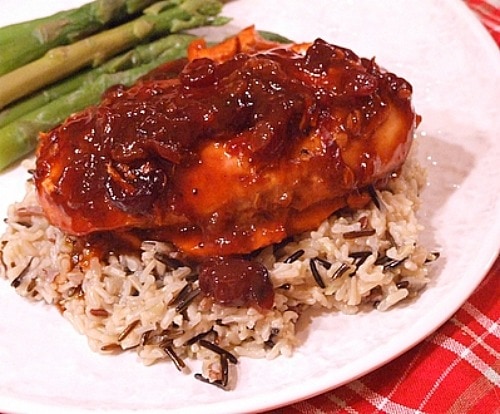 Yield: 6 to 8 servings
Prep Time: 10 min
Cook Time: 1 hour
Cranberry Chicken
The sweetness of the French Dressing is just enough to mix with the tart cranberry. The sauce is wonderful over rice and the slowly cooked chicken is perfectly sweet and tender.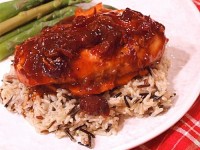 Ingredients:
1 cup French salad dressing, bottled
1 package dried onion soup mix
1 (16 ounce) can whole berry cranberry sauce
8 chicken breasts, boneless
Directions:
1. Preheat oven to 350 degrees F.
2. Mix dressing, soup mix and cranberry sauce in large covered casserole dish. Add chicken and turn to coat.
3. Bake for 30 minutes. Remove cover and cook for an additional 15 minutes. Check after 15 minutes to see if chicken is cooked through. Time depends on how thick your chicken breasts are. If not finished, bake an additional 15 minutes.
4. Serve chicken over rice and drizzle sauce on top.
Tips:
*If preparing this recipe as GLUTEN FREE, you can use Kraft Catalina Salad Dressing and Lipton Onion Soup Mix (those are both GF). Make sure the brand of cranberry sauce that you use is designated as GF too (Oceanspray is GF).
*Use nonfat French dressing to cut down on fat.
Source: RecipeGirl.com (got this from somewhere... long ago!)
2 Responses to "Cranberry Chicken"
Leave a Comment