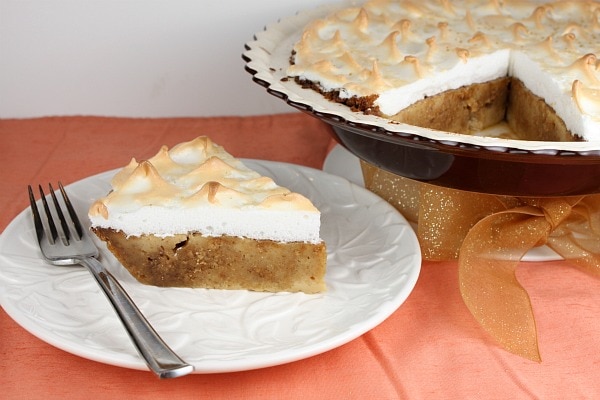 Yield: 8 servings
Prep Time: 35 min
Cook Time: 40 min
Waitress Pie
Otherwise known as I Can't Have No Affair Because It's Wrong & I Don't Want Earl to Kill Me Pie (from the movie, Waitress)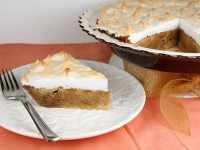 Ingredients:
CRUST:
2 1/2 cups graham cracker crumbs
1/2 cup brown sugar, packed
1/2 cup melted butter
CUSTARD:
2 cups whole milk
2 large eggs
1/3 cup granulated white sugar
1/2 teaspoon salt
1/2 teaspoon vanilla extract
1/4 teaspoon ground cinnamon
MERINGUE:
3 large egg whites
pinch of cream of tartar
1/4 cup granulated white sugar
Directions:
1. Preheat oven to 350° F.
2. Prepare crust: Stir together crust ingredients until well blended. Press mixture into 9-inch pie pan. Bake 9 to 11 minutes, or until crust is browned and crisp. Remove from the oven. Increase oven temperature to 425 degrees F.
3. Prepare custard: Heat milk in a small saucepan almost to a boil. Remove from heat. Beat eggs slightly in a large bowl. Whisk in sugar and salt. *Add hot milk, 1/4 cup at time, whisking constantly to temper egg mixture (to get warmer gradually). Whisk in vanilla. Pour custard through a fine sieve and into the prepared pie crust. Sprinkle top of custard with cinnamon.
4. Bake on lower shelf of the oven for 20 to 25 minutes, until custard is set and firm to touch. Remove from oven and set on rack to cool slightly. (Keep oven on)
5. Prepare meringue: In large bowl, beat egg whites until foamy. Gradually add sugar, continuing to beat until stiff peaks form. Spread meringue over cooked custard, and return to oven until the meringue is slightly browned. Cool for at least 15 minutes before serving.
Tips:
*Be sure to add milk gradually. If you add it to the egg mixture all at once, you'll cook the eggs and end up with scrambled eggs!
*Refrigerate any leftover pie.
One Response to "Waitress Pie"
Leave a Comment