This Waitress Pie is one of the pies featured in the movie, "Waitress."  It's a custard pie with a graham cracker crust and toasted meringue on top.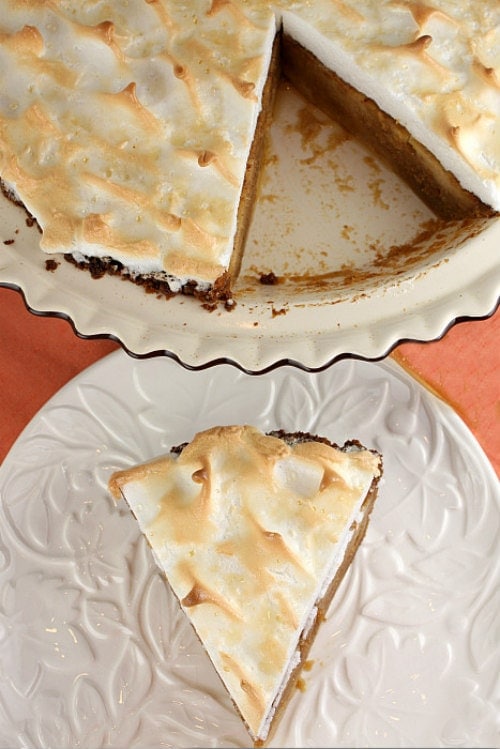 Some blogging friends and I got to chatting about pie recipes one day.  Remember the  movie "Waitress?"… all the pies with the funny names that the main character would bake up as she daydreamed of a life without her deadbeat husband?
If you haven't ever seen this movie, you simply must rent it- it's pretty hilarious.  All of the pies in the movie look delicious, so I decided to bake one of the pies from movie.
I'm calling my pie recipe Waitress Pie, but in the movie it's called I Can't Have No Affair Because It's Wrong and I Don't Want Earl to Kill Me Pie!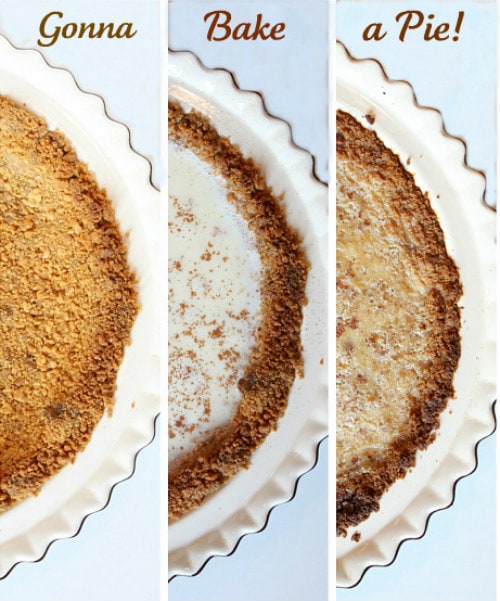 How do you make Waitress Pie?
It starts with a classic graham cracker crust that is filled with a custard base and baked until firm.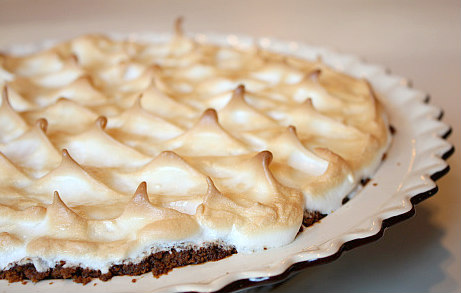 A layer of toasted meringue tops off this Waitress Pie.
The way that it's made, part of the thick layer of graham cracker crust migrates a bit into the custard layer as it's baked.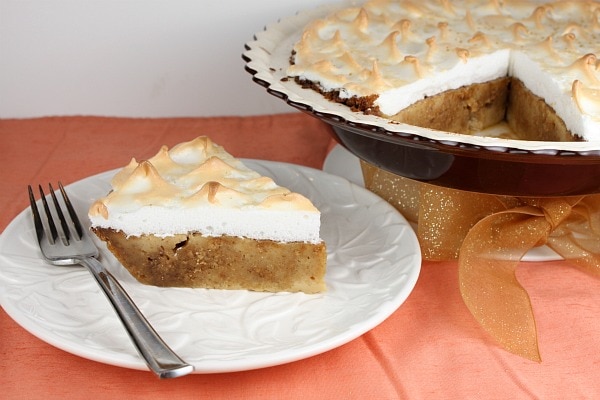 How does Waitress Pie taste?
Delicious!  It's your basic custard pie that takes on a graham cracker flavor of sorts with meringue on top.  It's different than your classic custard pie since the graham cracker crust becomes part of the custard.
If you're interested in more custard pie recipes, you might also enjoy my Lemon Blueberry Custard Pie or this Buttermilk Pie. Sugar Cream Pie, adsfasdf and Pear Custard Pie are also delicious custard pie recipes!
Waitress Pie
This Waitress Pie is a custard pie with a classic graham cracker crust. There is toasted meringue on top!
Recipe Details
Ingredients
CRUST:
2 1/2

cups

graham cracker crumbs

1/2

cup

packed brown sugar

1/2

cup (1 stick)

butter,

melted
CUSTARD:
2

cups

whole milk

2

large

eggs

1/3

cup

granulated white sugar

1/2

teaspoon

salt

1/2

teaspoon

vanilla extract

1/4

teaspoon

ground cinnamon
MERINGUE:
3

large

egg whites

pinch of

cream of tartar

1/4

cup

granulated white sugar
Instructions
Preheat the oven to 350° F.
PREPARE THE CRUST:
Stir together the crust ingredients until well blended. Press the mixture into a 9-inch pie pan. Bake 9 to 11 minutes, or until the crust is browned and crisp. Remove from the oven. Increase oven temperature to 425 degrees F.

PREPARE THE CUSTARD:
Heat the milk in a small saucepan almost to a boil. Remove from heat. Beat the eggs slightly in a large bowl. Whisk in the sugar and salt. *Add the hot milk, 1/4 cup at time, whisking constantly to temper egg mixture (to get warmer gradually). Whisk in the vanilla. Pour the custard through a fine sieve and into the prepared pie crust. Sprinkle the top of custard with cinnamon.

Bake on a lower shelf of the oven for 20 to 25 minutes, until the custard is set and firm to touch. Remove from the oven and set on a rack to cool slightly. (Keep the oven on)
PREPARE THE MERINGUE:
In a large bowl, beat the egg whites until foamy. Gradually add the sugar, continuing to beat until stiff peaks form. Spread the meringue over the cooked custard, and return to the oven until the meringue is slightly browned. Cool for at least 15 minutes before serving.
Notes
*Be sure to add milk gradually. If you add it to the egg mixture all at once, you'll cook the eggs and end up with scrambled eggs!
*Refrigerate any leftover pie.
Nutrition
Serving:
1
slice
,
Calories:
384
kcal
,
Carbohydrates:
51
g
,
Protein:
6
g
,
Fat:
17
g
,
Saturated Fat:
9
g
,
Cholesterol:
83
mg
,
Sodium:
488
mg
,
Potassium:
182
mg
,
Sugar:
37
g
,
Vitamin A:
520
IU
,
Calcium:
111
mg
,
Iron:
1.4
mg