Fudgy Chocolate Raspberry Bars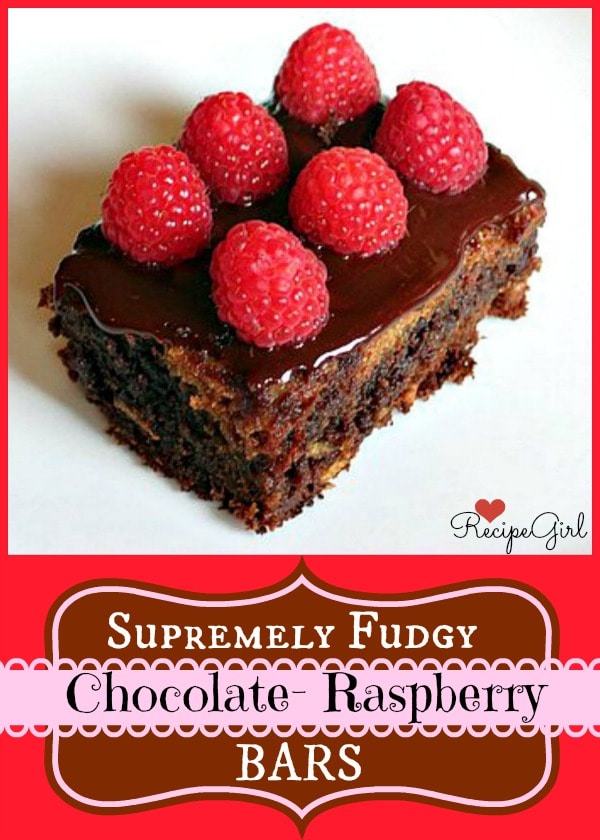 Yield: 12 bars
Prep Time: 30 min + chill time
Cook Time: 50 min
Fudgy Chocolate Raspberry Bars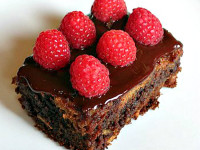 Ingredients:
CAKE:
10 ounces semi-sweet chocolate, chopped
1 1/2 sticks (3/4 cup) chilled unsalted butter, cut into small pieces
1/3 cup seedless raspberry jam
1 cup granulated white sugar
5 large eggs
1/3 cup all-purpose flour
1 teaspoon baking powder
GLAZE:
1/4 cup heavy whipping cream
1/4 cup seedless raspberry jam
6 ounces semi-sweet chocolate, chopped
TOPPING:
Two 6-ounce baskets of fresh raspberries (or about 49 raspberries)
Directions:
1. Preheat the oven to 350 degrees F. Line a 9x9-inch baking pan with foil or parchment paper. Spray the foil/paper with nonstick spray and dust with flour.
2. Prepare the cake: In a medium saucepan, stir the chocolate and butter over low heat until melted and smooth. Add the jam and whisk until melted. Remove from heat and cool slightly.
3. Beat the sugar and eggs in a large bowl with an electric mixer until the mixture thickens, about 5 minutes. Sift the flour and baking powder over the egg mixture and fold it in with a rubber spatula. Gradually fold in the chocolate mixture too.
4. Pour the batter into the prepared pan. Bake until the top of the cake is slightly crusty, begins to crack and tester inserted into center comes out with moist crumbs attached, about 45 minutes. Cool 5 minutes. Gently press down any raised edges of cake to even. Let cool in the pan. When completely cooled, turn the cake onto a platter. Peel off the foil. Trim 1/2-inch off each edge of the cake to make it nice and even and pretty-looking.
5. Prepare the glaze: Stir the cream and jam in a heavy small saucepan over medium heat until the jam melts; bring to a boil. Remove from heat. Add the chocolate and stir until melted. Let stand until cool but still spreadable, about 15 minutes.
6. Spread the glaze over the top of the cake. Immediately arrange the berries on top of the glaze. Chill about 10 minutes, or until the glaze sets.
7. Cut into 12 bars and serve.
Tips:
*These bars may be prepared one day ahead. Keep chilled.
One Response to "Fudgy Chocolate Raspberry Bars"
Leave a Comment