This recipe has been featured in a post on The Recipe Girl Blog: Dare You to Make Fresh Cranberry Jam with Lavash Crackers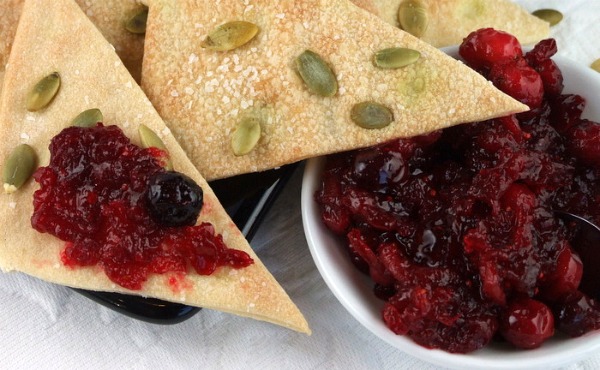 Yield: 2 cups
Prep Time: 45 min + sitting time
Cook Time: 30 min
Fresh Cranberry Jam
Very easy to make. Such a satisfying feeling to have some homemade jam around the house!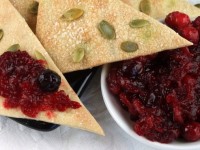 Ingredients:
1 pound + 2 ounces frozen or fresh cranberries
1 cup superfine sugar
1 medium lemon (finely grated rind and juice)
1 small Granny Smith apple, peeled and cored
Directions:
1. Grate rind of lemon and set aside. Juice lemon into small bowl. Rinse berries. Drain well and put them in a non-metallic bowl with the sugar. Add lemon juice and toss. Cover with plastic wrap, and leave on counter overnight, turning once or twice.
2. Coarsely grate the apple and put it into a heavy based saucepan with the grated lemon rind. Strain in all the juice from the berries- scrape out all of the sugary stuff and add it to the pan. Add two big spoonfuls of berries, leaving the rest of the berries in the bowl for now. Add 1/2 cup of water and simmer 20 to 30 minutes, or until the apple is very soft and the mixture has thickened. Add the rest of the berries and heat through for 10 minutes.
3. Pour into sterilized jars. Seal tightly and turn upside down. Cover with a cloth and leave to cool completely before turning upright and storing in a cool place. The jam will keep for a couple of months, but once open it should be kept in the fridge and used up fairly quickly.
Tips:
*If you don't have superfine sugar in your pantry, swirl some regular granulated sugar in your food processor for about a minute to create superfine sugar).
Source: RecipeGirl.com (Adapted from Falling Cloudberries (and 101 Cookbooks))
One Response to "Fresh Cranberry Jam"
Leave a Comment