Favorite Halloween Recipe 2010: Candy Corn Cheesecake
Browsing the Halloween-themed magazines this year, I spotted this recipe for a candy Corn Cheesecake. I was impressed with the colors, how it was made, and it was one of those things I simply had to bake. So, here you go… my Candy Corn Cheesecake.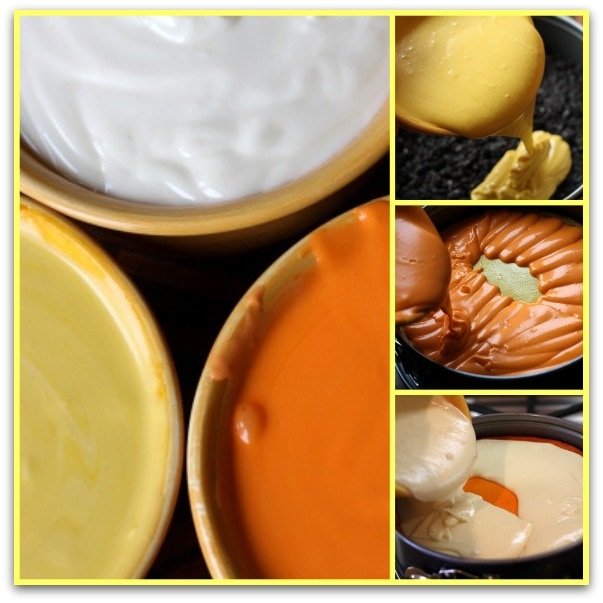 Crumbled Oreos are mixed with butter to make a simple cookie crust. Cheesecake batter, made special by additions of mascarpone and honey, is divided into three parts and colored with your typical candy corn colors- orange, yellow and white. The cheesecake is baked in three stages- yellow layer (then cooled slightly), then orange layer (also cooled), then white. It's a time consuming process for sure, but it all works out in the end.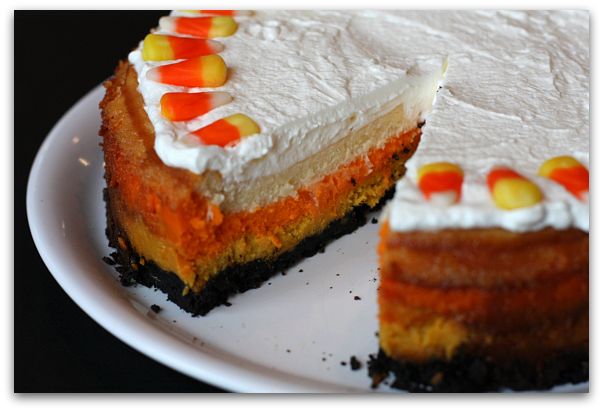 After a very long (24 hour) chilling period and careful extraction of the cheesecake from the pan, it's topped with some whipped cream. This is a nice idea since it easily hides any imperfections on the top of the cheesecake. Topping it decoratively with candy corns makes it more festive too.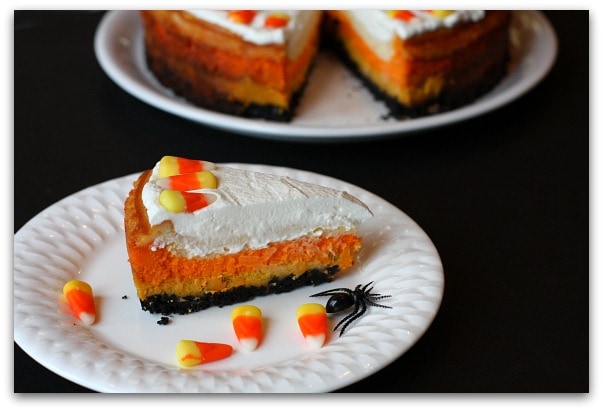 Slices of the cake turn out a pretty display of the candy corn colors. Add some spiders and it's ready for a Halloween table 🙂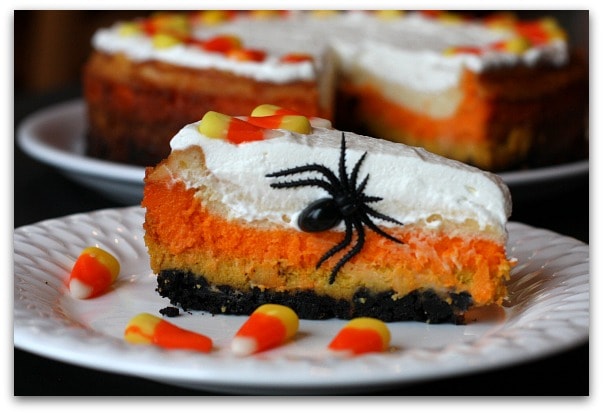 In the magazine, the picture of this cheesecake is absolutely unblemished and perfect- almost unrealistic. I'm not quite sure how they turned out such a photo. The recipe was fairly easy to follow, but it was indeed a complicated, time-consuming process, and GEEZ it was hella expensive. I'm wondering if the same process would work with a regular cheesecake recipe to save some cash.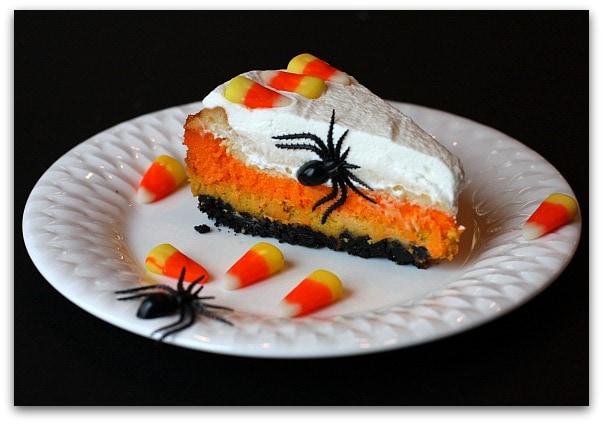 Despite my minor complaints, this was a delicious, creamy cheesecake… in my opinion, absolutely worth the expense and time. It was enjoyed at one of my neighborhood's Gourmet dinner parties recently, and the guests devoured it and showered me with compliments. That's what I was going for- an impressive Halloween sweet that was hard to resist too.  This turns out to be my favorite Halloween recipe of 2010.
This recipe can be found here: Candy Corn Cheesecake
Other candy corn- themed recipes on the blogs:
Candy Corn Ice Cream by Culinary Concoctions by Peabody
Candy Corn Cookie Bark by RecipeGirl
Homemade Candy Corn by CakeSpy & Serious Eats
Candy Corn Macarons by Barbara Bakes
Candy Corn Cookies by RecipeGirl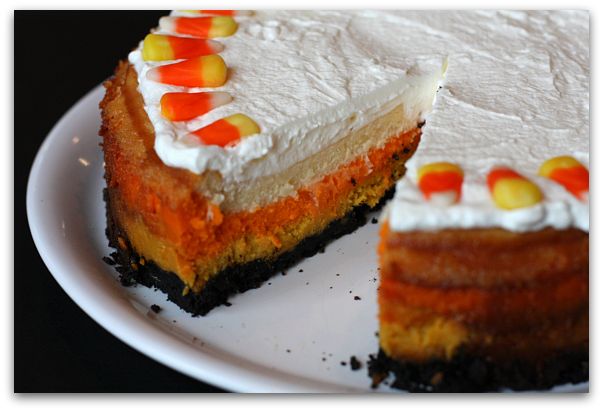 35 Responses to "Favorite Halloween Recipe 2010: Candy Corn Cheesecake"
Leave a Comment