Chocolate- Chocolate Chip Cookie Dough Truffles
Dear Cookie Dough- Loving Friends Who Love Chocolate too,
Here's another recipe created just for you.  It's chocolate cookie dough in its purest form (with added chocolate chips).  I left out the eggs in the dough, so it's okay for munching.  I rolled them into bite-sized balls and  covered them with a layer of more chocolate.  How's that sound?  I hope you like these:  Chocolate- Chocolate Chip Cookie Dough Truffles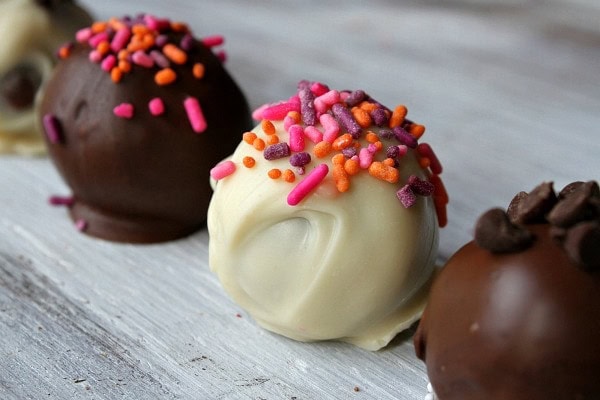 A few lovely sprinkles on top makes them festive enough for perhaps… Valentine's Day.  And a few miniature chocolate chips sprinkled on top gives people a hint as to what's inside.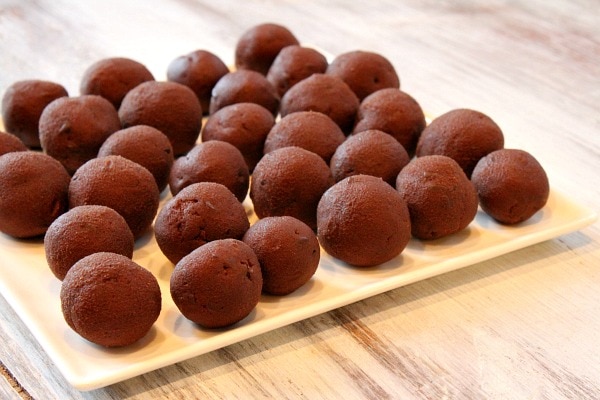 There it is… chocolate cookie dough.  You'll get about 32 balls of dough, depending on how much you nibble in the preparation process.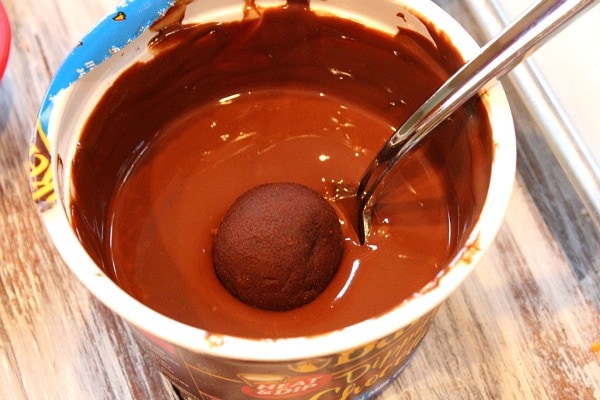 This was my first time using this Baker's Dipping Chocolate (heat and dip in the container it's sold in).  I must say that it worked out perfectly.  You'll need two tubs of this if you use this product for your own dipping.  It's sold in the baking aisle near the chocolate chips.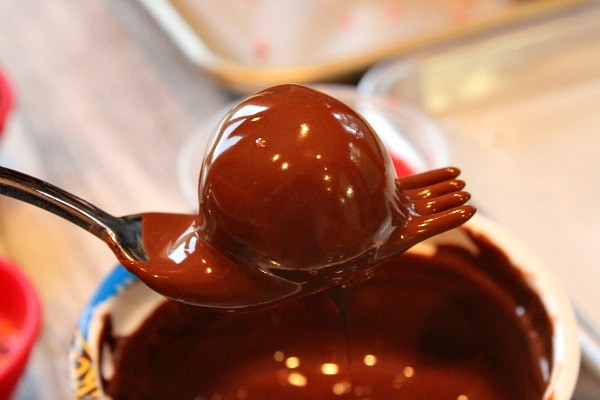 If you set your chocolate truffle on a fork and then just lower it into the melted chocolate, you can just tap the fork lightly to get rid of the excess.  Then slide it onto a wax paper lined baking sheet to let the chocolate set.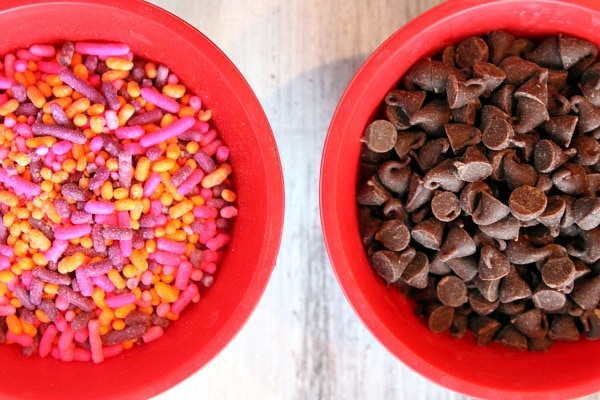 You'll want to sprinkle with goodies immediately before the chocolate hardens.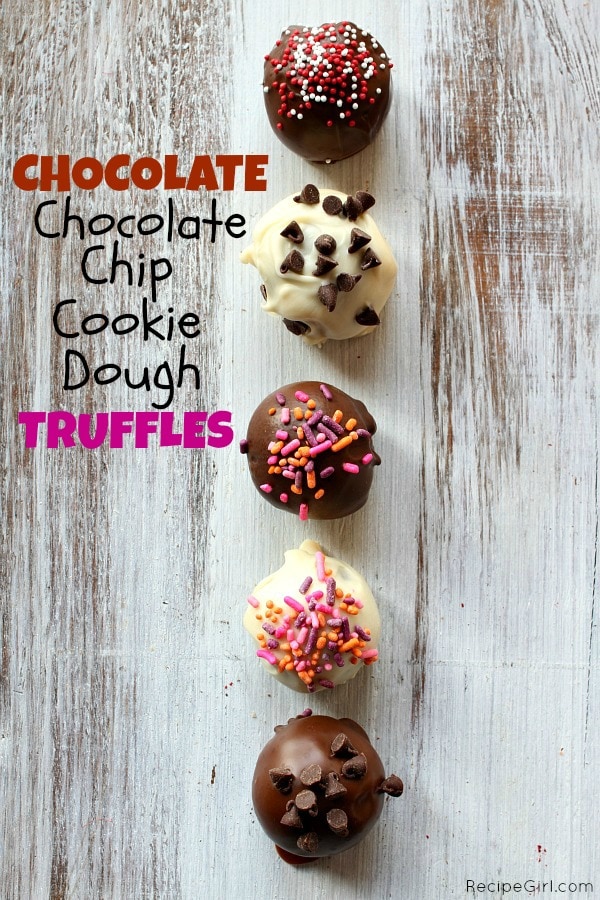 And there's a few varieties for ya!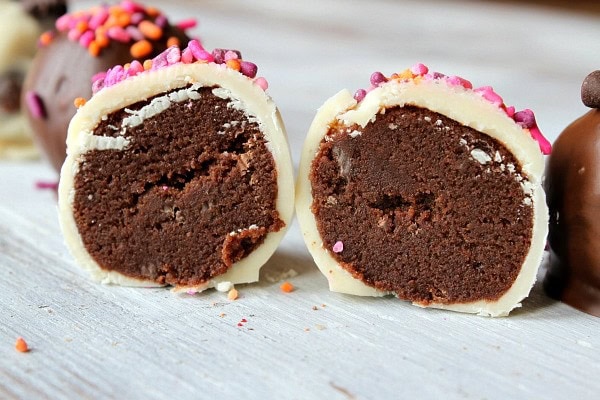 Here's what they look like inside.  That's some pure chocolatey cookie dough right there.  If you're not really a fan of cookie dough because you don't care for that grainy taste or whatever, these probably aren't for you.  But if you're a cookie dough nibbler (that's how my Momma raised me…), you get what I'm talking about here and I'm pretty sure you'll like them.  Soft and sugary and delicious inside.  Very chocolatey and very rich.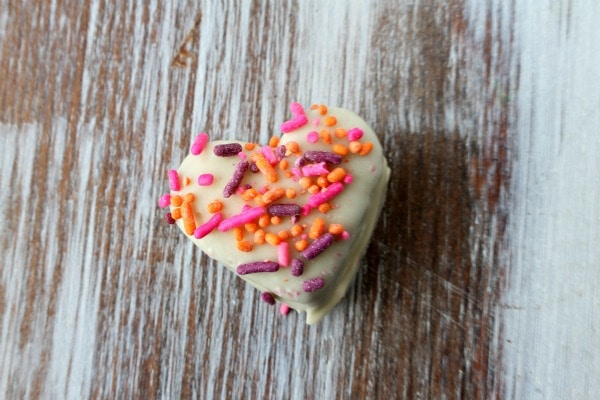 I managed to make a few "heart-shaped" truffles with the cookie dough.  It was a bit of a pain, but I'll tell you how I did it.  I lined a 9×9-inch baking pan with waxed paper (overhanging the sides) and sprayed it with nonstick spray too.  You can pat the cookie dough into the pan, refrigerate it until it firms up, then take the cookie dough out of the pan by lifting the wax paper and bringing it to a cutting board.  Use a heart cutter to cut out shapes of cookie dough.  It's a little tricky, but it did work.  You need to firm up the cookie dough hearts again before you dip them, but they look pretty cute in the end.
Yield: About 32 truffles
Prep Time: 50 min + rising time
Cook Time: 2 min
Chocolate- Chocolate Chip Cookie Dough Truffles
These little truffles are incredible rich, and they're reserved for both chocolate lovers and cookie dough lovers alike!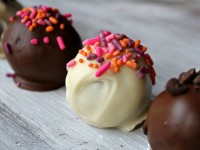 Ingredients:
3/4 cup (1 1/2 sticks) unsalted butter, at room temperature
3/4 cup granulated white sugar
3/4 cup packed light brown sugar
1/4 teaspoon salt
2 to 3 tablespoons milk or cream
1 1/2 teaspoons vanilla extract
1 cup Gold Medal® All-Purpose Flour
2/3 cup unsweetened cocoa powder
3/4 cup miniature chocolate chips
melting chocolate (like Baker's Dipping Chocolate)
sprinkles or additional mini chips, for garnish
Directions:
1. Prepare the cookie dough: In a large bowl, use an electric mixer to combine the butter, sugars and salt. Mix in 2 tablespoons of milk or cream and vanilla extract. Sift in the flour and cocoa powder and mix until well-combined. If the mixture seems dry, add up to 1 tablespoon of additional milk or cream, until the dough comes together nicely in clumps. Stir in the chocolate chips. Cover the bowl with plastic wrap and refrigerate for 2 to 3 hours, or until the dough is very firm.
2. Roll the cookie dough: Using a tablespoon (and clean hands), scoop out spoonfuls of the firmed-up cookie dough and roll it into 1-inch or so balls. Place them on a waxed-paper-lined baking sheet. Roll all of the cookie dough balls and then place the baking sheet of balls into the refrigerator to firm them up again (at least 15 to 20 minutes).
3. Melt the chocolate for dipping. Take about 10 cookie dough balls out of the refrigerator at a time. Set a cookie dough ball on top of a fork, dip, shake off the excess and then gently place onto a wax-paper-lined platter or baking sheet. Sprinkle immediately with decor (sprinkles or mini chips). Repeat with remaining cookie dough balls. And then take 10 more out of the fridge and repeat until you've dipped them all. Refrigerate to set, or let sit at room temperature until the chocolate has set. These do not need to be refrigerated, but they certainly can be. Store them in a covered container.
Tips:
*If you use the dipping chocolate (Baker's brand) mentioned in the ingredients section, you'll need two of those to be able to dip all of the truffles in this recipe.
Disclosure: I'm working with Gold Medal Flour to create seasonal recipes. This is one of those goodies. All opinions shared are my own.
More cookie dough recipes on the blogs:
No-Bake Stuffed Cookie Dough Bites by Picky Palate
Belgian Cookie Dough Waffles by Dine and Dish 
Cookie Dough Billionaire Bars by Bake or Break 
Cookie Dough Cream Pie by Love and Olive Oil 
Chocolate Chip Cookie Dough Cupcakes by RecipeGirl 
49 Responses to "Chocolate- Chocolate Chip Cookie Dough Truffles"
Leave a Comment