Food is wonderful, it really is.  But food can also make people sick. I've heard some pretty amazing and awful stories from my food friends about allergies and reactions to things related to food. Shauna (Gluten Free Girl) shares her story here on the many years her health suffered before she found out that her body just couldn't handle any gluten. And then there's Carrie's story: Deliciously Organic. Carrie's family of four was able to overcome severe asthma, eczema, IBS and migraines… all by switching to a diet of organic, unprocessed food. Amie's story is compelling too (The Healthy Apple). Amie's body is unable to digest gluten, sugar and oils. She is also allergic to sulfates and cannot digest packaged foods, yet somehow she has managed to figure out how to keep her body healthy.  And then there's Jessica's story (Sodium Girl): Faced with kidney failure and a host of other problems, it took years to determine that a well controlled, salt-free, low-sodium diet was key to her staying healthy and active. We're going to celebrate Jessica and her new cookbook today with a recipe made delicious, even though there is no salt added: Sweet Potato Fries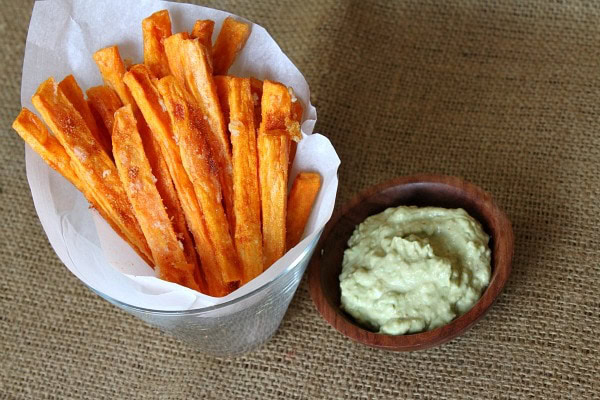 Jessica gave me the challenge of preparing a recipe with zero sodium.
A little background on sodium:  The USDA recommends that Americans consume less than 2,300mg of sodium a day (that is equal to a teaspoon of salt). And that 50% of Americans, due to age and health needs, should consume less than 1,500mg of sodium a day (which is equal to a little over 1/2 teaspoon of salt).  So the funny thing is that there are a ton of foods you eat every day that have sodium in them already (without even adding the salt yourself!)
Eggs? over 70mg of sodium per egg.
Chicken leg? over 90mg of sodium per 1/4 pound.
Crab? 250mg per 3 ounces.
Artichoke? 120mg per artichoke.
Kale? 30mg per cup, chopped.
And the real culprit of over salting is processed foods, which contribute over 75% of people's daily sodium intake. So the secret to making low-sodium food still taste wonderful: find the right combination of no or low-sodium spice and condiment additions to make it work.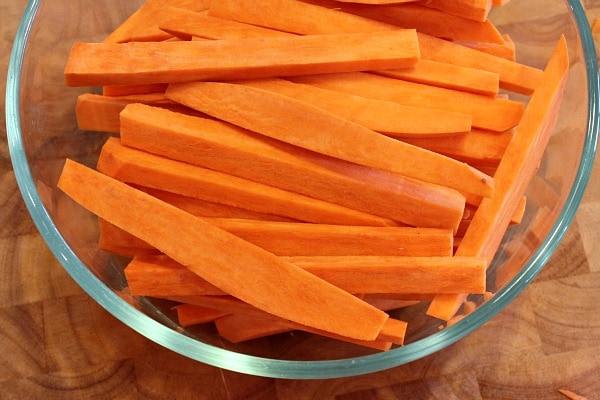 For my challenge, I chose to make typically-salty fries.  I adore sweet potatoes, so I went with sweet potato fries.  And yes, I really fried them… instead of baked them.  That's SOOO not me, but it was SuperBowl Sunday when I made these, and that pretty much gives you an excuse to eat whatever you want… so deep-frying it was! I used a recipe by Jeff Mauro on the Food Network site and played around with it a little bit.  I think the toughest part in all of this is trying to cut the sweet potatoes so that they were fairly uniform in size (figured they'd cook more evenly that way). Mauro suggests cutting them 1/2 to 1/4-inch.  Mine were probably closer to 1/2-inch.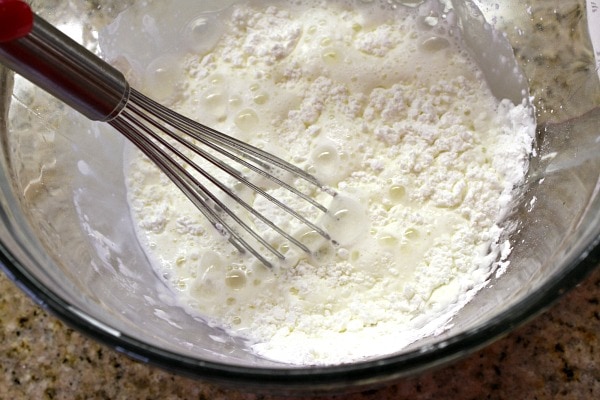 The interesting thing about this recipe is that you dunk the sweet potatoes into a mixture of cold club soda + cornstarch (a batter) before frying.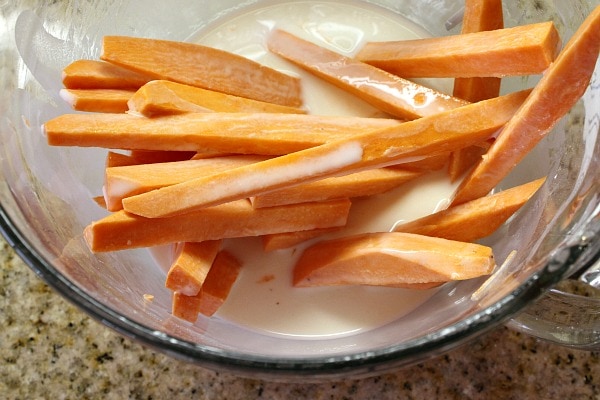 I believe that the light "batter" coating is supposed to add an extra crunchy texture to the outside of the fries.  So you just dunk 'em and then shake the batter off to drain a bit.
It's helpful to have some kind of metal strainer spoon like this one to safely lower in the potatoes, and then lift them out when done.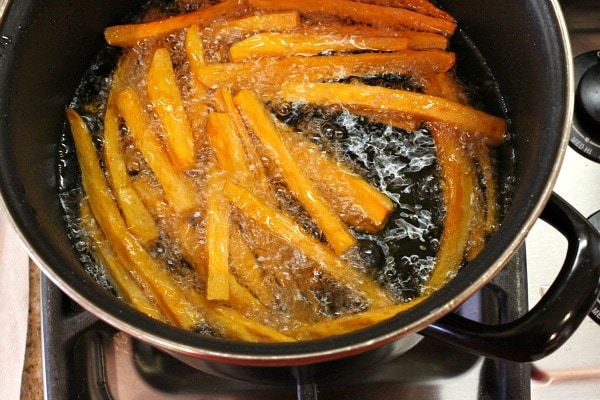 Another important piece to this recipe is that the oil must be the right temperature (375 degrees F).  If it's too cool, the fries won't crisp.  If it's too hot, they'll burn!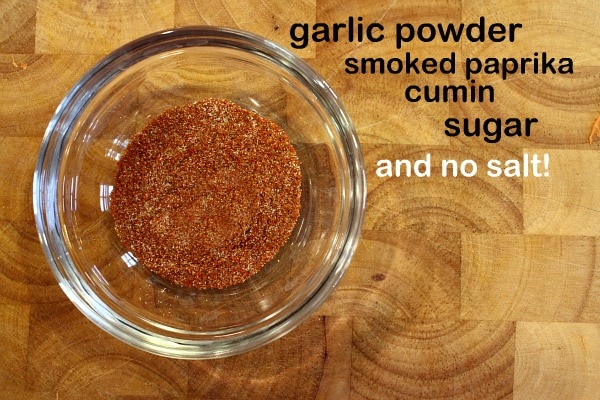 Here's the seasoning mix I opted for.  Jessica wanted me to point out that there could indeed be sodium hiding in some brands of garlic powder, so if you're watching sodium then it's worth checking out the brand you're using.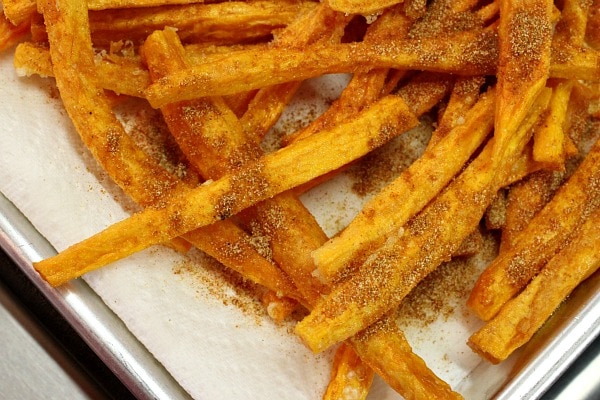 As the fries come out of the oil and onto a paper towel to drain, the seasoning mix is sprinkled on top.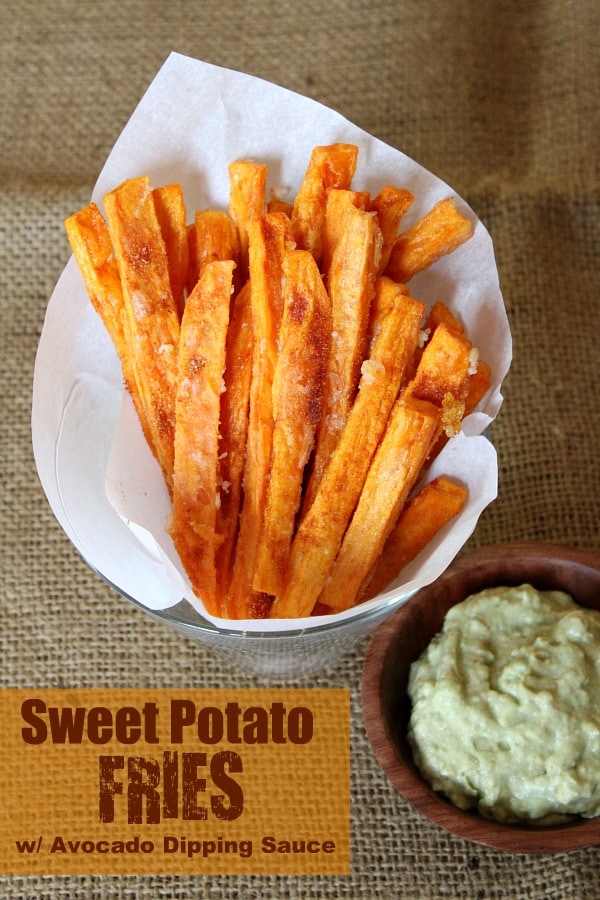 I served them up couch-side for my boys with a little bowl of simple (sodium-free) avocado dipping sauce.  They ate, they dipped, and they inquired about the seasoning that I used.  They enjoyed.  Then my husband got nosier and asked more questions about the seasoning mix.  I let the cat out of the bag and  told him that this was a zero-sodium recipe.  And then, you know what he did?  After enjoying about half of the fries just as they were… and exclaiming about how wonderful they were… he went into the kitchen and grabbed the salt shaker!  Ugh… I guess it's hard to break old habits.  But you can certainly learn to break them if you mess around and discover flavorings to use in place of using sodium.  I thought these were perfectly delicious without any salt… at all. Scroll to the end of this post for the recipe.
Today we're celebrating the release of Jessica Goldman Foung's new cookbook: Sodium Girl's Limitless Low-Sodium Cookbook- How to Lose the Salt and Eat the Foods You Love.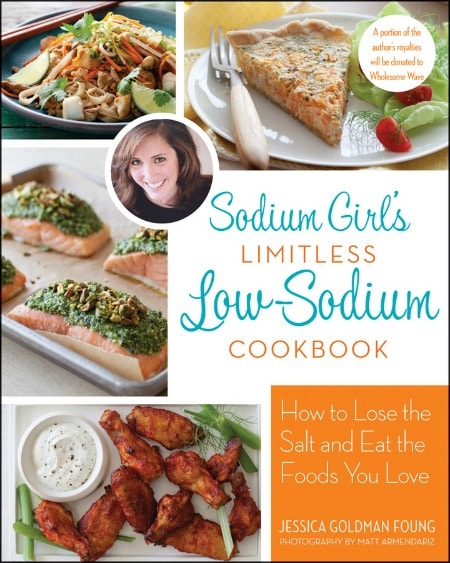 First of all Jessica has terrific background information in the beginning of her book on how to prepare and adjust for a life of living a low-sodium diet… tips on dining out, stocking a low-sodium pantry, how to read labels and lots of suggestions for spice blends, etc. to use in your recipes.  The recipes themselves look scrumptious- colorful, spiced, creative and family-friendly.  Each recipe gives a sodium-count.  Recipes I'm excited to try:  Balsamic- Blueberry Steak Sauce, Roasted Butternut- Ricotta Dip, Cast Iron Herb Pizza Crust and Baked Macaroni and Peas.  Her book looks great, and it's definitely one to add to the shelf for those who are (or need to be) watching their sodium intake.  This book can be purchased HERE.
Yield: 4 servings
Prep Time: 15 minutes
Cook Time: 15 minutes
Sweet Potato Fries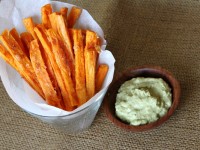 Ingredients:
FRIES:
6 cups peanut oil, for frying
1/2 teaspoon garlic powder
1/2 teaspoon cumin
1/2 teaspoon smoked paprika
1/4 teaspoon granulated white sugar
1 cup cornstarch
3/4 cup cold club soda
2 pounds sweet potatoes, cut into 1/2-inch or 1/4-inch fries
AVOCADO DIPPING SAUCE (optional):
1 medium avocado, pitted and mashed
2 to 3 tablespoons plain greek yogurt or sour cream
2 teaspoons freshly squeezed lime juice
season to taste with cayenne pepper and smoked paprika
Directions:
Heat the oil to 375 degrees F in a large pot or deep fryer. Preheat the oven to 200 degrees F.
In a small bowl, mix garlic powder, cumin, smoked paprika and sugar. Set aside.
In a medium bowl, whisk together the cornstarch and club soda. In batches, dip the potatoes in the batter, allow any excess to drip off and then place them on a wire rack with paper towels underneath to catch the dripping batter. Repeat with rest of the potatoes.
Fry half of the potatoes, stirring occasionally until golden brown and crispy, 6 to 8 minutes. Remove to a paper-towel-lined baking sheet and sprinkle with half of the seasoning. Keep them in the oven to stay warm and crisp while you repeat with the remaining potatoes. Serve immediately.
Prepare the avocado sauce:  Mix all ingredients in a small bowl.
124 Responses to "Sweet Potato Fries"
Leave a Comment