Summer Vegetable Pasta Salad
The next time you're asked to bring a dish to a party, bring this: Summer Vegetable Pasta Salad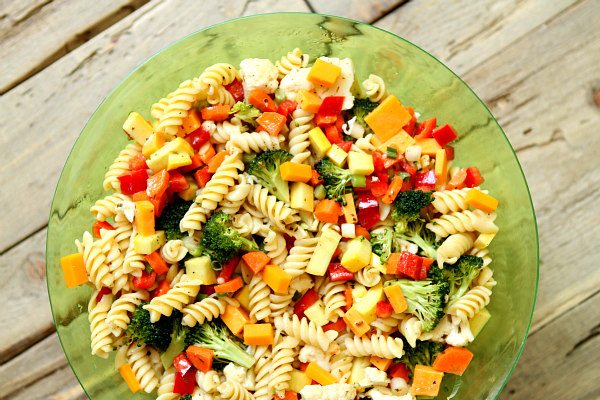 It's funny because I pretty much think of the typical pasta salad as having been around forever.  I used to make them in college with a quick toss of Italian dressing.  And I made huge tubs of pasta salad for parties when I worked for a caterer back in the day.  The truth is: everyone loves a good pasta salad!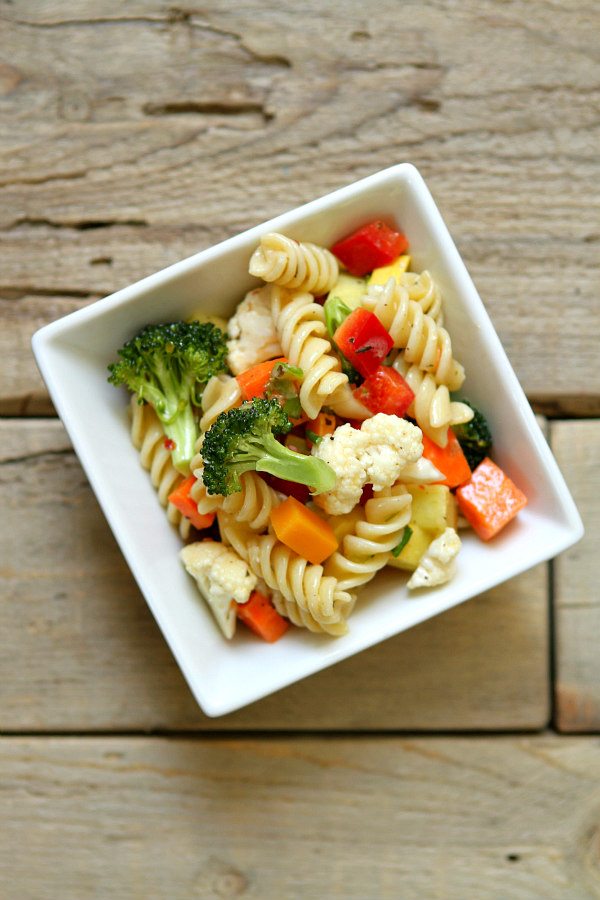 Now that I'm older and much, much wiser… I still make a good pasta salad.  Nowadays though I add in plenty of fresh vegetables and I toss it all with a very simple, homemade vinaigrette.  I think the dressing can make all the difference in a pasta salad, so homemade is the way to go!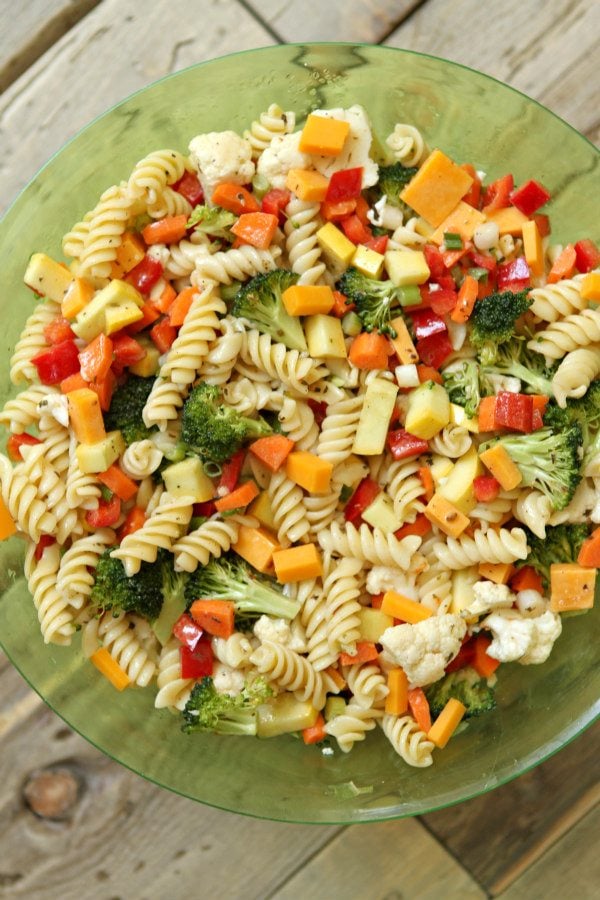 Oh, and since I'm addicted to cheese all day every day… I add in cheese cubes too.  This is the perfect recipe for bringing to a potluck party.  It's easy to make, and you can prepare it several hours ahead.  Just toss it again lightly before serving.
Yield: 10 to 12 servings
Prep Time: 20 minutes
Summer Vegetable Pasta Salad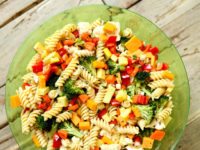 Ingredients:
Salad:
12 to 16 ounces rotini pasta, cooked according to package directions
1 1/2 cups fresh broccoli florets
1 large zucchini or yellow squash, chopped
1 1/2 cups chopped carrots
1 1/2 cups seeded and chopped red bell pepper
1 1/2 cups cubed sharp cheddar cheese
2 bunches green onions, chopped (white and some green)
Dressing:
1/3 cup white wine vinegar
1/4 cup vegetable or canola oil
2 garlic cloves, minced
1 tablespoon Dijon mustard
1/2 teaspoon granulated white sugar
1/2 teaspoon dried basil
1/4 teaspoon dried oregano
1/4 teaspoon seasoned salt
1/4 teaspoon table salt
1/4 teaspoon pepper
1/4 teaspoon red pepper flakes
Directions:
Combine salad ingredients in a large bowl and toss.
Combine dressing ingredients in a jar; cover tightly and shake until well blended.  Pour the dressing over the salad, toss well, cover and refrigerate for at least 2 to 3 hours before serving.
SOURCE:  RecipeGirl.com
Here are a few more pasta salad recipes you might enjoy:
3 Responses to "Summer Vegetable Pasta Salad"
Leave a Comment