One of the many great things about being a part of the food community is being asked to participate in learning about the food brands that we all know and love.  Harry and David invited me and a handful of other bloggers into their part of the world in Ashland, Oregon (also known for their Shakespeare Festival) last week for some learning, fun, eating and relaxing.  I had never really been to Oregon before (it's beautiful!), and since I've admired Harry and David as a company for such a long time, I decided that this opportunity was the perfect fit.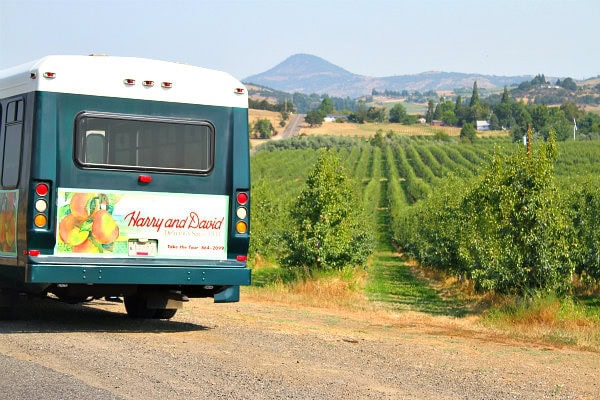 Harry and David are known for their pears and peaches and tons of other delicious gourmet food, sweets, flowers and gift items that are tucked into baskets for gift giving.  They grow their pears and peaches on thousands and thousands of acres of land right there in beautiful Oregon.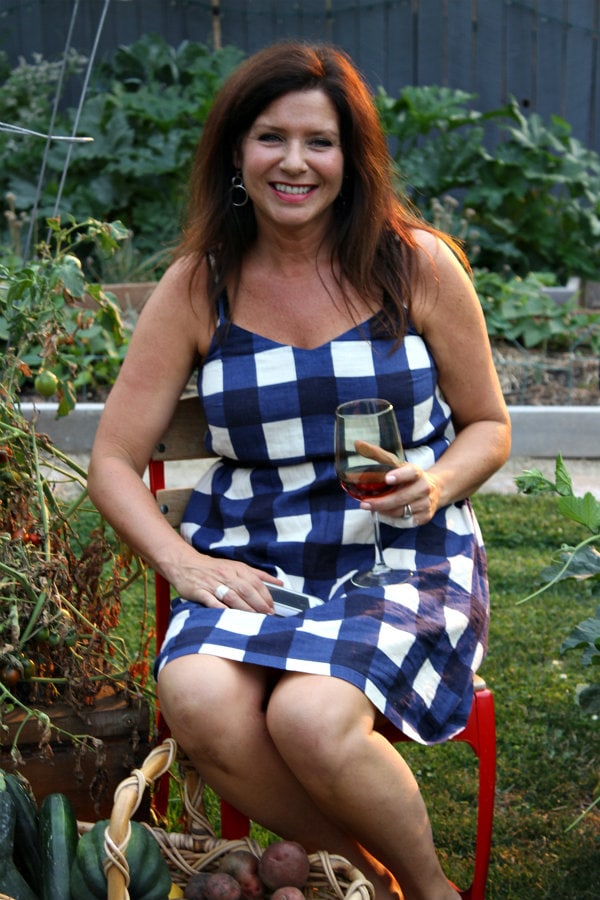 Here's the sweet gal who rounded up the bloggers for the trip- Sandy Coughlin of Reluctant Entertainer.  Sandy lives right there in Medford, Oregon, and she invited us for dinner in her backyard on the night of our arrival.  Isn't she purdy?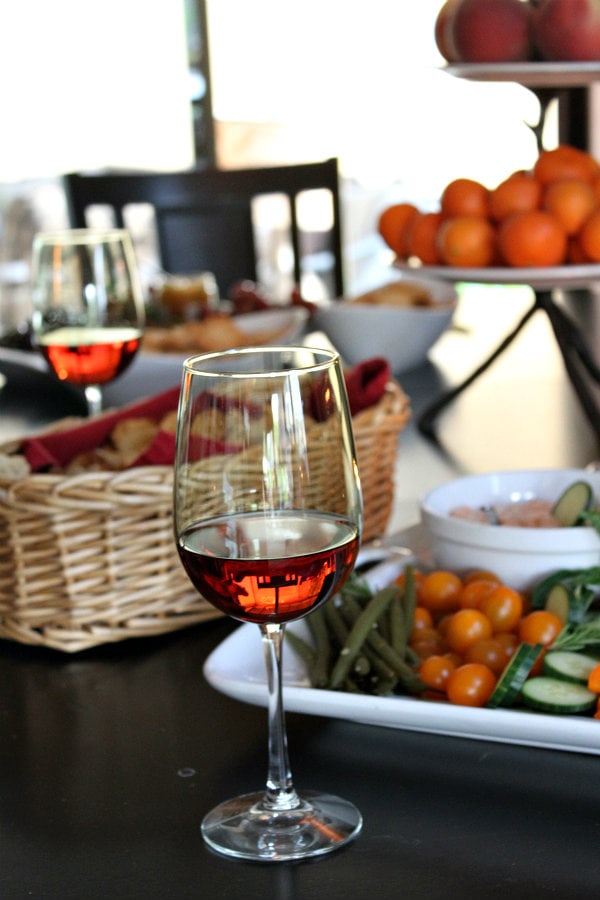 Clearly, Sandy has some experience with this entertaining stuff.  Her blog is full of all kinds of tips, tricks and recipes for entertaining.  Sandy had all of the food and drink displayed beautifully in various gathering areas.  And she assigned her husband and kids to help with serving.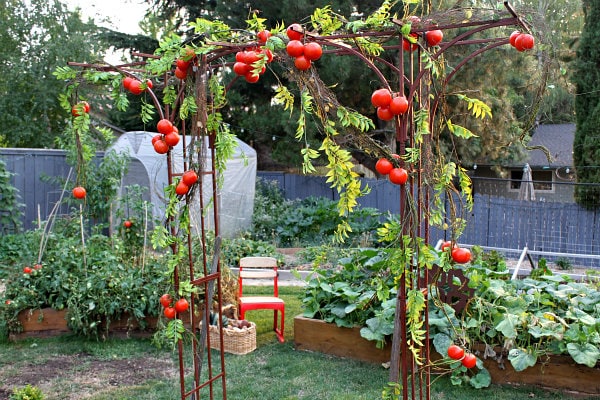 We marveled at the trellis with tomatoes seemingly growing over the top in Sandy's backyard.  Turns out the tomatoes weren't actually growing over the trellis.  They used wisteria vines to weave through the trellis and incorporated bunches of fresh tomatoes hanging from the vines.  Gorgeous.  Sandy wrote a post on how she decorated her backyard for the party here.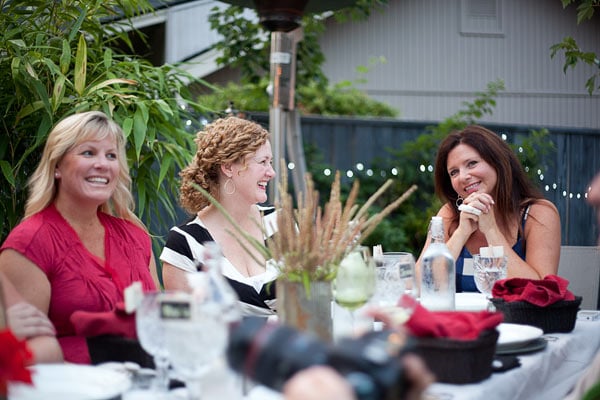 The evening was pretty darn magical… an ideal setting in a pretty backyard with very sweet friends and delicious food.  Loved every minute of it.  (This photo is by Heidi of FoodieCrush)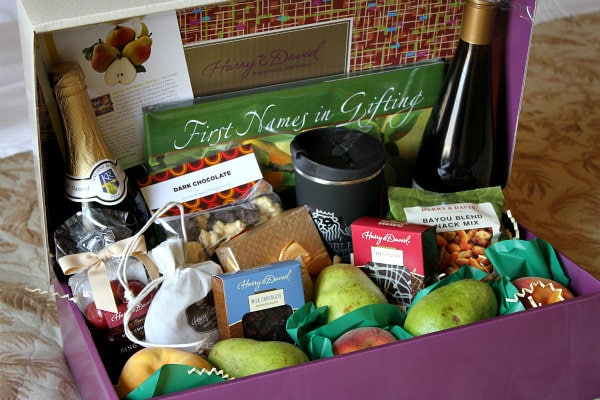 We stayed at the Ashland Spring's Hotel– smack dab in the middle of downtown Ashland.  It was a great location for visiting the local shops, the rooms were comfortable and nice, and breakfast was included.  Harry and David surprised us with a box of goodies when we arrived!  Of all the things in the box- chocolate and Moose Munch and wine, etc… I actually went for one of the peaches first.  It was soft and juicy, and it was as sweet as I knew it would be.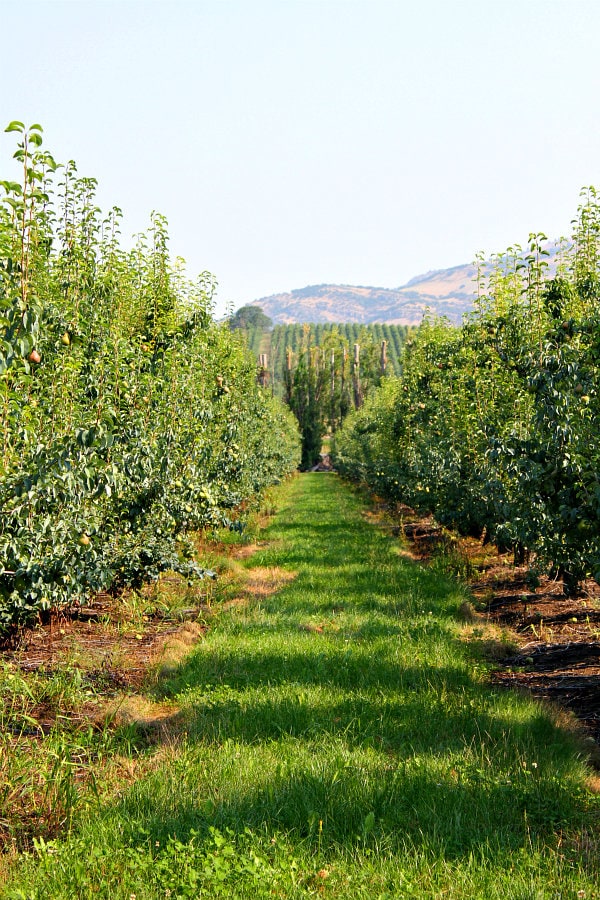 If you're already familiar with Harry and David, you've probably tasted their pears at some point.  I remember receiving a box of their pears as a gift a while back.  I wasn't really a pear-eater at the time, but they were so incredibly perfect that I changed my mind real quick.  We toured the pear orchards and learned that during the 28 day picking cycle, 700 tons of pears are hand-picked each day.  That's a lot of pears.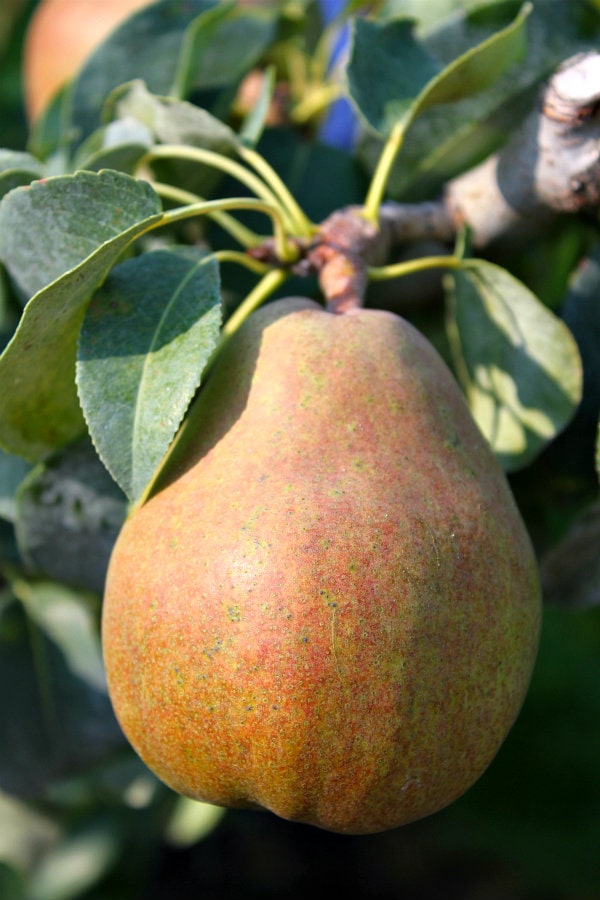 And we eyed their signature pear:  Royal Riviera Pears.  These remarkably sweet and juicy pears were brought to Oregon's Rogue Valley in 1897, where the climate provided ideal growing conditions.  They became the foundation of Harry and David's Fruit-of-the-Month Club gifts when they first started shipping them 75 years ago, and they are still the most popular fruit they harvest today!
One of the snacks we noshed on was Harry and David sliced peaches with local blue cheese.  If you've never had this combination… and even if you THINK you don't like blue cheese, I think you may want to give this one a try.  SO SO SO SO good.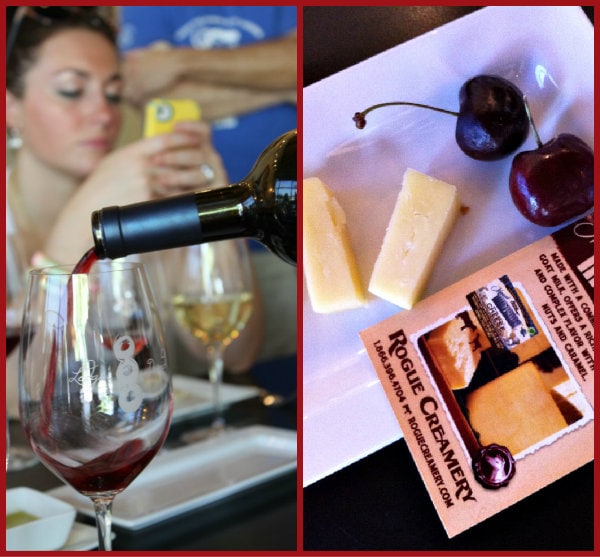 That's Jessica is furiously Instagramming in the background. Here we are wine tasting at Ledger David Cellars and cheese tasting at Rogue Creamery.  It can't get much better than this…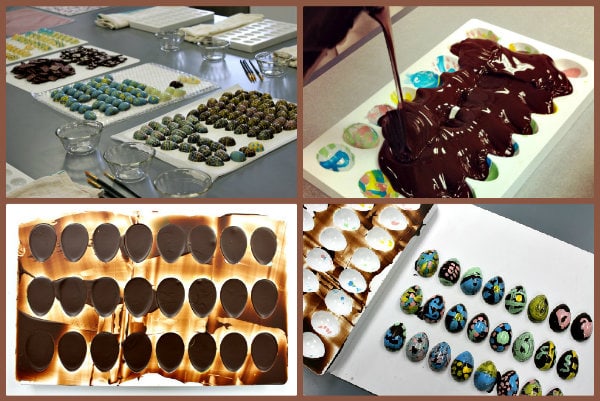 … or can it?  We had a chocolate tasting at Harry and David headquarters (with Charlie and the Harry & David Chocolate Factory- seriously, his name was Charlie!)  And then we had the opportunity to "try" and design our own chocolate eggs.  I say "try" because it wasn't as easy as it looks!  You use edible chocolate colors to paint into the egg molds, drizzle tempered chocolate over the top, scrape the top of the mold, refrigerate the eggs and then pop them out.  Mine weren't as pretty as the samples, but it sure was fun.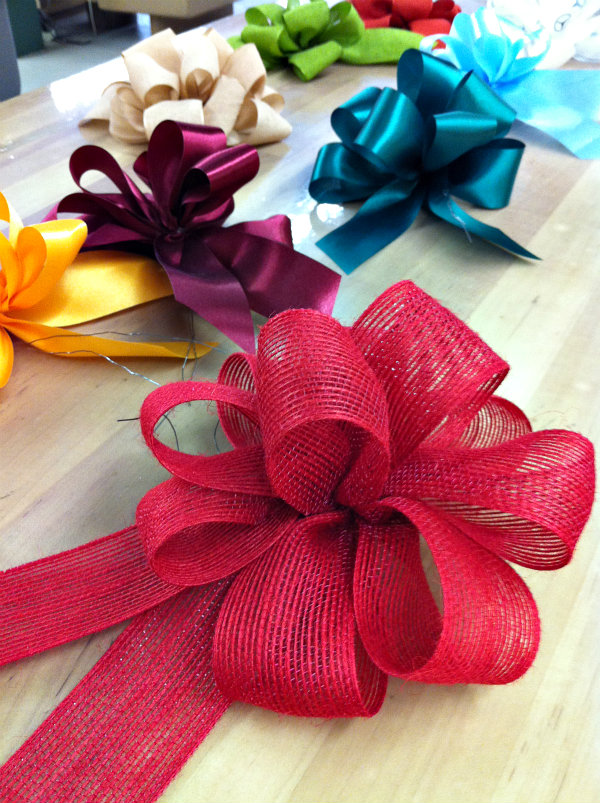 Soon we transitioned to the gift basket part of the company.  We were taught how to make these perfect bows– by hand.  If you're a good bow-maker, you can deliver 300 to 500 bows/ day.  Let's just say this job is not for me.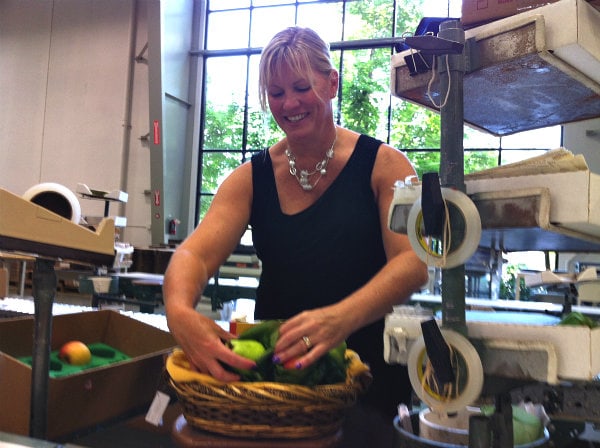 Learning how they pack their gift baskets was great fun though.  I was told that this place is absolutely crazy busy during peak holiday times.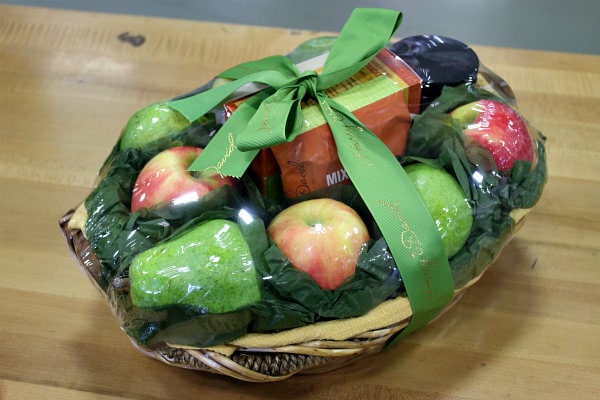 And there's my basket!  I sent it to a high school friend of mine as a little surprise.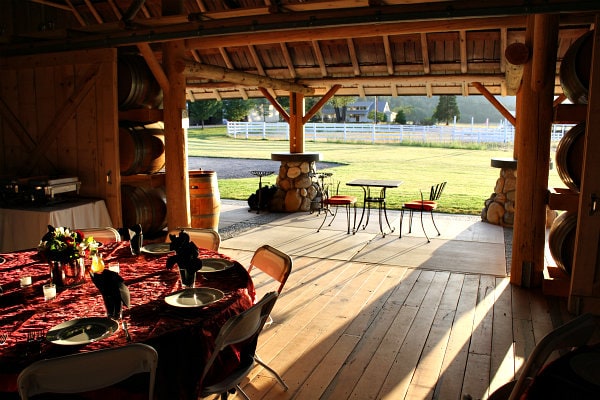 Another of our dinners was at the Red Lily Vineyards- an absolutely gorgeous location for an event, as you can see.

Here are a few of my fun food blog friends.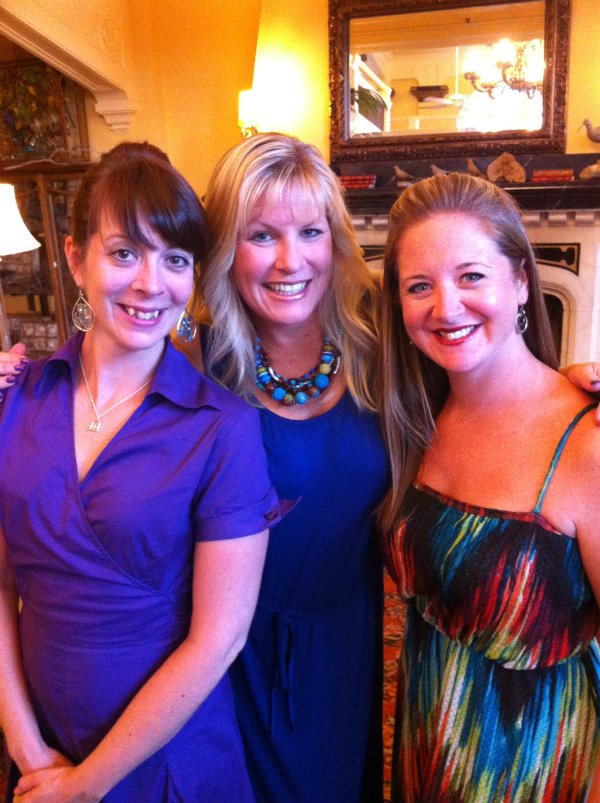 I'm always happy to reconnect with friends that I've known for a while, but I was most excited to meet these two new friends:  Rebecca from Foodie with Family and Rachel from A Southern Fairytale.  They are both beautiful, genuine, fun people inside and out.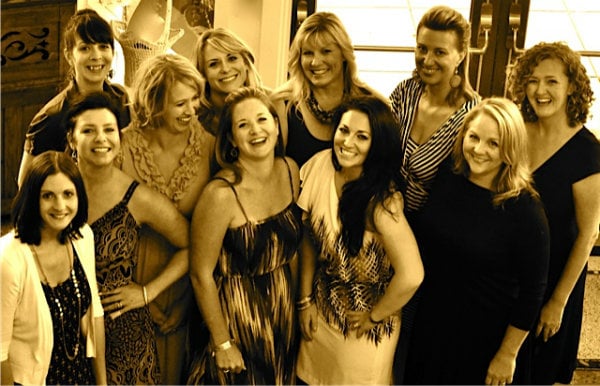 And here's the whole gang (photo by Sandy Coughlin)- left to right: Maria, Sandy, Kristin, Jenna, Rachel, me, Jessica, Heidi, Amy and Bridget.  We had so much fun together 🙂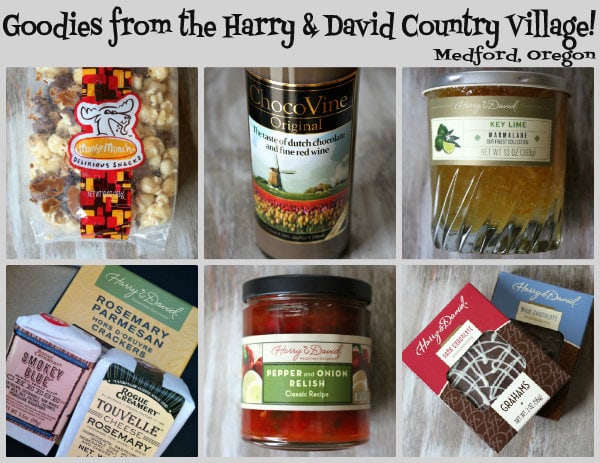 The last stop on our Harry and David weekend was a trip to their Country Village Store.  I could have spent many hours in there looking around and deciding what to buy.  If you've ever been to a Trader Joe's, it's kinda similar but a million times better.  We were able to shop there and then have our order mailed to us at home.  I bought many things, but highlighted here are Moose Munch (caramel corn with chocolate covered popcorn and nuts mixed in too!), Chocovine (I know it sounds crazy, but it's a blend of chocolate and red wine- incredible… tastes like a liqueur), Key Lime Marmalade (I actually meant to buy the Meyer Lemon Marmalade, but I'm sure I'll like this one just as much), Rosemary- Parmesan Crackers (totally a favorite of mine), Smokey Blue and Touvelle Rosemary Cheese from Rogue Creamery (both very good!), Pepper and Onion Relish (amazing mixed with cream cheese and served with crackers or veggies), and Chocolate- Covered Graham Crackers.
Are you hungry yet?
If you'd like to read other posts on this neat trip, visit:
The Reluctant Entertainer
Two Peas and Their Pod
Eat Live Run
How Sweet it Is
FoodieCrush
Disclosure:  Thanks a bunch to the folks at Harry and David for sponsoring the trip and educating me about their wonderful company.  I was not paid for this opportunity and all opinions are, of course, my own.