I once was an elementary school teacher, and I taught my second graders everything they needed to know and more about those folks who settled Plymouth in 1621. And research tells us that there was no pumpkin pie in sight. The only pumpkin they might have eaten at the first 3-day Thanksgiving Feast was "stewed pumpkin." And I hate to tell you this, but they didn't have any cranberry sauce either. Plums and grapes were common, but apples and cranberries were not. It's also probably likely that they ate more seafood than turkey, since Plymouth sits on the harbor. They didn't have access to sugar, but they did have wheat flour. Here's a pie the pilgrims may have liked for their Thanksgiving- an alternative to pumpkin: Apple Cranberry Crumb Pie with Whole Wheat Crust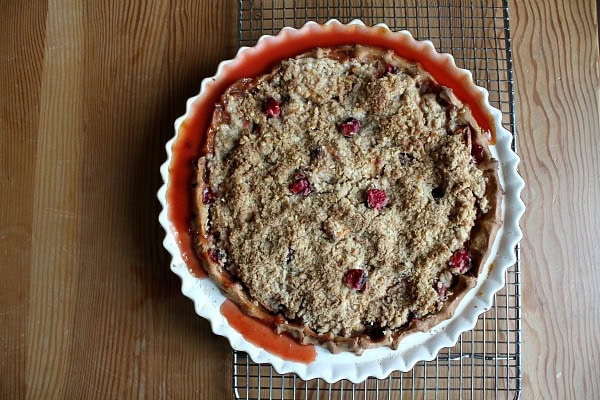 The pilgrims couldn't have made this either, but it's the kind of pie I prefer to have on my Thanksgiving table. No pumpkin pie for me (unless it's slathered in real whipped cream and caramel or something like that).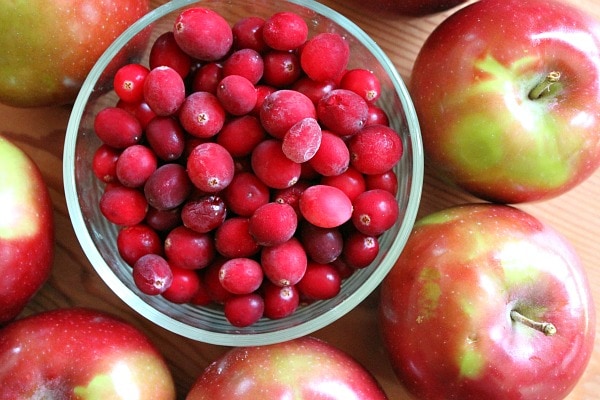 You know what's great about cranberries? They last forever. Buy bags of fresh cranberries NOW… while they're in season and you can see them in your produce department and while they're cheap. Toss the bag of fresh cranberries in the freezer and they will be just fine. I've had some in the freezer for a couple of years without a problem- still good as can be when you take them out of the freezer. You'll be really happy you did that when it's July and you get a craving to make something with fresh cranberries!
The pie crust recipe I'm giving you is super simple and I made it with my Whole Wheat Flour (cause you know… the pilgrims actually had wheat flour too!) Just assemble the dough in your food processor and then place it in the fridge to let it firm up a bit while you make the super simple filling: cranberries mixed with maple syrup, sugar and spices and then mixed with the apples too.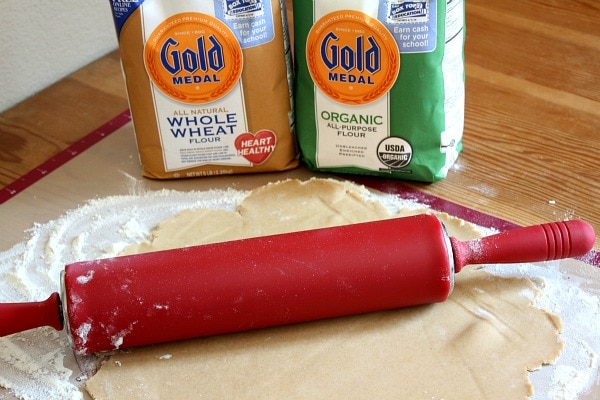 Roll out the crust bigger than your pie plate. And now for my little tutorial on how to move the pie crust from the counter to the pie plate without tearing the whole thing apart. Just fold it.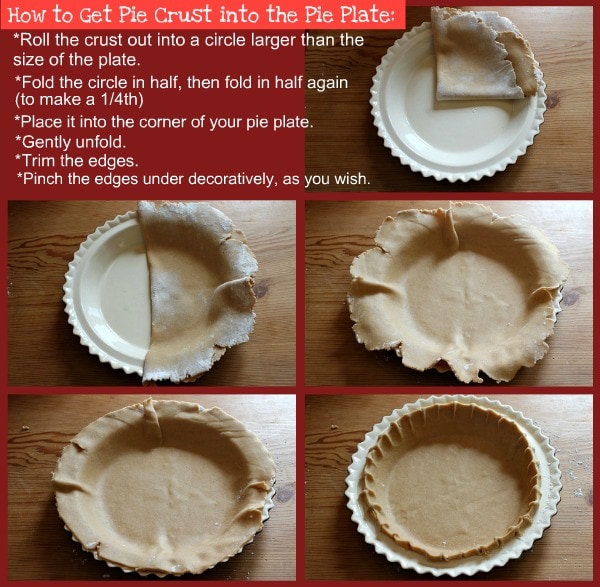 Doesn't it look easy? It totally works!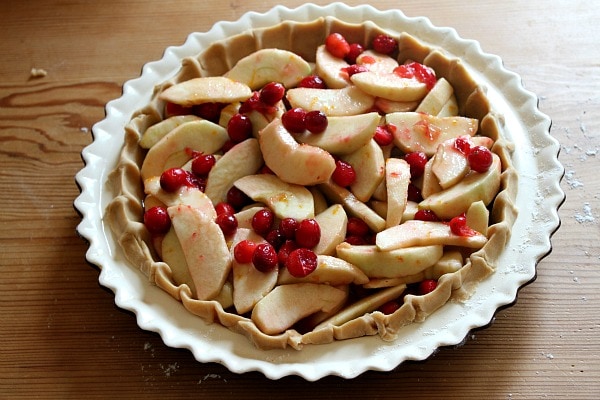 Scrape your fruit filling into the pie crust.
Sprinkle your crumble mixture on top.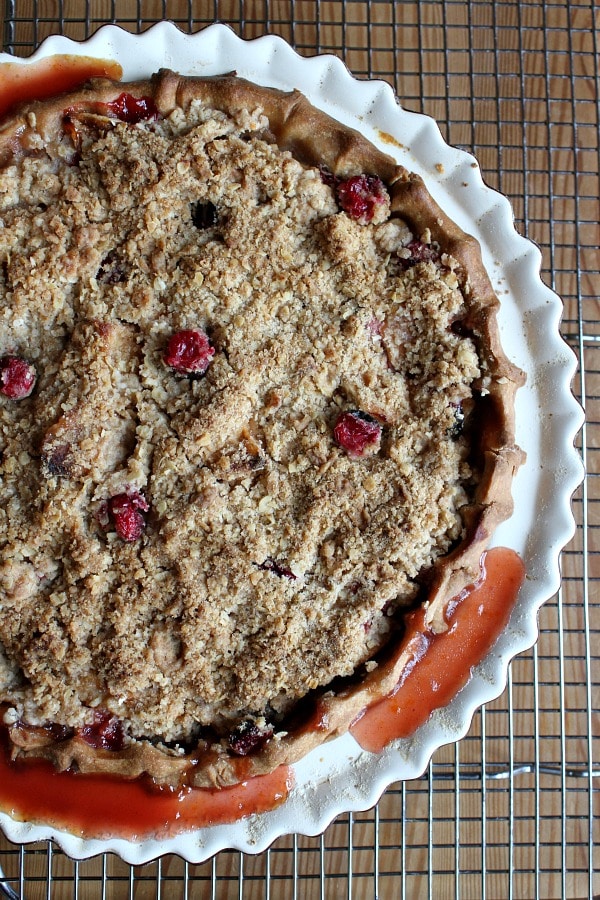 And bake it until that crust browns nicely, the crumble is golden, and the juices are perfectly oozing.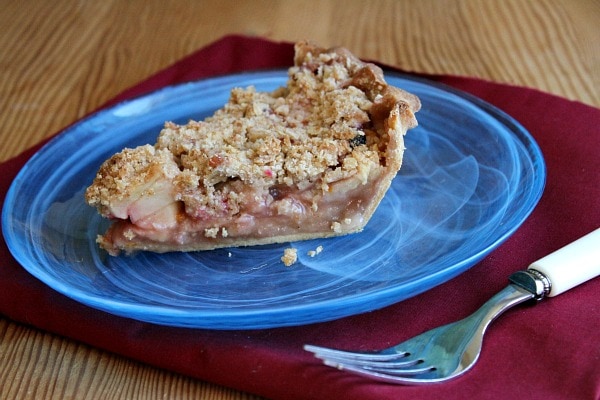 Yeah, this is SO much better than pumpkin pie. Would you agree?
And so it is that over the years, some folks somewhere decided our Pumpkin Pie Thanksgiving Fate, along with those marshmallow topped sweet potatoes and green bean casserole. Thanksgiving wasn't even a holiday at all until Lincoln came along and declared that it should be. Those are all the fun facts I'll throw at you right now- letting your re-live your 2nd grade education, which you've most likely forgotten. But please don't forget my pie. It's a keeper.
Apple Cranberry Pie with Whole Wheat Crust
A perfect pie alternative for the holidays!
Recipe Details
Ingredients
CRUST
1¼

cups

Gold Medal® whole wheat flour

¼

teaspoon

sea salt

⅓

cup

cold butter,

cut into pieces

4 to 5

tablespoons

ice cold water
FILLING
½

cup

maple syrup

½

cup

granulated white sugar

2

tablespoons

Gold Medal® All-Purpose Flour

¼

teaspoon

cinnamon

¼

teaspoon

salt

1

teaspoon

finely grated orange zest

1

tablespoons

salted butter

1½

cups

fresh cranberries

3

cups

peeled, cored and sliced MacIntosh apples
TOPPING
1

cup

Gold Medal® all-purpose flour

½

cup

packed light brown sugar

⅓

cup

oats

¾

teaspoons

ground cinnamon

½

cup (1 stick)

unsalted butter,

softened slightly and cut into pieces
Instructions
CRUST
In a food processor, combine the flour and salt and pulse a few times. Add the butter and pulse until the mixture had turned into crumbs the size of peas. Drizzle in the water (4 tablespoons) and continue to pulse until the dough comes together. Add the 5th tablespoon of water, if needed.

Turn out onto a lightly floured surface and form into a ball, then flatten slightly. Wrap the dough in plastic wrap and refrigerate for 30 minutes.
FILLING
Preheat the oven to 425 degrees F. While the dough is chilling, prepare the filling.

In a large pot, stir together the syrup, sugar, flour, cinnamon, salt, orange zest and butter over low heat. Let this mixture warm up for about 2 minutes, then add the cranberries.

Turn up the heat and bring to a boil for 2 minutes. Turn off the heat. Stir in the apples and let cool.
ASSEMBLE THE PIE
On the floured surface, roll out the dough into a large circle, an inch or so bigger than your pie plate. (I use a 9 inch pie plate.). Fold the dough in half, then in half again to make a fourth. Transfer it to your pie plate and gently unfold. Trim the excess dough off of the edges, then pinch the dough decoratively around the edge of the pie plate.

Pour the apple-cranberry mixture into your pie shell.
TOPPING
In a medium bowl, combine the flour, brown sugar, oats and cinnamon. Add the butter and use a pastry cutter to incorporate it into the dry mixture. Alternately, you can use two knives (or your clean fingers!) It should be crumbly.

Sprinkle the topping over the fruit filling.

Place the pie on the middle rack of the oven. Place a cookie sheet lined with foil on the rack underneath to catch any escape juices. Bake 40 to 45 minutes, or until pie is bubbling and the crust is light brown. Remove the pie to a cooling rack to cool completely before slicing and serving.
Notes
This pie made be made one day ahead.
It may certainly be made with another crust recipe. Use your favorite!
Nutrition
Serving:
1
serving
,
Calories:
425
kcal
,
Carbohydrates:
66
g
,
Protein:
4
g
,
Fat:
18
g
,
Saturated Fat:
11
g
,
Polyunsaturated Fat:
1
g
,
Monounsaturated Fat:
4
g
,
Trans Fat:
1
g
,
Cholesterol:
45
mg
,
Sodium:
182
mg
,
Potassium:
220
mg
,
Fiber:
4
g
,
Sugar:
38
g
,
Vitamin A:
570
IU
,
Vitamin C:
6
mg
,
Calcium:
48
mg
,
Iron:
2
mg
Disclosure: I'm working with Gold Medal Flour to create seasonal recipes for the next few months. This is one of those goodies. All opinions shared are my own.
Other apple cranberry creations from some of your favorite food blogs:
Apple- Cranberry Crisp by Two Peas and Their Pod (gluten free)
Apple- Cranberry Caramel Tarts by The Craving Chronicles
Apple- Cranberry Pie with Honey- Bourbon Caramel by Sassy Radish
Gluten-Free Apple Cake with Cranberries by Gluten Free Goddess
Skinny Apple- Cranberry Cookies by Simple Nourished Living